What's it Like to be in Reading Clinic? Part 1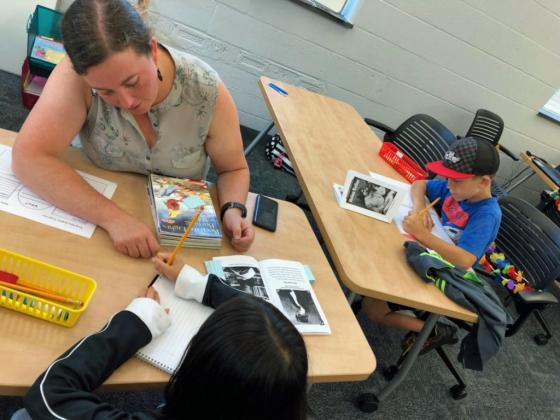 Aug. 16, 2018 - A crucial part of most any graduate school program is the capstone project – the project at the end of the program where students get a chance to apply and expand on everything they have learned.
Emily Bernstein
Program
Reading Specialization (M.S.)
Department
At Hood College's Graduate School, these projects can range from traditional research to poetry, an art exhibition, action research, or teaching. Here's a firsthand account of such a project, written by Emily Bernstein, one of our own Graduate Ambassadors… 
I'm Emily Bernstein, a student in Hood's Reading Specialization program, and right now I'm experiencing my capstone project. As a Graduate Ambassador, I normally write about other people and events at the graduate school. This summer, however, I am part of the Hood College Reading Clinic, and it's my turn to share!
When telling friends about clinic, formally known as the Advanced Clinical Reading Experience, I've called it "the graduate version of student teaching". Really, it's more like two semesters of teaching, packed into six weeks, and fast forwarded. We already know how to teach, so now we are putting together what we've learned about assessment, intervention, strategies, and coaching, and packing it into two three-week sessions. I'm starting with the elementary session, which I'll do for three weeks, and then switch to the secondary session. The graduate students are the clinicians, working with real elementary and secondary students whose parents signed them up for our clinic. We have three lead teachers, all experienced reading specialists, as well as two directors. They observe and mentor us, and answer our (many, many, many!) questions.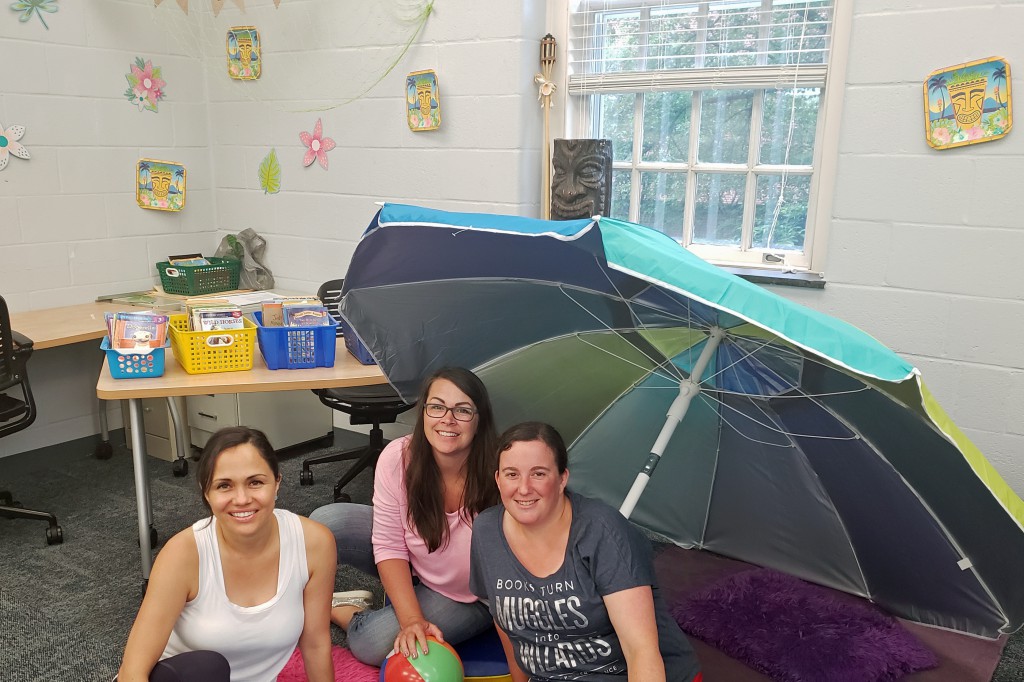 We were off and running from the beginning. We had already done some testing and assessment on the elementary students during pre-clinical class in the spring, when parents brought their children to us after school. As part of that class, we divided the students into groups, trying to place them with peers with similar needs. There's no way to create perfect groups, so one of the challenges of clinic is to help them all! That also means you may not get the students you tested. In my group of four, I already knew two students, but had not met the others. Our first clinic day was a Monday, and we met without the students. After getting more information about what we were doing, we had the afternoon to finish setting up our classrooms and plan. Working together with Araceli and Theresa, the other teachers sharing the room, we turned a college classroom into a welcoming luau with lots of books.
We had to get ready quickly because the next day we met our kids, got started, and had our first observation during a word study lesson. Dr. Ellen Koitz, our director, came in to watch me teach the students. My plan was clear and thorough, I knew what I was teaching and how to do it, so it had to go perfectly, right? I wish! Unfortunately, one student sailed through the activity, one student struggled, and I tried to compensate by explaining too much. Luckily, Dr. Koitz was there to help with my struggling student. She didn't think the lesson was as awful as I did, and we came through at the end. One of the great things about clinic is that it's a time to try new things and push yourself. Our lead teachers keep telling us that, and it's turning out to be true. Part of what they assess isn't necessarily how great our lesson was, but whether we were able to reflect on it, notice what didn't go as smoothly, and figure out how to make it better. Of course, we all tell ourselves that we're going to be the one whose lesson goes perfectly, it's a nice dream to have.
The next day was the 4th of July, so we got a day off. Coming back Thursday, we taught our groups for the second day - we were veterans now! - and it went much smoother. As part of the elementary clinic, Thursday is our long day. On Friday, we don't teach, but individually conference with a lead teacher to go over our plans for the entire next week. That means we must create our detailed plans, including lessons, books, and word sorts, with rationales for why we are picking each strategy, by Friday morning. Thursday afternoon was a LONG afternoon, with many hours picking and planning. Luckily, working with three clinicians in each classroom, we could bounce ideas off each other and share resources. It was a long day, but the greatest thing about it was that it meant after Friday we were done. The weekend was the weekend, since everything was planned, I could take those two days to relax and (try) to prepare myself for the second week!
Hear about my first full week, reading with the dogs, and meeting my new student! Read Part 2.
Are you ready to say Hello?
Choose a Pathway
Information will vary based on program level. Select a path to find the information you're looking for!