Before Whitaker Campus Center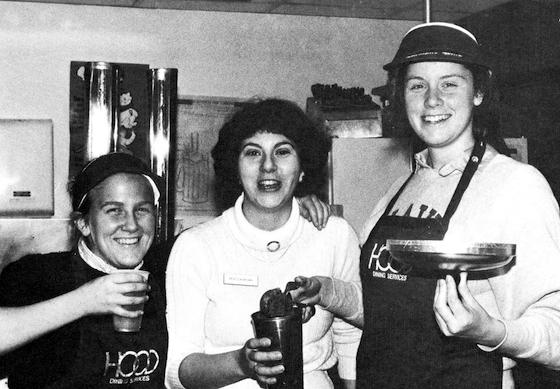 A glimpse into the bygone Campus Club.
A Look Back
As Hood archivist of almost eight years, I know a little something about many aspects of Hood's history and a lot about certain topics. I am well acquainted with the succession of presidents, the overall social climate of each administration and the history of campus buildings—or so I thought. Recently, I discovered a gaping hole in my building-knowledge when I came across the existence of a non-residential, non-academic, student-centered space that preceded Whitaker. It was situated in the bottom of Coblentz Hall. What was this place and how did I not already know of it? My subsequent research led me to materials deep in the collections.
Before 1979, the basement of Coblentz held a student center. The origins of the student center in Coblentz are somewhat fuzzy, but it was notably renovated in 1973. Students met there for club meetings and both informal and formal gatherings. Happy hours and mixers were held there regularly, as were the Friday Night Coffeehouses, which showcased both Hood and local talent. From 1974 to 1982, the Maryland drinking age was 18 for beer and light wine. Students of legal age were able to bring beer or wine to these events, leading to some wild nights in the student center. A November 1975 Blue & Grey article recounted a party of drinking games that resulted in a full-on, beer-throwing fight with property damage. The paper also reported about occasional off-campus party crashers and vandalism.
In September 1979, while the memory of the Coblentz student center was still fresh, a new club opened, complete with a recently procured Class C alcohol license to sell beer and light wine. The story of alcohol on campus would fill another article; I will just mention here that securing a campus liquor license highlights the dramatic shift in tone from prior administrations during President Church's tenure.
The idea of creating a Rathskeller on campus ("a cellar in a German town hall in which beer or wine is sold," Oxford English Dictionary) was introduced to students in 1976 when the Student Government Association food committee sent out a survey of interest to students. Almost three years later, the Rathskeller opened, boasting two beers on tap (Schlitz regular and light), wine, a grill and snack bar, and casual seating within a dark, brick- filled space of the type that was very popular in the late 1970s.
I learned more about the Campus Club from Dates & Data weekly circulars that showed a tantalizing glimpse of the space in the 1980s and '90s. The circular advertised weekly meals offered by the club's grill for lunch and dinner. Some offerings had great names, such as "Smotherburger," "Pitts- burgh Potatoes" and "Steak in a Pouch." Others sound a bit horrifying, like carrot nut loaf and tuna souffle; still others demand further description— what is "Romeo and Juliet" or "The Plainsman" with French fries?
Dates & Data also listed the videos shown during the half-hour Rockworld events, which were held weekly during the mid-1980s. Does anyone re- member watching Rick Springfield's "Don't Walk Away," Scandal's "The Warrior," Bob Marley's "One Love" or Michael Jackson's "Beat It"?
I learned even more from alumni responses to a recent Hood Facebook post. The Campus Club was known for its Otis Spunkmeyer cookies and milkshakes; student workers liked working there better than the cafeteria; it saved the swim team from starving after evening practices; and the area on the other side of the basement was called "The Purple Passion Pit," a lounge with tiered seating and televisions. I have no photos of the Pit, but I imagine it with dark purple walls and shag carpet.
I would love to learn more! Alumni, please contact me with stories or photos you would like to share about the club at atwell@hood.edu.
Are you ready to say Hello?
Choose a Pathway
Information will vary based on program level. Select a path to find the information you're looking for!