A World of Possibilities | Hood Magazine Spring '23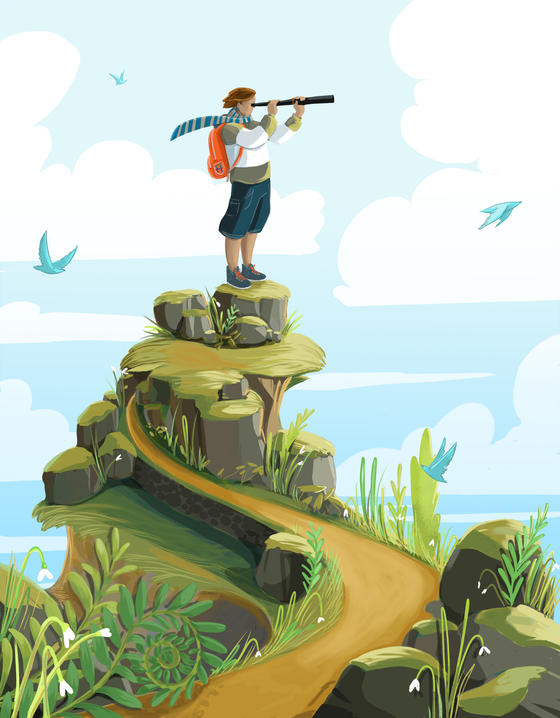 Self-discovery, cultural competency and tapping into a global network through study abroad.
Study Abroad at Hood College
Nestled between Rosenstock Hall and the Whitaker Campus Center is a sign- post, bearing a simple but powerful statement depicted in a host of different languages, "May Peace Prevail on Earth." Anyone who has spent time at Hood knows the importance of this message. It is reflected in the "Hood Hello," which represents the friendly, welcoming atmosphere of the Hood community. This sentiment transcends borders, and the power of "Hello" doesn't stop at Hood—it's universal.
Hood students and alumni carry the spirit of "Hello" with them wherever they go. As part of the College's study abroad program, many have spread this sense of hospitality across the globe. The study abroad program has evolved dramatically over the decades, but one constant remains. When students immerse themselves in a foreign land, their lives are forever changed.
The practice of studying abroad gained traction in the United States in the early 20th century but was significantly disrupted by successive World Wars. As countries rebuilt and travel routes normalized, American students began venturing overseas once more. The U.S. government was keen to encourage cross-cultural exchange, establishing the Fulbright Program to foster mutual understanding between nations.
For many years, Hood maintained its own study abroad program. As part of the United Colleges for Foreign Study and Exchange (UCFSE), students could opt to spend their junior year in Strasbourg, France (read more on Page 64). Although this program has since been retired, study abroad is alive and well at Hood. Today, there are more options than ever. The College has partnered with five study abroad providers and maintains exchange agreements with the Sorbonne in Paris, University of Mainz in Germany and University of Barcelona in Spain.
Language majors have traditionally been the main student population to study abroad. Since the College opened the study abroad option to all majors, however, this is no longer the case. Art history, global studies, business, marketing and even nursing students are taking advantage of opportunities to spend time in a wide array of countries. Top destinations include Barcelona, Sydney, London, Paris and Shanghai.
The responsibility of helping students navigate the complexities of international travel is with Scott Pincikowski, Ph.D., professor of German and chair of the Department of Global Languages and Cultures. In addition to his faculty responsibilities, Pincikowski serves as director of study abroad at Hood.
Pincikowski's office is lined with flyers promoting a plethora of offerings from the study abroad providers with which Hood partners. As he discusses the process—from applying to disembarking—his enthusiasm is unmistakable. Pincikowski spent several semesters in Germany during graduate school, working on his dissertation in Marburg. Since taking over the program at Hood, his conviction for the benefits of studying abroad has only strengthened.
"When I sit down with students, they tell me their interests, why they want to study abroad and how they want to fit it into their studies or future career plans," says Pincikowski. "Then I find a couple of programs and locations for them that are consistent with their interests and goals. I have them take a close look. Do they offer the type of coursework you need and the cultural experience you want?"
With so many options available, students can tailor their study abroad trips to best fit their academic goals and personal interests. Art and archaeology majors serve on excavation teams uncovering ancient ruins on the Italian coast, while a marketing major might intern with a global firm based in the U.K.
The modern study abroad experience is less about merely sightseeing and more geared toward cultural immersion. Real, deep learning comes from the hands-on experiences directly related to a student's field of study. This has been a driving force in Hood's promotion of high-impact practices, both on and off campus.
Another way the study abroad program has shifted is the proliferation of short-term excursions. Rather than commit to a full semester, students can opt to spend a week or two on a class trip. Biology majors can trek through the jungles of Madagascar, while education majors can analyze teaching strategies in the Mediterranean region. Short-term sessions also promote accessibility to study abroad by being more affordable.
In the summer of 2022, Elizabeth Atwood, Ph.D., associate professor of journalism, accompanied 11 Hood students to London for a nine-day study abroad class. With a focus on global media, the group toured the Globe Theatre, Abbey Road Studios and the National Gallery. They also attended a live taping of a British political comedy talk show.
"Some of the students told me this trip was the highlight of their life so far," Atwood says. "Even just going for a week gives you a taste of another country and hopefully whets the appetite for more travel. It's always a reminder that we live in a big world."
Faculty are also eligible to apply for the Whaley Faculty Development Endowed Fund, which supports the implementation of new study abroad mini sessions. "I want every Hood student to discover their passion through travel and study abroad, internships or summer research," says Susan Whaley '74, trustee emerita.
There are a variety of special programs attached to scholarships that culminate in student- designed projects. The Volpe Scholars Program places qualified students at world-renowned universities to complete an intern- ship or research project that goes beyond the regular requirements of their major. The internationally recognized Davis Projects for Peace requires students to implement actionable steps toward promoting positive change within a marginalized community.
The newest program, the High- Impact Practice Scholarship, engages students in fieldwork and practicums that allow for real-world, hands-on experience. Students are also able to collaborate with faculty through the Summer Research Institute, a grant program that funds eight weeks of research in the U.S. or abroad.
Recent projects include Volpe Scholar Allyson Fachler '21 traveling to Spain to study the lingering effects of the Spanish Civil War; Davis Peace Fellow Jonathan M. Ramazani '23 making efforts to lift women out of poverty in rural areas of the Democratic Republic of Congo; and the inaugural recipient of the High-Impact Practice Scholarship Linda Redd '23 providing dental care to Ukrainian refugees in Poland.
When students complete purposeful projects with real-world outcomes and applications during their time abroad, they acquire skills that can be transferred to post-grad careers and beyond. The work is not easy, especially in an unfamiliar environment, but it allows students to connect learning to life. Persistence, dedication, engagement, critical thinking—this is what students acquire through their time abroad.
Overseeing several of these highly competitive programs is Lisa Littlefield, Ph.D., dean of the Center of Career Development and Experiential Education at Hood. "The learning associated with study abroad can't be quantified," says Littlefield. "It's something that students are transformed by. It forever changes their perspective on learning and what their potential impact can be, who they are as individuals and what kind of agency they have over their ability to do big things in life."
Pincikowski advises students who wish to pursue a coveted Fulbright Award, which is sponsored by Congress and the Department of State. Through this program, graduates are assigned to teach or conduct research in more than 160 countries worldwide. Several Hood alums have received this honor, the first being Jeanne Schmidt Whitehair '55. Most recently, Lydia Emory '16, a global studies major, spent 10 months teaching in Madrid as a Fulbright English Teaching Assistant. She went on to teach in Japan with the JET Program.
"I often look back on my time in Madrid and think about how this experience led me to where I am today," says Emory, who earned a master's in teaching foreign languages (Spanish) from Middlebury Institute of International Studies. "As for studying abroad, do it! Hood provided me with the opportunity to study abroad twice—once in South Korea and then for a semester in Spain. These are experiences that you will not regret."
These study abroad programs may differ in scope and purpose, but they all echo Hood's liberal arts heritage, which is predicated on an expansive approach to education. Nurturing a student's character is equally as important as developing their intellect. According to Littlefield, students return to the U.S. with a newfound sense of confidence. "Study abroad is a very unique experience in that students are challenged to solve problems and find new ways to discover how they can accomplish things in a completely foreign setting," says Littlefield. "It takes them out of their comfort zone and makes them stronger, innovative and entrepreneurial."
Although students are clearly empowered through their time abroad, the path is not always direct. Visa applications, travel logistics, financial barriers and living in a foreign country can make the process seem overwhelming. This was painfully evident during the onset of COVID, when many students were forced to cut short their time abroad due to pandemic restrictions.
Danny Castillo '20, MBA '22, had just begun a semester in Barcelona when the U.S. government recommended all Americans return home. "It was devastating to have my experience cut short, especially because I had many plans to visit other countries toward the end of the semester," says Castillo.
After scrambling to get a flight back to the States, Castillo was faced with the challenge of finishing his degree virtually. He was grateful for the assistance of Pincikowski along- side Assistant Professor of Spanish Robert Casas, Ph.D., who both helped with the unprecedented transition. After earning his MBA a few years later, Castillo finished what he started—he returned to Europe.
"I wanted closure and to visit all the places I never got to see due to my trip being cut short," says Castillo. "I was able to visit Paris, London, Rome, Naples, the Amalfi Coast and Barcelona, of course!"
Nia English '21, a Davis Fellow for Peace, had planned a project to assist a community of elderly trans- gender people living in Indonesia with building a sustainable source of income. Before she could travel to Jakarta, the world locked down, and English pivoted to implementing her project remotely. She worked with an assistant based in Indonesia to oversee the project and act as an intermediary.
"Doing my project remotely was challenging but not impossible," says English. "I was very involved from beginning to end. I worked in two different time zones to ensure the project was executed as planned. My fluency in Indonesian culture and language also helped tremendously in maintaining good communication with everyone involved."
Fortunately, international borders have since reopened, and as a result, demand for study abroad programs has skyrocketed. Students have an abundance of options. It all begins with selecting a study abroad provider.
Providers offer flexibility within the infrastructure of their programs. They supply housing, advising and support services like mental health counseling. There are day trips, tours and special classes—but students also have the freedom to hop on a train and explore on their own terms.
"Our providers orient the students. They help them go through culture shock," says Pincikowski. "Some students like having more structure, especially if they've never been abroad before, but over time they learn to do things on their own. I try to encourage students to get lost."
Acclimating to a new environment can be challenging at first. Students almost always get a dose of culture shock the first time they leave home. They are confronted with lifestyles and attitudes that contradict their own. They must contend with foreign bureaucracies and healthcare systems. Even practicalities like knowing when stores are open or how to use public transit require time and effort. Academic expectations abroad can also be a sharp contrast to those in the U.S. In Europe, for instance, much more focus is given to independent study.
Pincikowski does a pre-departure session with students, where he briefs them on potential issues they might face. "Ultimately, we want them to have fun and embrace the cultural differences," says Pincikowski. "Students develop cultural empathy. One thing I've taken from my time abroad is that, fundamentally, people everywhere want the same thing. They want to be happy and safe, to be with their families and friends. Observing that, you realize most people are open-minded when you're traveling."
Talking with students who have returned from a semester abroad, the transformative nature of living and learning in a different country is a consistent takeaway. The Hood College community likewise reaps the benefits from what is brought back to campus. Students bring their new perspectives to the classroom and encourage others to consider study abroad opportunities. They share the "dos and don'ts" of inter-
national travel with those who will follow in their footsteps. They forge lifelong friendships and connections with people from all over the world. "I've even seen students meet their future partner while on a trip!" says Pincikowski.
Although the benefits of studying abroad—both personal and professional—are multifold, a surprisingly small number of Americans take advantage of opportunities to do so. According to Inside Higher Ed, only around 11 percent of undergraduate students will study internationally at some point.
Nevertheless, participation in study abroad programs has steadily risen over the last 25 years, a trend that is expected to continue. This has been spurred by increased funding for
study abroad programs, which alleviates the financial strain of travel. At Hood, the Susan Whaley '74 Study and Travel Abroad Fund, and most recently, the Beth Darroch Coggins '81 Memorial Travel Fund are all aimed at helping students achieve their study abroad dreams.
For those students who might still be apprehensive about the prospect of shipping off to parts unknown, Pincikowski shares these words of advice. "You're entering into a new environment, so embrace that, but also be smart about it, and make the most of your time. Be adventurous. Be safe. Be yourself."
Pick up a copy of the latest issue of Hood Magazine on campus or view online.
Are you ready to say Hello?
Choose a Pathway
Information will vary based on program level. Select a path to find the information you're looking for!