Hood College Presented FRED "MVP" Award for Innovative Partnership with Kite Pharma
FRED Award for "Most Valuable Partner" bestowed by Frederick County Office of Economic Development at annual award ceremony in May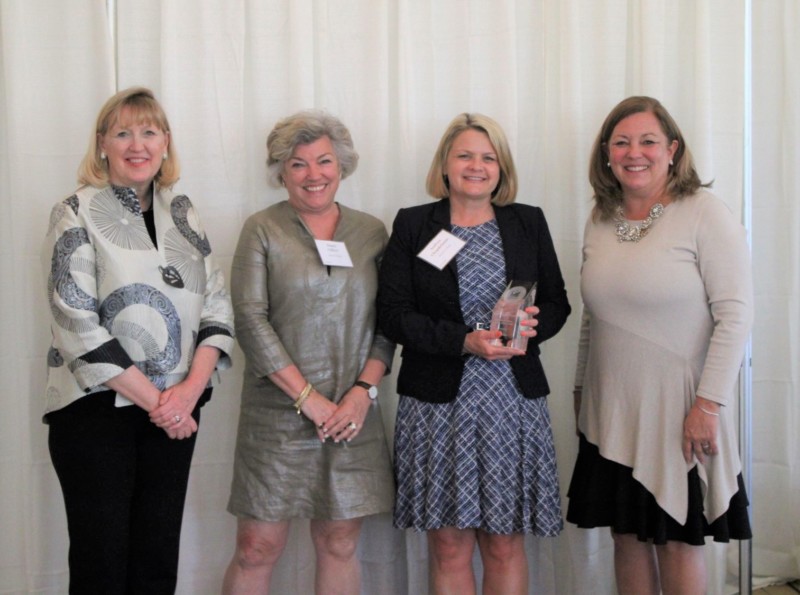 Hood College is honored to have received the 2022 "Most Valuable Partner" FRED Award from the Frederick County Office of Economic Development (FCOED). Hood earned the honor after partnering with Kite Pharma to install a state-of-the-art cancer research lab to train new employees and Hood students in cell therapy manufacturing.
The Frederick Real Estate Dealmakers, or FRED Awards, are hosted by the FCOED and recognize the most successful commercial real estate transactions and projects each year, including the people who made them happen. Awards given this year highlighted the biggest deals and dealmakers of 2020 and 2021.
"The Most Valuable Partner Award was added as a FRED Award category in 2019 because FCOED wanted to recognize those community partners whose excellent work contributes to making Frederick County an outstanding location for businesses," said Beth Woodring, director of business attraction and marketing with the FCOED.
"Often, the ability to demonstrate strong resource collaboration within the community factors greatly in a location decision, and that was absolutely the case with Kite Pharma. We appreciate the affirmative response of Hood College when the need for employee training arose, and we were honored to present President Chapdelaine with the MVP Award."
Kite, based in Santa Monica, California, is focused on cell therapy—genetically modifying immune cells to identify and attack certain types of cancer cells, then infusing them back into the patient to fight the cancer. Kite opened its new 20-acre site in Urbana at the end of 2021, with Hood providing the training of Kite employees during construction.
"This lab provides a unique learning opportunity for our students," said Andrea Chapdelaine, president of Hood College. "It will be beneficial for them to be trained on these cutting-edge tools used in an applied manner to develop and deliver personalized medicine.
"This partnership with Kite has ensured that any of our graduating biology students will have the skill set needed to be hired."
Media Contact
Awards
Community Partnerships
Natural Sciences