"Sin, Evil, and the Apocalypse" Hood College Professor publishes German Literature book
FREDERICK, Md., – Hood College German Professor and Director of Study Abroad Scott Pincikowski, Ph.D., has co-edited the book "End-Times in Medieval German Literature: Sin, Evil, and the Apocalypse" available now via Amazon and Camden House.
The book explores how end-times were envisioned in medieval German literature and culture, putting into stark relief the medieval audience's contemporary captivation with the end of the world.
Current visions of the apocalypse encompass climate change, terrorism, antibiotic-resistant bacteria, and war. The essays, written by well-established scholars, examine the medieval period's fascination with the apocalypse by applying the most current methodological approaches to a wide range of literary genres such as the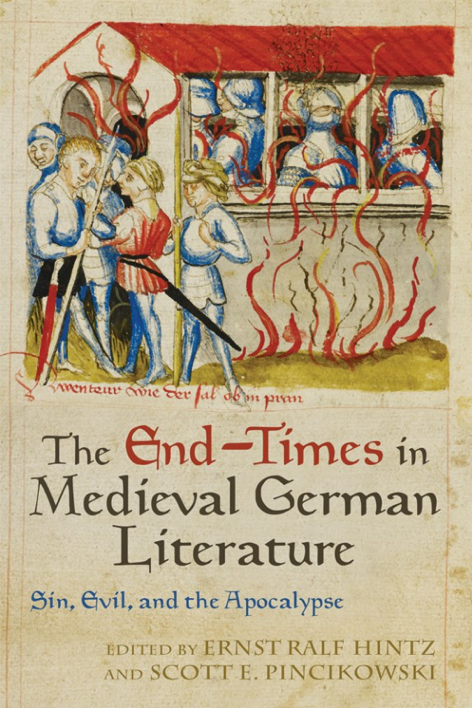 courtly romance, post-classical romance, heroic epic, legend and medieval block books.
Drawing upon methodologies such as adaptation theory, gender analysis, space and place studies, reception studies, and memory studies, the book uncovers the rhetorical, didactic, narratological, mnemonic, thematic, cultural, and political functions of end-times in medieval German texts.
Pincikowski, whose studies specialize in the representation of pain, violence and suffering in the Middle Ages, also published a book in 2002 titled "Bodies of Pain: Suffering in the Works of Hartmann von Aue" which was printed by Routledge. A paperback edition of this book is now available for purchase. He is currently working on a book on the relationship between space, architecture, and memory in medieval German culture.
Hood College is an independent, liberal arts college, 30+ bachelor's degrees, four pre-professional programs, 19 master's degrees, two doctorates and 11 post-baccalaureate certificates. Located in historic Frederick, near Washington, D.C., Baltimore and the I-270 technology corridor, Hood gives students access to countless internships and research opportunities.
-30-
Media Contact