Six Faculty Members Promoted or Approved for Tenure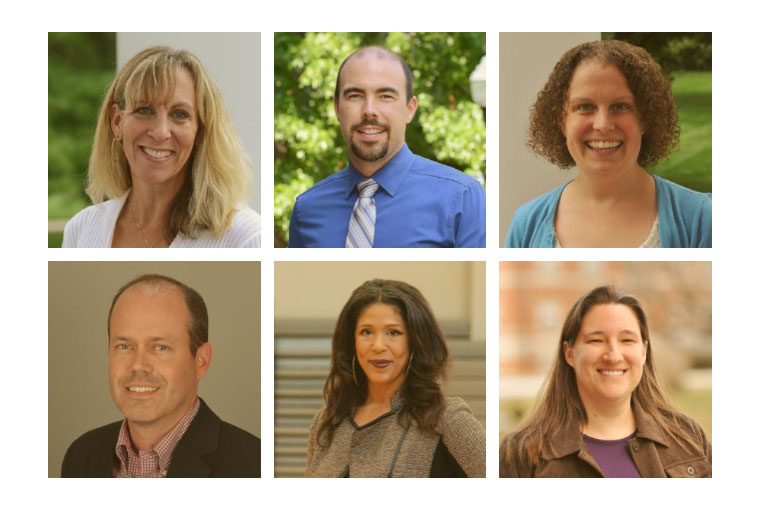 FREDERICK, Maryland—Six Hood College faculty members were promoted and/or approved for tenure during the March Board of Trustees meeting.
"These faculty have all demonstrated great dedication to their students, their academic fields, and to Hood College," said Debbie Ricker, Hood College provost and vice president for academic affairs. "They are the embodiment of the teacher-scholar model that distinguishes a Hood education. Our community is fortunate and proud to have them."
Approved for tenure:
Kristine Calo, Ph.D., associate professor of education
Approved for tenure and promotion in rank to associate professor:
Corey Campion, Ph.D., assistant professor of history
Erin George, Ph.D., assistant professor of economics
Jay Harrison, Ph.D., assistant professor of history
Terry Scott, Ph.D., assistant professor of history
Approved for promotion to professor:
Ann Stewart, Ph.D., associate professor and chair of mathematics
Kristine Calo's professional portfolio in the field of early childhood education shows clear evidence to support her innovative and engaging teaching style, her active research in the field of literacy education, and significant reflections of departmental and college service at both Hood College and Johns Hopkins University. Her candidacy for tenure was unanimously supported by her department, noting that she is a "teacher of teachers" who profoundly and positively impacts her students' lives.
Corey Campion teaches history and global studies, and he is fully committed to the "health of the humanities" at Hood. His departmental colleagues and peers across campus applaud his unwavering passion for teaching and learning, which is reflected at all academic levels from first-year seminar through graduate level courses in humanities. During his time at Hood, Campion played a central role in revising the undergraduate history curriculum and the master's program in humanities, and he has helped secure grants to support history education.  Most recently, he was co-principal investigator on a grant awarded from the National Endowment for the Humanities focused on history and literature in the WWI era.
Erin George's peers and students say her teaching highlights her passion, high energy and pedagogical innovation. Her teaching values include the three R's: relevance, rigor and rapport. Due in large part to her influence, Hood students earn the highest scores in economics, microeconomics and macroeconomics on the ETS Major Field Test. Due to her expertise in the field of pay equity and gender studies, George was appointed to the State of Maryland Equal Pay Commission. Additionally, her research exploring the impact of paid-leave laws on breastfeeding rates will potentially impact future public policy decisions.
Jay Harrison is an expert in the fields of Latin American and global history. He purposefully uses research to engage students directly in the historical process. He is faculty adviser of the history club, coordinator of the public history program, and a member of the Learning Commons Programming Committee. Last summer, he initiated a community partnership with Frederick's African-American historical society (AARCH) to archive materials in their collection and engage students in the archival process. His current projects include an edited volume on "The Franciscans in Mexico" and two book projects; one entitled "Following Francis to Mexico," and the other "Close to Heaven; Fifty Years of Purgatory."
Terry Scott has distinguished herself as an outstanding teacher, dedicated scholar, inspiring role model, and community servant. At Hood, she has taught courses that reflect her professional expertise in African American studies and the historical impact of sports. Many students point to Scott as the faculty member who changed their viewpoints and, most importantly, changed their lives. Last year, she created the Community Ambassadors Mentoring Program at Hood, in which student-athletes are paired with at-risk youth from the Frederick community. She is also looking forward to three upcoming book publications; "Seattle Sports: Play, Identity, and the Pursuit of Credibility in the Emerald City"; "From Bed-Stuy to the Hall of Fame: The Unexpected Life of Lenny Watkins"; and "Lynching and Leisure; Race and the Transformation of Mob Violence in Texas."
Ann Stewart has distinguished herself as a thoughtful and proactive leader who actively listens and seeks to turn discussions into actionable items that positively impact students. She has led the Department of Mathematics through an academic program review and self-study, and she has developed the assessment plan for the mathematics major and quantitative literacy portion of the core curriculum. She was also co-director on two successful NSF grants that have combined to bring more than $2 million to Hood College.
Media Contact
Tommy Riggs
Assistant Director of Marketing and Communications