Center for Teaching & Learning
About the Center for Teaching and Learning
The Center for Teaching and Learning is a welcoming and inspiring resource, collaborating with faculty, staff and students to promote ideas to enhance learning. The center provides support and encouragement to explore, develop and refine teaching pedagogy to promote academic excellence, and it is committed to promoting teaching and learning as ongoing and collaborative processes of inquiry, experimentation and reflection.
The center's mission is to:
Promote the value and practice of excellent teaching both in and out of the classroom to facilitate student learning and growth;
Serve as an on-campus resource that provides professional development opportunities to promote teaching and learning;
Provide opportunities for faculty to reflect on their work, share and learn from the experiences and expertise of their colleagues;
Encourage faculty collaboration to enhance and refine their teaching;
Promote active engagement and innovation in teaching and learning; and
Act as a hub for knowledge of effective, evidence-based practices as well as a conduit to bring faculty together.
Advisory Committee Members
Paige Eager, Professor of Political Science, Dean of the Faculty, Director of the CTL
Martha Bari, Assistant Professor of Art History
April Boulton, Associate Professor of Biology & Dean of the Graduate School
Catherine Breneman, Assistant Professor of Social Work 
Ashish Chakradhar, Assistant Professor of Chemistry
Michelle Gricus, Assistant Professor of Social Work
Suzanne E. Hiller, Assistant Professor of Education
Elizabeth Mackessy-Lloyd, Assistant Professor of Nursing
Jessica McManus, Assistant Professor of Psychology
Heather Mitchell-Buck, Assistant Professor of English; Coordinator of Digital Learning
Katherine Orloff, Associate Professor of Journalism
Atiya Smith, Assistant Professor of Psychology & Counseling
Marisel Torres-Crespo, Associate Professor of Education; Coordinator of Online Instruction
Jill Tysse, Assistant Professor of Mathematics
Jeff Welsh, Director of Instructional Technology in the IT Division 
---
Upcoming CTL Events for Faculty & Staff
Date
Presentation
Speaker
Location
Friday, April 7
Recorded Webinar Discussion
 
 
Thursday, May 4
noon-1 p.m.
Impacts of AI from Admission to Assignments:
Opportunity or Challenge?
Dean April Boulton, Ph.D.; David Gurzick, Ph.D.; and Kathryn Ryberg
Whitaker 220
 
 
 
 
Past events
 
 
 
Friday, Feb. 3
Recorded Webinar Discussion
More information to be announced (TBA)
TBA
Wednesday, Feb. 23
SAFIRE
 
 
Thursday, March 2
Recorded Webinar Discussion
 
 
 
 
 
 
 
RSVP not necessary. Please arrive early to reserve your seat or join via the Zoom link on the CTL Blackboard page. For questions, please email CTL@hood.edu.
---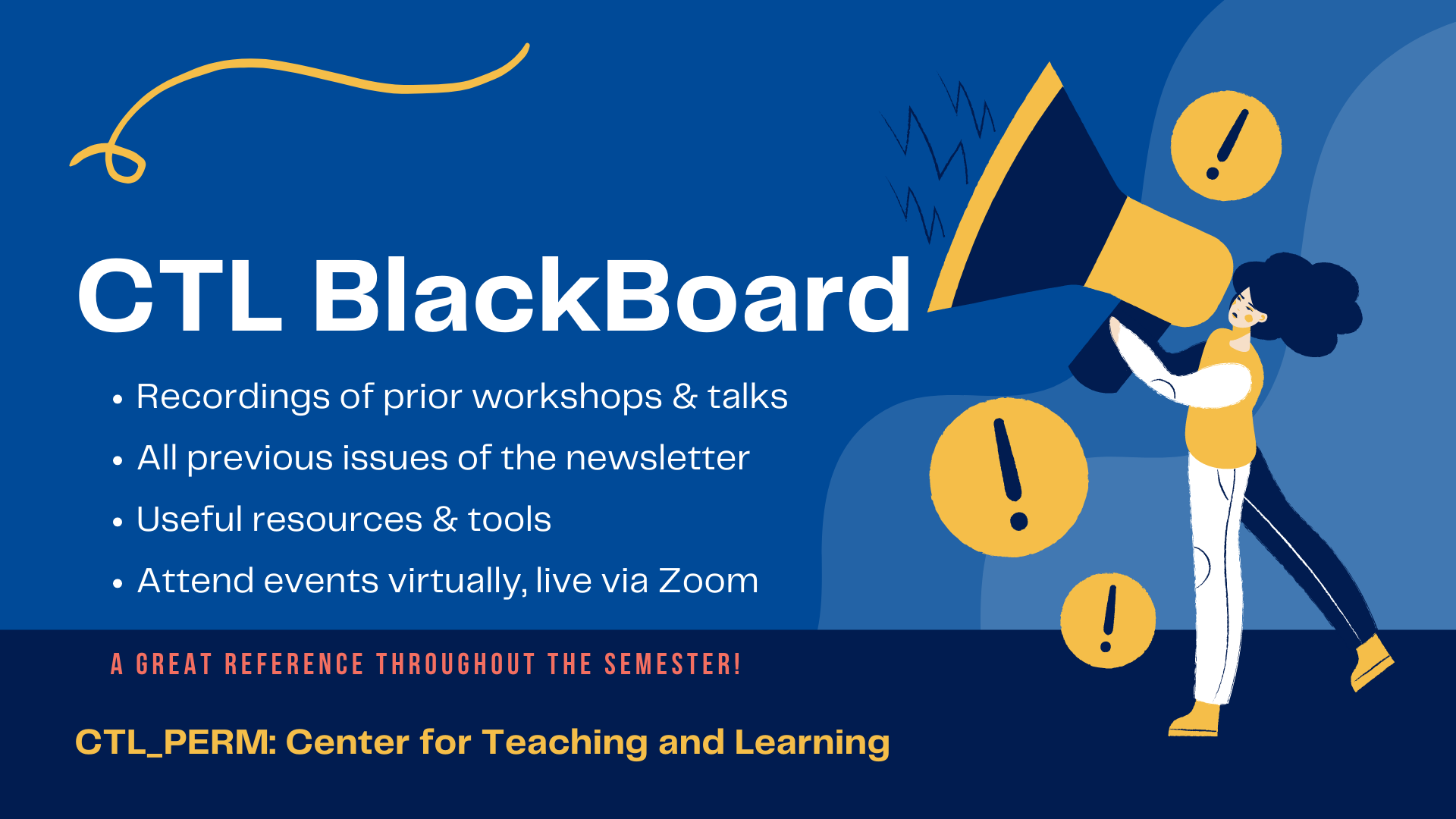 ---
CTL Monthly Newsletter
The CTL Newsletter is distributed mid-month Aug-Nov and Jan-April. Past issues listed below & uploaded to the CTL BlackBoard page.
The Center for Teaching and Learning (CTL) condemns all forms of systemic racism, bias, and aggression against Black people, indigenous peoples, people of color, and those of marginalized genders, as well as discrimination based on socioeconomic status.  We understand that excellence in teaching, by definition, must reflect our shared humanity and promote inclusive practices such as:
being conscious of biases, racial abuse, micro-aggressions, and those who are minimized or left out;

understanding and supporting those underrepresented in our Hood community; and

promoting ways to actively foster equity, diversity and inclusion in our classrooms, research, and publications.
The CTL is determined to raise awareness of all those who have been systematically oppressed and call upon Hood faculty to join us in this commitment to create a more inclusive world. As members of the CTL Advisory Board, we stand united and affirm that Black Lives Matter.
Are you ready to say Hello?
Choose a Pathway
Information will vary based on program level. Select a path to find the information you're looking for!