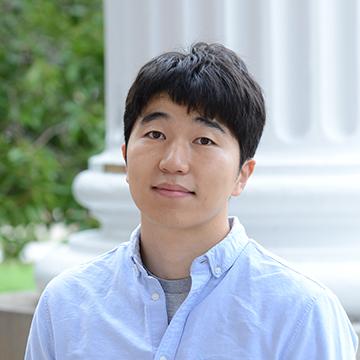 Undergraduate Faculty

Graduate Faculty
Assistant Professor of Biology
The Hodson/Maryland Endowed Chair in Advanced Bioproducts Research and Education
Office
Hodson Science and Technology Center, Room 146
Biography
My work applies a multidisciplinary approach drawing on biochemical reactions, enzyme catalysis, microbial and bioprocess engineering principles for beneficial conversion of various agriculture materials and fermentation solutions to overcome major challenges in the industry. This research addresses the characterization and development of pretreatment approaches for enzymatic digestion of various biomass, lignocellulosic material, energy crop and other waste feedstock and microbial fermentation applied to transformation of agricultural commodities to biofuels, bioproducts, and biochemical. Prior to joining the Laboratory of Renewable Resources Engineering (LORRE, https://www.purdue.edu/lorre/) at Purdue University, I worked as a researcher in NongShim R&BD center, which is one of the global companies in Asia country (http://eng.nongshim.com/main/index) for 3 years. As a researcher, I participated in the development, testing, and patenting of processed food products. My main duties included that (i) process design and simulation of bioreactor (scaled up at 3000 L bio-reactors for soybean fermentation), (ii)  development of microalgae culture methods for producing functional oils, (iii) production of biologically active oils from fermented agricultural crops, (iv) control the oxidative stability of products (noodles, snacks, processed foods), (v) development of the removed carcinogenic compound (3-monochloropropane-1,2-diol) palm oil via enzymatic biocatalysts and refining process, and (vi) synthesize capsaicin analogue which has 1000 times milder (spice) taste. At Hood, I participate and contribute to developing technologies using coffee waste and hemp materials highlighting a new concept of microbial fermentation that does not require any cooking, mechanical, physical or chemical pretreatment methods nor the additional supplement of nutrients for ethanol, hydrogen and other biochemical production. This research aims not only to transform agro-residues into high value chemicals produced with partner academic and commercial labs but also helps to train students at the undergraduate level in research at Hood College.
Education
Ph.D. Agricultural & Biological Engineering, Purdue University – West Lafayette, May 2017

M.S. Biotechnology Engineering, Yonsei University – South Korea, February 2010

B.S. Biotechnology Engineering, Korea University – South Korea, February 2008
Areas of expertise
Bioenergy/biofuels/bioproducts/biochemicals

Physicochemical pretreatment of various lignocellulosic biomass

Characterization and development of enzymatic catalysis

Sustainable microbial platforms to the energy and biomaterials

Biochemical and bioprocess engineering
Awards
Top Reviewer 2019 in the Global Peer Review Awards (2019)

22nd annual National Ethanol Conference scholarship, Renewable Fuels Foundation (2017)

2016 BIOPRO World Talent Campus, Technical University of Denmark (2016)

2nd Price Poster Competition Awards, Corn Utilization and Technology Conference (2016)

Early Career Development Travel Awards, United States Department of Energy Biological and Environmental Research (BER) (2016)

3rd Competition Chief Scientist Awards from Vice CEO of NongShim group (2012)

Best poster awards, The Korean Society of Food Science & Technology (2012)

2nd Competition Chief Scientist Awards from Vice CEO of NongShim group (2011)

Seoul Development Institute Scholarship (MS, Biotechnology Eng.) (2008 – 2010)
Publications (recent 4 years)
Choe, D., Song, S.M., Shin, C.S., Johnston, T.V., Ahn, H.J., Kim, D.*, Ku, S.*, 2020. Production and characterization of anti-inflammatory Monascus pigment derivatives, Foods, 9, 858 (*Corresponding authors)
Cárdenas, E.L.M., Zapata-Zapata, A.D., Kim, D.*, 2020. Modeling dark fermentation of coffee mucilage wastes for hydrogen production: Artificial neural network model vs. Fuzzy logic model, Energies, 13, 1663 (*Corresponding author)
Choe D., Jang, H., Jung, H.H., Shin, C.S., Johnston, T.V., Kim, D.*, Ku, S.*, 2020. In vivo anti-obesity effect of Monascus pigment threonine derivative with enhanced hydrophilicity. Journal of functional foods,67, 103849 (*Corresponding authors)

Á

zar. R.I.S., Bordignon-Junior, S.E., Laufer, C., Specht, J.

†

, Kim, D.*, 2020. Effect of low lignin content on cellulolytic saccharification of liquid hot water pretreated sugarcane bagasse. Molecules, 25(3), 623. (

†

Undergraduate student,

*Corresponding author)
Choe D., Jung, H.H., Kim, D., Shin, C.S., Johnston, T.V., Ku, S., 2020. In vivo evaluation of the anti-obesity effects of combinations of Monascus pigment derivatives. Royal Society of Chemistry Advances, 10, 1456.
Cárdenas, E.L.M., Zapata-Zapata, A.D., Kim, D.*, 2019. Hydrogen Production from coffee mucilage in dark fermentation with organic wastes, Energies. 12, 71 (*Corresponding author)
Orrego, D., Zapata-Zapata, A.D., Kim, D.*, 2018. Ethanol production from coffee mucilage fermentation by S. cerevisiae immobilized in calcium-alginate beads. Bioresource Technology Reports, 3, 200-204. (*Corresponding author)
Orrego, D., Zapata-Zapata, A.D., Kim, D.*, 2018. Optimization and scale-up of coffee mucilage for ethanol production, Energies, 11, 786. (*Corresponding author)
Kim, D., Ku, S., 2018. Molecular cloning, expression, and surface display of Bacillus cellulase on the outer membrane of Escherichia coli. Molecule, 23, 503.
Kim, D., 2018. Physico-chemical conversion of lignocellulose: inhibitor effects and detoxification strategies: A Mini Review. Molecules, 23, 309. (Single author)
Kim, D., Ku, S., 2018. Beneficial effects of Monascus sp. KCCM 10093 pigments and derivatives: A Mini Review. Molecules, 23, 98.
Kim, D., Orrego, D., Ximenes, E.A., Ladisch, M.R., 2017. Cellulose conversion of pericarp without pretreatment. Bioresource Technology, 245, 511-517.
Kim, D., Ximenes, E.A., Cao, G., Nichols, N.N., Frazer, S.E., Ladisch, M.R., 2016. Maleic acid treatment of biologically detoxified corn stover liquor. Bioresource Technology, 216, 437-445.
Are you ready to say Hello?
Choose a Pathway
Information will vary based on program level. Select a path to find the information you're looking for!