Undergraduate Faculty

Graduate Faculty
Professor of French and Arabic
Director of Arabic and Middle Eastern Studies
Biography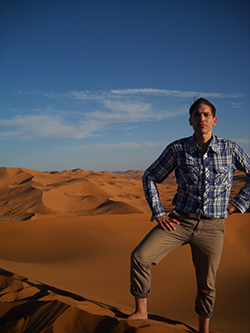 I have taught and given lectures at many institutions in Europe and the Middle East. I have worked in many museums, including the Louvre in Paris. I am the author of two books, the most recent of which, Antiquité moderne, is a study of what role ancient ruins play a role in nation building and colonialism in the Mediterranean Basin in the 19th century. I am currently working on a book that is a critical study of urban development in the Middle East. Among my many experiences in the Middle East, I have traveled to Iraq documenting human rights violations of victims of ISIS combatants and taught a course on the impact of the Guantanamo prison on populations in the Middle East and their view of America in Beirut, Lebanon. I have been invited to give lectures at various conferences in the United States, Europe, Africa and Asia. I teach Arabic and Cultures of the Middle East. In addition to teaching French and Arabic, I am Director of the Arabic and Middle Eastern Studies Program, and director of the graduate-level ESL program for international students.
Education
Ph.D. and DEA, Université Paris IV, 2003, 1998

M.A., University of Pittsburgh, 1995

B.A., Penn State University, 1991
Are you ready to say Hello?
Choose a Pathway
Information will vary based on program level. Select a path to find the information you're looking for!