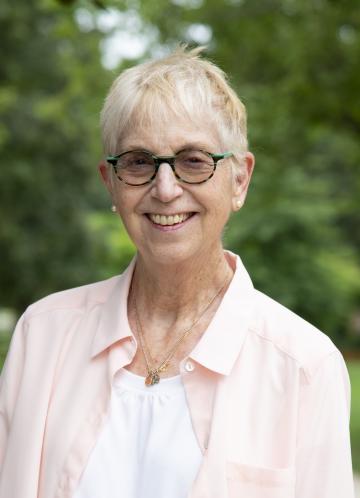 Undergraduate Faculty

Graduate Faculty
Associate Professor of Journalism
Office
Rosenstock Hall, Room 203
Biography
I teach both journalism and film courses. It was the magnificent roar of the huge presses printing thousands of copies of the Los Angeles Times that got right to my heart on a field trip with my sixth-grade class that pulled me toward journalism at the tender age of 11. My comic hero was Brenda Starr, Girl Reporter, and I did my best to uphold the creed through UCLA, where journalism was solely a grad school. I did my undergraduate work in political science, and then decided to put off grad school and go to work.

The family business was movies—dad a screenwriter, my mother a contract dancer at MGM before she retired to be a full-time mom—so it was no surprise I started my journalism career at The Hollywood Reporter, one of the two movie industry trade papers. A twisty road took me to Rolling Stone, the Los Angeles Times, the Chicago Sun-Times and its syndicate, and the English music newspaper Sounds as a rock journalist. Sometime in there, while I was a working, I got my master's degree. After that, I taught journalism for two years at California State University, Northridge. But the phone kept ringing with interesting offers and I've always been something of a gypsy in the show business sense, and I left CSUN with the intention that someday I'd get back to teaching.

It took a while. I've had a lively career going between journalism and feature motion picture publicity, with stints as a field producer for The Today Show, for NBC News, and a couple of years as an executive at Columbia Pictures thrown in for good measure. Most recently I've been doing production publicity on major features. When I moved to Maryland, I was truly happy to be added to the faculty at Hood. Here, I'm kind a utility infielder. I teach News Writing, Feature Writing, Mass Media and Society, and two courses I've developed for the curriculum. The first is Screen Craft, a survey course covering a bit of the history of the American movie industry and the elements which go into making a movie. The second is Introduction to Screenwriting, a course that looks closely at telling stories in a visual way, a skill I think benefits writers in any medium. I'm also hoping we can add more film classes and help develop a film studies minor.

Sometimes people ask me why I'm here at Hood and not "out there" working on movies. I'm the press officer for the IATSE, the largest entertainment union in the US and Canada, and I do work on movies in the summer if something comes along and the timing is right. But for me, at this point in my life, my greatest joy is being in the classroom, working with and advising students, and hoping that they'll get the joy and satisfaction out of both the movie world and the field of journalism that I have.
Education
M.A., University of California, Los Angeles

B.A., University of California, Los Angeles
Are you ready to say Hello?
Choose a Pathway
Information will vary based on program level. Select a path to find the information you're looking for!