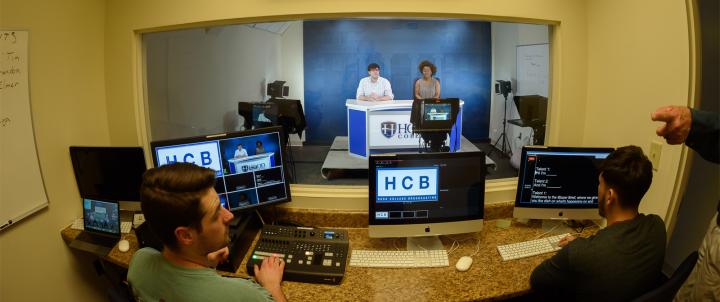 Department of English & Communication Arts
The Department of English and Communication Arts offers two degrees – English and communication arts – and a third, conferred jointly with the economics and business administration department. Our minors include film studies, graphic design, journalism, literature, public relations, studies in women and gender, theatre and drama, and writing.
A high degree of literacy is a valuable skill, and is enhanced by exposure to a wide range of great written works. The department's approach to literature promotes the following:
A liberal arts education that ensures professional capability and personal growth
Enhanced appreciation of literature through extensive reading and writing
Development of imagination and creativity through extensive reading and writing
You'll learn how to obtain information, analyze it in a variety of ways, and to communicate it clearly to a wide audience.
Beginning with freshman composition, courses in the English department are limited in size, and many are taught on a tutorial basis. All classes emphasize and develop skill in writing and in critical thinking that are transferable to and are essential in all other areas of study.
The department offers a strong mix of co-curricular activities – The Blue and Grey, the student newspaper, which offers writing, publication and leadership experience; Blazer Radio, a student-run Internet radio station that gives you the opportunity to produce your own radio programs; Wisteria, the student literary magazine, which is entirely student run, from submissions to review, layout to distribution; and the Hood College Television Studio, which allows you to learn the techniques involved in shooting, editing and producing newscasts and other types of visual content. Hood College Theatre puts on one new production each semester, and includes an improv group and an incubator for play development.
Departmental faculty regularly sponsors field trips to the professional theaters in the metropolitan area and to special exhibitions at museums such as the Walters Art Museum in Baltimore or the Folger Library in Washington, D.C. In the near future the department will offer summer courses in London and Italy.
Are you ready to say Hello?
Choose a Pathway
Information will vary based on program level. Select a path to find the information you're looking for!