2014 Alumna Wins Hood Pitch Competition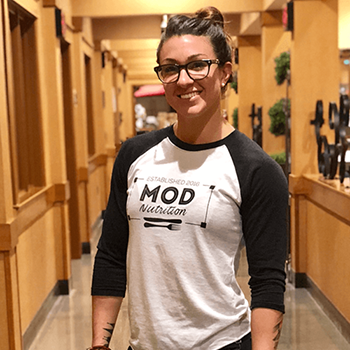 Four finalists competed in the inaugural Hood College Business Pitch Competition last week, and alumna Chelsea Young won with her business idea, MOD Nutrition, a meal prep and nutrition business specializing in healthy, ready-to-eat meals for delivery or pickup.
Chelsea Young
Graduation Year
Program
Department
The George B. Delaplaine Jr. School of Business
GameEnvy by Hood alumna Alison Peteranecz and staff member Kit Peteranecz took second place. The other finalists included alumna Carol King Heine with potluck.chat and students Nathan C. Temple and Erick Sovich with OpenSermon. All finalists presented to a panel of judges and hundreds of spectators watching at the event and online.
"Winning the pitch contest was an amazing feeling, mainly because people believe in my idea and the future of my business. I have never felt that way before," said Young. "I am so excited to start planning for the future and to see where MOD Nutrition can go."
After graduating from Hood College in 2014 with a bachelor's degree in management, Young started participating in CrossFit, dedicating the majority of her time to this newfound passion. She saw a need for healthier food to complement her active lifestyle, so she started MOD Nutrition in her own kitchen. She also offers nutrition coaching and consultations for meal prep tips, nutrition advice and to help people reach their goals.
"Chelsea Young represents the entrepreneurial spirit of the Hood Pitch Competition," said David Gurzick, Ph.D., associate professor of management at Hood and an organizer of the competition. "A brilliant idea for a side gig, a tremendous amount of hustle and perseverance, and a solid foundation in business from Hood College led her to this moment."
Young has always had interests in athletics and business. She has been involved in sports since middle school, running track for nine years and playing field hockey for seven years. She competed on the Hood College track and field team and holds 11 school records. Upon graduation, she started a career in the marketing and event industry. She is now a marketing director for United Iron & Metal, a scrap metal recycling company in Baltimore.
Are you ready to say Hello?
Choose a Pathway
Information will vary based on program level. Select a path to find the information you're looking for!