The Best Decision I Ever Made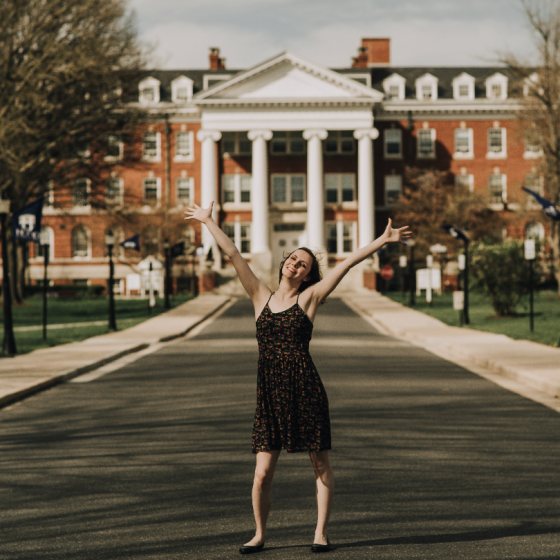 Kaylene Wright applied to Hood on an impulse, and it was the best decision of her life.
Kaylene Wright
Graduation Year
Program
Political Science (B.A.)
Communication Arts (B.A.)
Hometown
Department
Political Science
English & Communication Arts
Degree
Political Science, Communication Arts
By Kaylene Wright '17
Applying to Hood College was an impulse decision.
I was born and raised in Littleton, Colorado. Usually when I tell people this, I get an instant reaction of, "how did you find Hood?" or "why are you all the way over here?"
When time came around to apply to colleges, I was all set in applying to in-state schools. One day in late October of my senior year, one student's statement about going out-of-state to "gain a new perspective" lit a lightbulb in my head. That day, I used an online college compatibility tool to look at schools close to Washington, D.C. I am graduating with a degree in political science and communication arts, so this area interested me quite a bit.
Hood College came up as a 100 percent match, and I visited that November, along with other colleges in D.C. The moment I stepped onto campus, I knew it was the school for me.
Choosing Hood College was the best decision I've ever made. I've received an engaging and personalized education with wonderful professors that I know care about me both as a student and as a person. Hood College has given me many opportunities to lead and be involved.
During my time at Hood, I founded and led the organization Active Minds, aimed at changing the conversation around mental health and busting the stigma of mental illness. I served as president and secretary of the Feminist Student Union, as well of secretary of the Hood Environmental Action Team, Hood Democrats and Hood College Student Musical Theatre. I was also involved with the Hood Choir, Chamber Singers, Maryland Student Legislature, Blazer Radio, Rotaract and Teleteam. I love theatre, so I embraced the opportunity to perform in five different shows.
I've been able to network with many people in Washington and have had the opportunity to meet some of the nation's top leaders. This semester I served as an intern with the U.S. House of Representatives in the office of Congressman John Delaney, which gave me valuable insight into how a congressional office functions. I've attended more political conferences than I can count, and ultimately was invited to the White House last year to attend an It's On Us ceremony.
Hood College connected me to my best friends. I was a little nervous, moving someplace where I had no friends for hundreds of miles. Through seemingly perfect circumstances, I was connected to a group of friends that I was able to bond with instantly. I've had the most fun I've had in my life with these wonderful people. They defined my years here.
Hood College helped me to adapt to a new environment and to live independently. I had never been to Maryland before I visited Hood, and the east coast was an unfamiliar haze to me. Moving across the country was a very rewarding experience, and I gained a new appreciation for my home at the same time (Colorado is a magical paradise).
Looking to the future, I would love to have a career in natural resources. It's another recent life choice that completely went the opposite direction as I originally expected. I had always thought I would want to work in politics or as an advocate (and I still very well might). I hope that whatever I choose is even half as rewarding as the unexpected pick of Hood College was four years ago.
Photo by Leigh Anne Brader Photography
Are you ready to say Hello?