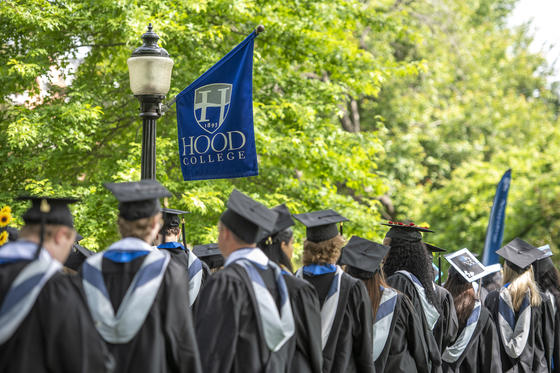 Congratulations to the Class of 2023!
491 Students Earn Hood Degrees
The Hood College community is proud to celebrate the Class of 2023, who were honored at the 126th Commencement ceremony on May 20, 2023.
You are comprised of 260 undergraduate students and 231 graduate students.
You all share the green dink, but you come from across the country—22 states—and around the world—11 countries.
43 of you are legacy graduates, meaning you have a relative(s) who also attended Hood, including Johnathan P. Alexander '23, whose mother, father and brother are all Hood alums, as well as Madison A. Lebherz '23, the granddaughter of Ann Weisburger Lebherz '47.
Eight of you are dedicated Hood employees, such as Ali Imhoff, M.S.'23, associate director of admission, who is also following in the footsteps of her father, Alan Imhoff, MBA'89, as a legacy.
Seven of you are veterans or active-duty military, including three ROTC cadets commissioned as officers.
38 of you have earned your second Hood degree, while 18 of you will remain at Hood to pursue a graduate degree.
Your educational experience was like no other. You had barely figured out your way around campus when the pandemic struck. It was a whole new way of learning, complete with technological challenges, social distancing, nose swabs, hand sanitizer, masks, quarantine; uncertainty and stress; and most difficult, personal setbacks and tragedy.
And yet, despite all these obstacles: Here. You. Are.
In the words of President Chapdelaine, "If you remember nothing else, please remember that I am confident of your bright future."
We cannot wait to see what that future brings for you.
Are you ready to say Hello?
Choose a Pathway
Information will vary based on program level. Select a path to find the information you're looking for!