Community Involvement | Turkey & Syria Earthquake Relief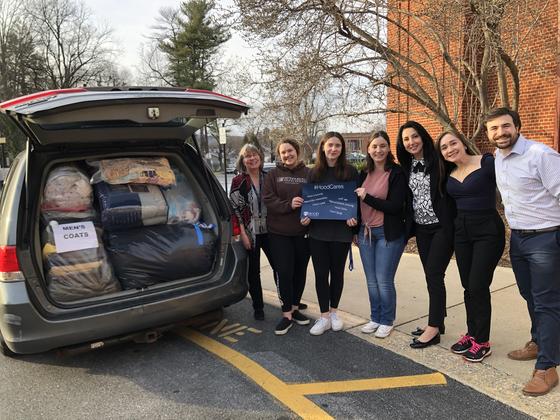 "It was comforting and reassuring that my school was doing something for my country and my people while I was going through such a difficult time here." - Zeynep Altug, Hood College graduate student from Turkey
Students, alumni, faculty and staff collect donations for Turkey and Syria.
During the second week of February 2023, Hood College students and staff organized a donation drive to support relief efforts for Turkey and Syria after a devastating earthquake took the lives of nearly 50,000 people. Dean April Boulton, Reverend Beth O'Malley, VP Tammi Simpson and Ms. Amani Al-Dajane coordinated efforts, and the Hood College Ionic Society helped organize and pack hundreds of donated items for delivery to the Turkish Embassy in Washington, D.C. 
We spoke with April Boulton, Dean of the Graduate School, to discuss this experience and how the efforts of the College have impacted those in need.
Who coordinated the Turkey and Syria earthquake relief efforts?
Reverend Beth O'Malley, VP Tammi Simpson, Ms. Amani Al-Dajane and I coordinated efforts. I also drove all the donations in an over-stuffed minivan to the Turkish Embassy in D.C.
What types of items were donated?
Clothing and shoes for all ages and sizes, especially warm coats, blankets, toiletries, baby diapers and formula, non-perishable/canned food, first-aid supplies and toys were donated by the Hood community.
How did the students, faculty and alumni respond to the efforts?
We were humbled by the quick outpouring of support. In just five days, we received an estimated 600-plus pounds of donations.
Are there any Hood College students from Turkey or Syria?
We have two Turkish graduate students—one currently enrolled and one who just transitioned from OPT to a Green Card, who is a recent alumna.
What was their response to the efforts?
Gratitude! Their family/friends have been impacted by this tragedy, so they're understandably focused on that, but they were so appreciative when they learned how the Hood community rallied to support their country during this tragedy. They felt that they were part of the Hood community.
Was the effort successful?
Very! Just six days after the initial earthquake that toppled buildings and killed/injured thousands of citizens, Hood's donations were bound for Turkey on a plane.
Are there any other ways students can help or show support?
Check the Turkish Embassy for updates. Giving Compass also has several helpful updates and ideas on how you can support the continued, long-term recovery of affected Turkish citizens.
Is there any other information you would like to mention about the donation efforts?
A special shout out to the Hood College Ionic Society and their adviser, Ms. Melanie Eyler, who spent countless hours late one evening organizing and labeling the hundreds of donated materials for easy processing by the Turkish Embassy!
Inspired by our students and ready to #GOFURTHER in your career? Learn more about Hood College's graduate programs by clicking here.
Are you ready to say Hello?
Choose a Pathway
Information will vary based on program level. Select a path to find the information you're looking for!