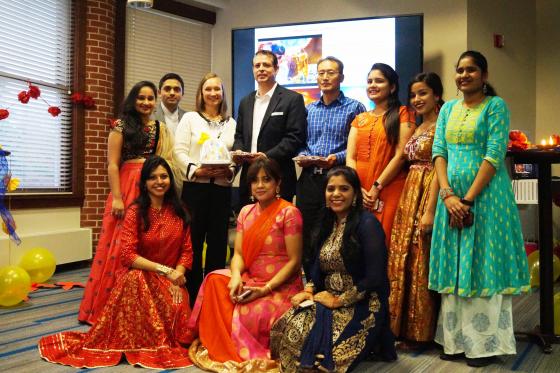 Hood College celebrated Diwali, the festival of light, putting international students in great spirits.
Rinka Chatterjee
Program
Information Technology (M.S.)
Department
Computer Science & Information Technology
Diwali, the most important religious festival in the Hindu religion, is marked by millions of people across the globe. It also represents the triumph of good over evil and light over darkness, with the word Diwali, or Deepavali, meaning 'a row of lamps'.
Indian and Nepali students joined hands together and planned to celebrate this festival. Students decorated the venue with colorful rangoli (colourful  patterns on the floor), Diwali cutouts, and lights. The event began with a short 'lighting of the lamp' ceremony by Dr. April Boulton, Dean of the Graduate School, followed by beautiful Indian and Nepali dance and music shows, including an exhibition of Indian and Nepali souvenirs (crafts, textiles, currencies, spices, paintings etc.) to show their respective cultures. This was later followed by delicious Indian and Nepali cuisine.
As Dr. Taeyol (Ted) O, Director of International Student Services, and one of the organizers said, "It was a great opportunity to show international students that Hood College is home away from home for them. This celebration let them be involved in the whole process of organizing such a big event. This event was not only enjoyed by the International students but also by the domestic students."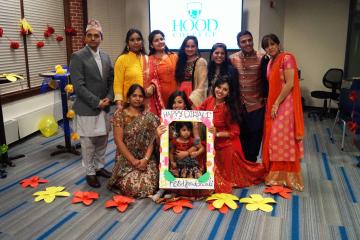 Rinka Chatterjee, Graduate Student Ambassador and one of the organizers for this event, is from India. "Organizing Diwali at Hood College was a great experience for me. Huge thanks to Dr. April Boulton, Dr. Khalid Lateef (Assistant Professor of Information Technology) and Dr. O, for supporting this event in every possible way. I am looking forward to celebrate the Diwali spirit next year."
Chiranjibi Ghimire an international student from Nepal, organizer and a performer said, "The feeling of displacement, homesickness, and experiencing a completely new culture is often overwhelming. These kinds of cultural festivals are one of the ways we can maintain our home culture while introducing it to our American friends and community. Obviously, international students are very happy and pleased Hood College sponsors events like Diwali."
Arundhati, a new graduate student of MIS, participated in her first Diwali celebration at Hood College and said, "Hood College made me feel at home. Students from different cultures and religions joined us and together shared the feeling of joy and triumph of good over evil. Indeed, I experienced a feeling of home away from home!"
Are you ready to say Hello?
Choose a Pathway
Information will vary based on program level. Select a path to find the information you're looking for!