Every Day is Earth Day | Academics Meets Environmental Activism at Hood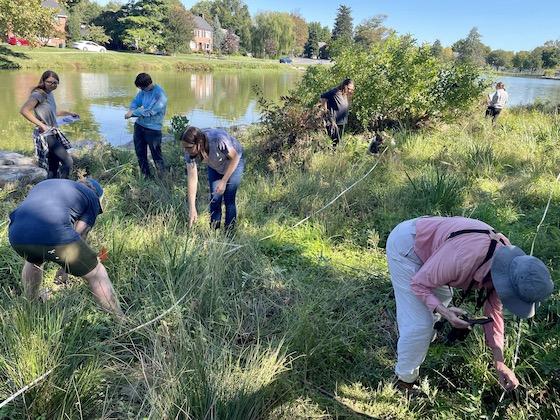 Environmental science and policy majors enrolled in the coastal studies concentration combine research projects with community outreach in the fight against climate change.
Center for Coastal & Watershed Studies
Program
Environmental Science & Policy (B.A.)
Department
For being a relatively new program at Hood College, the Center for Coastal & Watershed Studies has been making big waves. Spearheaded by Drew Ferrier, Ph.D., the CCWS encompasses three unique areas of focus—academic outreach, environmental services and the Frederick Food Security Network.
"The center is multifaceted," says Ferrier. "It functions as a place for our students to get practical experience, which they can then translate into jobs or graduate programs. We are also a resource for our community. We like being engaged civically and helping wherever we can in terms of natural resource management and providing expertise."
Environmental science and policy majors are eligible to pursue the semester-long coastal studies concentration, which offers ample opportunities for hands-on research. Students have conducted field work in the Chesapeake Bay region and Washington, D.C., as well as venturing to more exotic locales like the Bahamas and Costa Rica.
The program's focus serves as a reminder of how vital coastlines and wetlands are to society. "Coastlines are important historically, economically and culturally to every part of the nation. More than half of our population lives within about 50 miles of a coastline. We are a coastal culture," notes Ferrier. "One of the ways to take care of the coastline is to try to clean and filter water before it makes it to the coast. That's where wetlands come in. Wetlands are like sponges that store excess water to prevent floods. They act as refuges and nurseries for many species that we prize and want to keep—some of commercial value, others of ecological value."
Ferrier has been an instrumental part of the center's success. Just ask Katie Valla '22, a CCWS student intern. "I was sold on the coastal study semester after I met Dr. Ferrier," she says. "He gave me a tour and told me all the projects that they were working on. I was basically hooked after that."
Since the program's inception, coast studies students have been making a local impact, most recently with a project at Frederick's Culler Lake. Through a partnership with the Friends of Baker Park and under the guidance of Hood faculty, students completed an in-depth survey of three manmade wetlands surrounding Culler Lake.
Minimal maintenance had been performed on these wetlands since their construction. Friends of Baker Park members noticed a prevalence of potentially invasive plant species in the area. Concerned that the wellbeing of native plants might be threatened, the Friends of Baker Park recruited the CCWS to assess the situation.
Students learned to identify plant species and measure their percent cover (how much space a species inhabits). Their findings suggested that despite the appearance of new plant species, the majority were in fact a positive presence, such as pollinators.
"We were able to give an overall picture of what was happening in the wetlands," explains Valla, who participated in the project. "We found that although there were many more plants than we originally thought, a lot of them were really beneficial, which was great."
Kate Maltby '24, a sophomore coastal studies student who also assisted with the study, says these findings were a pleasant surprise. "We thought there were going to be more invasive plants based on what the wetlands looked like at the time. Once we did the actual survey, we realized more of them were native plants that were not originally planted. They must have been introduced somehow, either through runoff or birds."
Students presented their research to representatives of The City of Frederick and made recommendations for future wetlands maintenance, including the removal of a select few invasive plants. "There were only 10 plants that we suggested for removal, which makes the City's job easier," says Valla. "It was cool to see just how much growth had happened in the short time that the wetlands have been there."
Professor Susan Simonson '99, who serves as CCWS project coordinator, notes how appreciative students were to be collaborating in the field after a long period of pandemic lockdowns. "This project was a nice combination of stewardship and community service, as well as research experience," she says. "After being in virtual classes for so long, they were able to be outside working with our senior scientists and volunteers. It was refreshing to have some normalcy and be together again."
Outreach has been another CCWS cornerstone. K-12 FCPS students have enjoyed special workshops, from habitat restoration to stream monitoring. Likewise, the Frederick Food Security Network (FFSN) has been an invaluable resource for the community. A collective of volunteers—including coastal studies students and faculty—maintain a garden on campus, which provides fresh produce for families in need. The FFSN also installs eco-friendly vegetable gardens for organizations like the Boys and Girls Club of Frederick as means of combatting food insecurity, while also getting kids involved in sustainability and agriculture.
"The most rewarding part is being able to help locally and also beyond Frederick," says Maltby. "Getting that hands-on experience by doing community-based projects and research that will later help cities to maintain these ecosystems is important—not just for the organisms living in the water, but the surrounding terrestrial life as well."
Coastal studies faculty have ambitious plans for the future. From water sampling at the Constitution Gardens to monitoring Lake Linganore, students are wasting no time getting their feet wet—literally. "We're also partnering with nonprofits like the Potomac Riverkeeper for some acid mine drainage and bacteria studies," says Simonson. "We're fortunate to have many opportunities for our students to get real life work experience, as well as networking with the community."
Many environmental science and policy majors are motivated by a desire to address society's most pressing ecological issues. Climate change, extreme weather events, pollution and habitat destruction all have one common factor: they are driven by human activity. Although the situation seems dire, programs like coastal studies are helping to combat these potential disasters through training the next generation of environmental activists.
"It's not a small job by any means," says Ferrier. "But there are certainly things that we can do individually to be more sustainable in every facet of our lives. How we choose to transport ourselves, where we choose to live, how we heat our homes—all of these choices are part of the impacts that we will see in our environment."
Katie Valla '22 hopes that the conversation surrounding climate change will continue leading to direct action at the local, national and even global level. "Climate change is happening. We can't ignore it," she says. "It's important to talk about it and do whatever we can as individuals and as a community. If you can volunteer for events like trash pickups, stream cleanings or native plantings, it really does make a difference."
Want to learn more about the Center of Coastal and Watershed Studies? Click here to find out how you can get involved.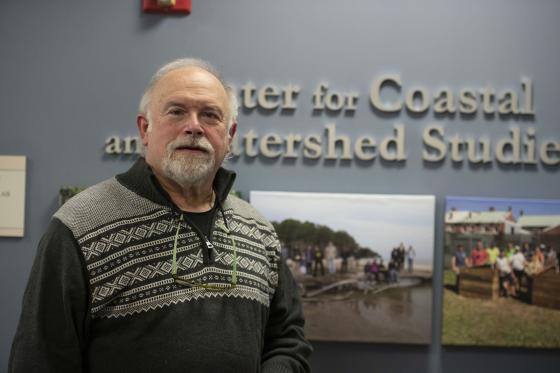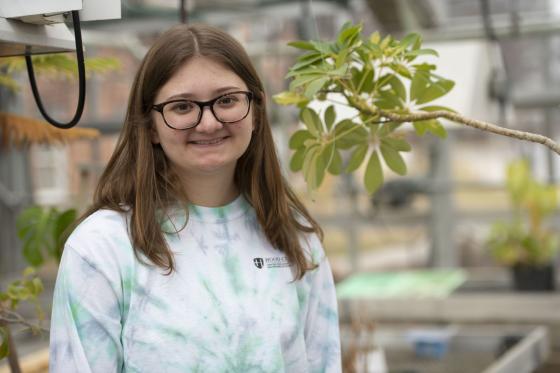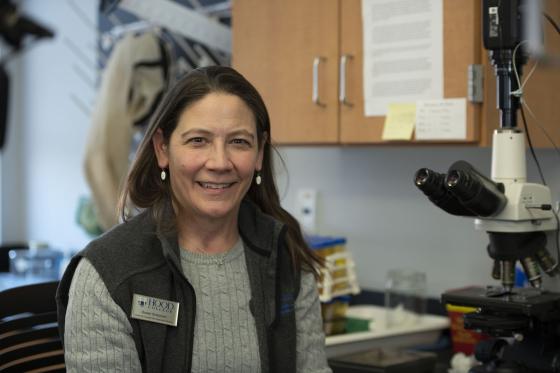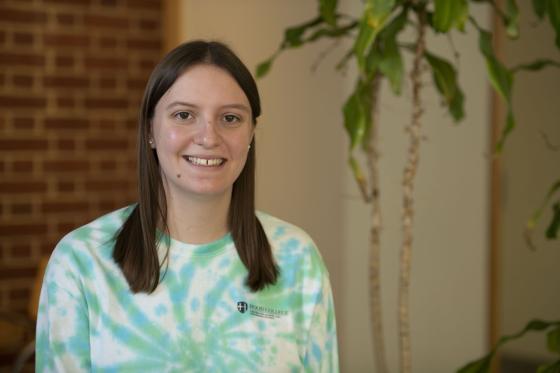 Are you ready to say Hello?
Choose a Pathway
Information will vary based on program level. Select a path to find the information you're looking for!