Featuring Hood Graduate Alumna | Mary Kearney, Ph.D.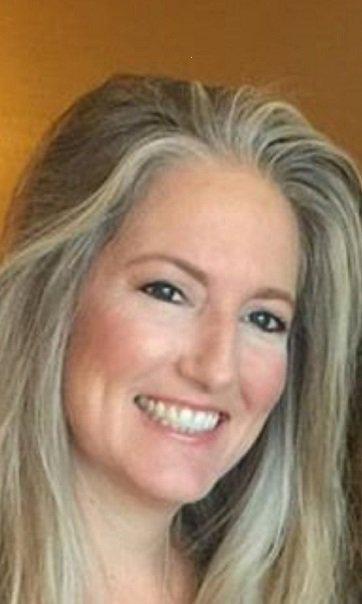 Mary Kearney, PhD. obtained her undergraduate degree in Biochemistry at Hood College in 1996 and her M.S. degree in Biomedical Science at Hood College in 2001.
Mary Kearney, PhD.
Graduation Year
Program
Biomedical Science (M.S.)
Degree
Title
That same year, she joined the HIV Drug Resistance Program in the National Cancer Institute (NCI). In 2003, she enrolled at Catholic University as a part-time Ph.D. student while pursuing her doctoral research at the NCI. Upon graduating with her Ph.D. in 2008, Dr. Kearney was promoted to Head of the Translational Research Unit (TRU) in the HIV Dynamics and Replication Program (formerly the HIV Drug Resistance Program). For the past 11 years, Dr. Kearney has directed a team that investigates HIV population diversity and evolution to determine their role in the persistence of the virus despite highly effective treatment. By quantifying and sequencing virus populations in patients' blood and tissues and characterizing the genetic expression of HIV, Dr. Kearney has advanced our understanding of HIV persistence in directions that will lead to new strategies towards a cure. Dr. Kearney played a pivotal role in the discovery of the proliferation of HIV infected cells in patients, in determining their levels of HIV gene expression, and in their contribution to viral rebound after treatment is interrupted, findings that resulted in an NIH Director's Award in 2012 and the NCI Director's Award in 2015. Dr. Kearney also serves as an NIH Woman Scientist Advisor to promote leadership of women in science and, currently, mentors three students in the Biomedical Science graduate program at Hood College. Dr. Kearney will deliver the Keynote Address at the Center for AIDS Research Conference in May 2019.
Dr. Kearney chose Hood College because of its small class sizes and individualized support that met her needs as a young single mother who worked full-time while pursuing her education. She mentioned that receiving an M.S. in Biomedical Science from Hood College allowed her to transfer all her credits towards her Ph.D. at Catholic University. As a result, she was able to pursue a Ph.D. while working full-time which is highly unusual in the science field.
Dr. Kearney is proud to have been educated at Hood College in the same town where she went to high school and has lived all of her adult life. "It brings great pride to the community to have our own, historic college. I hope to be involved with the creation of a Ph.D. program in Biology at Hood College someday - possibly in collaboration with NCI-Frederick."
Ready to #GOFURTHER in your education and career? Learn more about Hood Graduate School's Biomedical Science Master's program by clicking here!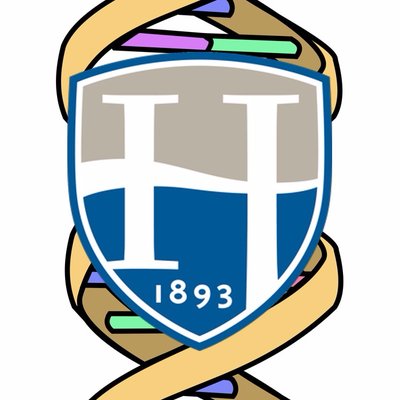 This is the summary. Please update.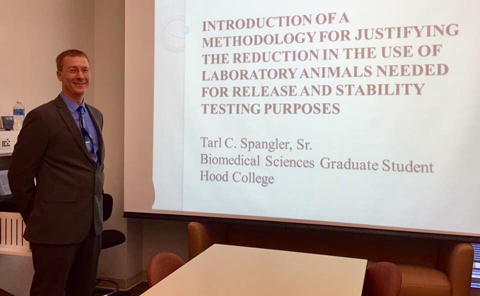 Tarl Spangler
Graduate Student
Tarl Spangler, a master's degree candidate in biomedical sciences with a concentration in regulatory compliance, works as a scientist in the BioDefense Division of Emergent BioSolutions Inc. Here's what he has to say about his experience at Hood.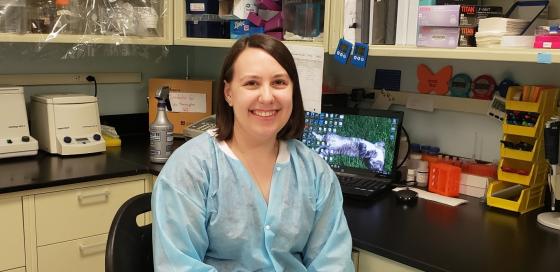 Rachel Sklutuis
Graduate Student
After Rachel Sklutuis earned her associate degree, and then bachelor of science in biology, Rachel decided to further her education by enrolling to Hood College's Biomedical Science program.
Academics
Experiential Learning
Research
Are you ready to say Hello?