Finding Myself on the Appalachian Trail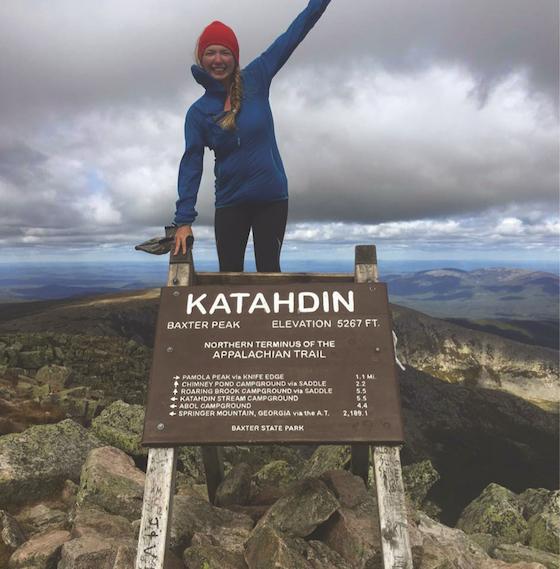 Elaine Coates, M.S.'21, spent half a year on a soul searching journey along the Appalachian Trail.
How Six Months in the Woods Changed My Life
Graduation Year
Program
Counseling, Clinical Mental Health (M.S.)
Department
It was 2015. My dad Vince Coates '84 had just begun his master's in counseling at Hood College. Three weeks later, he unexpectedly passed away form pancreatic cancer. I was 22 at the time and unsure of how to go about handling the intense wave of grief that swept upon me. I had lost my best friend.
I had recently learned about the Appalachian Trail, and even though I had little to no backpacking experience, I felt called to embark on the 2,189-mile journey. I didn't know what was out there for me, but I knew I needed to do something for myself during a time when my world felt like it had fallen apart. In spring 2016, I took off on a life-changing hike that lasted more than six months.
My time on the trail was filled with ups and downs—literally. There were good days and bad days (like any time it would rain). As the trail continued, my body adapted and I began to crunch more miles daily. However, the terrain also got more challenging as the trail went north from Georgia to Maine.
I connected with so many amazing people out on the AT and realized that most of us on the trail seemed to share one common bond: we were out there working through something, whether it be a loss, a job transition or simply wanting to reconnect with ourselves again.
The trail and the trail community provided me the space and support I needed to work through my grief in a healthy way. I met others who understood what I was going through and formed strong bonds with people who continue to be in my life to this day. The hiking was a challenge to the very last day, ending with the difficult summit of Mount Katahdin in Maine. I walked away a changed person, with more self-confidence, a sense of self-resilience and an ever-burning desire to continue chasing my dreams.
After completing the Appalachian Trail, I remained active in the trail community and ran a hiker hostel from my home for several summers. Hikers came to me, each sharing their own unique and powerful stories of what led them to the trail. I realized just how empowering both hiking and the trail community can be.
Subsequently, my family has launched a nonprofit called the Umbrella Project, a continuation of an art project my dad had started before he passed away, this time with a new twist. The Umbrella Project is an organization that helps support grieving young adults through hosting therapeutic backpacking hikes.
My time on the trail also inspired me to get into the counseling field. Following in my father's footsteps, this past May I graduated with a master's in counseling from Hood College. I am now working to combine my dual passions of the outdoors and therapy!
Are you ready to say Hello?
Choose a Pathway
Information will vary based on program level. Select a path to find the information you're looking for!