Giving Back | Hood Magazine Spring '23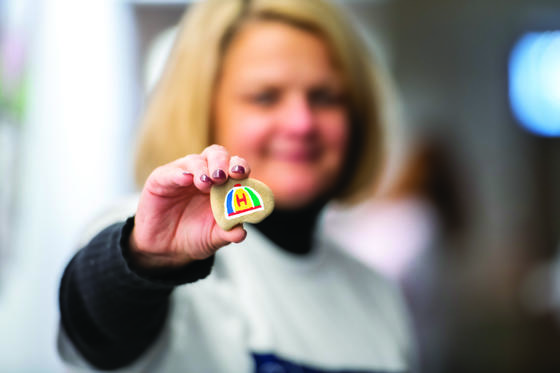 Hood faculty and staff participate in Forging the Future.
Forging the Future
On Nov. 16, 2022, the Hood campus community kicked off the public phase of the Forging the Future campaign with refreshments, music, crafts, games, and most importantly, hearing from those who have seen the impact of money raised thus far in the five-year comprehensive fundraising campaign.
Faculty members Eric Annis, Ph.D., assistant professor of biology, and Andrew Campbell, Ph.D., associate professor of counseling, along with current student Linda Redd '23, all gave testimonials as to how the campaign has truly benefited them and their respective journeys at Hood. All were funded through priorities of the campaign—faculty professional development, scholarships and high-impact learning.
Annis received several grants to further his research of climate change and its effect on juvenile lobsters in Maine, expanding his research with entities such as the National Science Foundation. "My initial McCardell grant helped me leverage $4,500 into $1.2 million in federal research dollars," says Annis.
Campbell discussed the importance of funding from the Health Resources and Services Administration (HRSA) and its support of the new NeighborHood Counseling Training Center and Scholarships for Disadvantaged Students (SDS) for counseling students. Redd spent a semester abroad, helping Ukrainian refugees in Poland with dental care through the International Medical Relief organization.
The event also introduced Hood's Campus Campaign Ambassadors (CCA), who are faculty and staff members leading the effort in encouraging their colleagues to participate in giving to the College. Each ambassador stepped up to serve for various reasons, but all understand the importance of this historic campaign for Hood. Paige Eager, Ph.D., professor of political science and dean of the faculty, embraces the "opportunity to see how all the various divisions and offices across campus benefit from the campaign and therefore benefit our students."
As part of The Ruth Whitaker Holmes School of Behavioral and Health Sciences, Jennifer Cooper, DNP, associate professor and chair of the nursing department, knows the campaign will overcome challenges in the healthcare field. "We need greater diversity in healthcare, so we must attract and keep students from all backgrounds who want to prepare for these roles," says Cooper. "This campaign can help us do this."
These employee ambassadors understand their own inspiration for giving back to Hood, and they are leading in these roles because they love Hood. "My favorite aspect of being an employee at Hood for 17 years is truly the sense of community," says Eager. "From new faces to familiar ones, I know that we are all critical parts to this end goal of delivering a high-quality, high-touch education for all our students."
Nikki Swartzlander Bamonti '00, director of admission, is passionate about her alma mater and the difference it makes. "I know the power of a supportive community like Hood," says Bamonti. "This is a transformative place to get a great education."
Pick up a copy of the latest issue of Hood Magazine on campus or view online.
Are you ready to say Hello?
Choose a Pathway
Information will vary based on program level. Select a path to find the information you're looking for!