Graduate Alumna Focus | Aurelie Niyongabo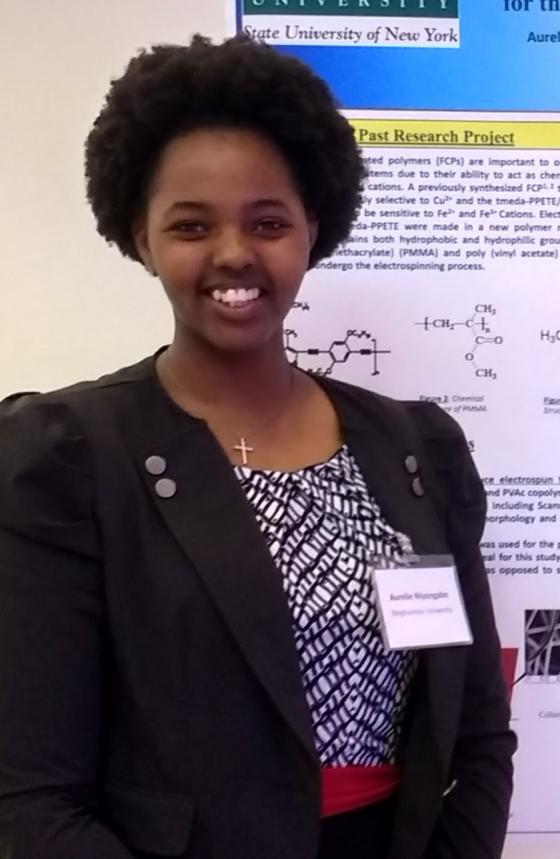 Aurelie Niyongabo graduated with a Master's degree in Biomedical Science in May 2020. She is starting her Ph.D. this fall at the University of Maryland in Biological Sciences with a focus in Virology.
Aurelie Niyongabo, Biomedical Science M.S.'20
Program
Biomedical Science (M.S.)
Department
Could you please tell us more about your educational and professional background?
I received my Bachelor of Science degree in Biochemistry from Binghamton University in Upstate New York and I just graduated this May from Hood College with my Masters in Biomedical Sciences.
I am currently about to start my Ph.D. at the University of Maryland in Biological Sciences with a focus in Virology and my goal is to pursue a career in academia. 
You recently defended your thesis online. Could you please describe this experience of online thesis defense?
Yes, I just defended my thesis online this past April. It was interesting defending online because I had presented my work plenty of times in person to an audience before, but this time, a lot more people tuned in than I have ever had presented for in any of my in-person presentations.
It just made the experience altogether more exciting but also scary. My mentor, Dr. Kearney, and I practiced and prepared a lot for the defense, so it ended up being fine and I passed!
You were recently interviewing for Ph.D. programs. Could you please share more about your decision to pursue a Ph.D.?
I decided to continue my education and pursue a Ph.D. in the Biological sciences after obtaining my master's degree from Hood.
I applied and interviewed with several Ph.D. programs in the DMV area and I chose to attend the University of Maryland at College Park for their research and academic focus in virology and also their graduate training towards a career in academia.
How did your Hood degree help you with your skillset and your career?
I graduated with a degree in Biochemistry and a research focus in Inorganic and Materials Chemistry.
I knew that I did not want to continue down the Inorganic Chemistry path for my Ph.D. so Hood College's Biomedical Sciences Master's program was the perfect fit for me to gain academic as well as research skills in the Biomedical field.
Do you have any advice for students who are currently in Biomedical Program, or just graduated and are looking to find a job?
To current students in the Biomedical Sciences Program, I would say to continue on and excel in the coursework because everything that I learned from Dr. Boyd and all the faculty continues to be directly applicable to my research career.
To those who have just graduated and are looking for a job, I would say to highlight experiences from Hood (whether in the classroom or lab) that would make you stand out.
Inspired by Aurelie's story to #GoFurther in your education to boost your career? Learn about Hood College's graduate programs, including the Biomedical Science MS, by clicking here.
Are you ready to say Hello?
Choose a Pathway
Information will vary based on program level. Select a path to find the information you're looking for!