Graduate Alumna Focus | Kristyne Brown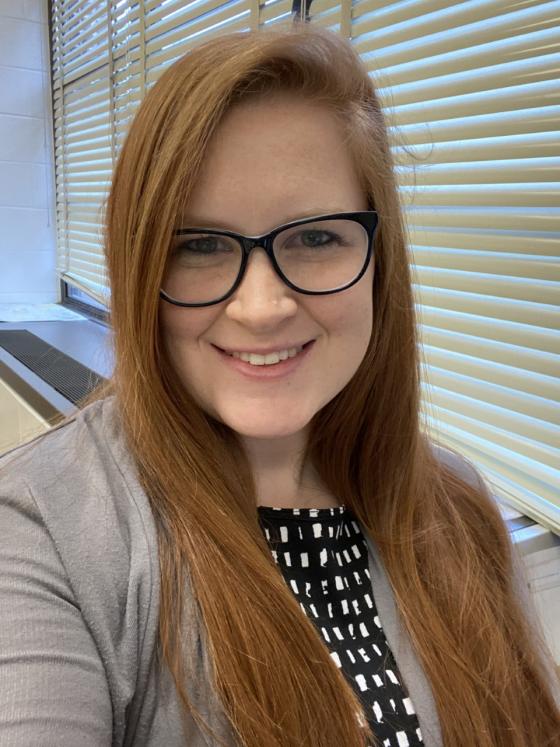 Hood graduate alumna, Kristyne Brown, earned a Master's in Mathematics Education in May 2020. She was recently honored with The Antoinette Border '04, M.S.'09 Outstanding Mathematics Education Student Award.
Kristyne Brown
Graduation Year
Program
Mathematics Education (M.S.)
Department
"The online and hybrid courses allowed me to study from home during times that best fit my schedule"
Please tell us about your background. Include any general background that you would like to share, as well as your educational and career background.
I grew up in Germantown, Maryland and am a product of Montgomery County Public Schools (MCPS).
At the age of 15, I got my first job as a swim coach with Joe Flaherty's Dolphins in Gaithersburg, Maryland. I learned very quickly that working with children was a passion of mine.
In 2014, I graduated from the University of Maryland, College Park with a Bachelor's degree in elementary education with a focus in mathematics. Upon graduating, I accepted a second grade teaching position with MCPS. Throughout my six years as an educator, I have taught second, third, and fourth grade students.
I began my pursuit of a master's degree through Hood College's Mathematics Education program in 2016. Since completing the program in May 2020, I have been given the opportunity to become a middle school mathematics teacher for the 2020-2021 school-year at Kingsview Middle School.
Why did you choose Hood College Graduate School? 
After my first year of teaching 2nd grade, I began to think about the pursuit of a Master's degree. As much as I loved working with my elementary students, I knew that my favorite subject to teach was mathematics, and I wanted to pursue that full-time.
Hood College had the exact program I wanted to study (Mathematics Education - middle school track) which would help me achieve my goal of becoming a middle school mathematics teacher.
How has your Hood College graduate degree helped further your career and/or your life?
Obtaining this degree has pushed me professionally. It pushed me out of my comfort zone. Being a 2nd grade teacher was all I knew.
I realized that if I wanted to become a middle school math teacher, I needed to make some changes professionally. At the point in my career where I had only taught second grade, a direct jump to middle school would have been a drastic change. I challenged myself to teach at other grade levels while completing the graduate program.
After teaching second grade for three years, I taught third grade for two years and then fourth grade this past school year.
Teaching at these multiple grade levels has helped me better understand the progression of a student's mathematical understanding. The knowledge I have gained via these varied experiences will help me be a successful middle school mathematics teacher next school-year.
What did you enjoy about Hood College? Do you have a favorite memory?
I think my favorite memory at Hood was attending the lecture given by John SanGiovanni on daily math routines. He was a fantastic speaker and I left the lecture with tips, tools, and strategies to use with my elementary school students.
I think it is great that Hood College incorporates guest speakers that fit so well with the programs on campus. It is a nice addition to the academic learning.
You were just honored with The Antoinette Border '04, M.S.'09 Outstanding Mathematics Education Student Award. How did that make you feel?
Receiving the Math Education Award was quite a surprise! I was speechless! I was already on cloud nine having just completed the program and receiving my master's, but getting an award on top of that...just WOW!
Being noticed and recognized for my hard work and dedication is an indescribable feeling. I am so thankful.
Is there any other information or fun facts you would like to add?
During the fall semester of 2018, I actually had a baby! ​Having a baby and taking care of a newborn in the middle of a semester was definitely as hard as it sounds. A phrase that is shared with many new moms is, "You'll sleep when the baby sleeps." Not this new mama! When my son would sleep, I would work on homework, readings, papers, etc. to stay on top of my courses.
I am thankful that my graduate program provided a variety of courses styles (online, face-to-face, and hybrid). Luckily, during the spring semester following my son's birth, my class was an online class so I did not have to take a break in the program.
The online and hybrid courses allowed me to study from home during times that best fit my schedule. I am grateful that, when it came to face-to-face classes in later semesters, my parents would watch my son.
Inspired by Kristyne's story and ready to #GOFURTHER in your education and career? Learn more about Hood's Mathematics Education Master's program by clicking here.
Are you ready to say Hello?
Choose a Pathway
Information will vary based on program level. Select a path to find the information you're looking for!