Graduate Alumni Spotlight | Mamady Kamara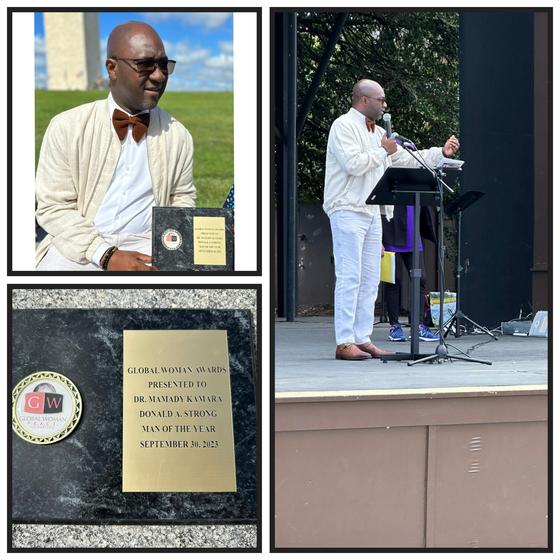 "Whatever path you choose as an activist, you will need to fall back on some outside support. Cooperation empowers you and helps whoever you're working with. You can learn how to do better and how to help others do better."
Mamady Kamara, DOL'22
Program
Business Administration (Doctorate)
Organizational Leadership (Doctorate)
Department
The George B. Delaplaine Jr. School of Business
Education
Mamady Kamara, DOL'22, is a recent graduate of Hood College's doctoral program in organizational leadership. Since 1996, Kamara has had a successful entrepreneurial career in management consultation, providing general management consulting services to organizations, corporate executives, the public and private sectors and Fortune 500 companies. Kamara has also been involved with the Global Woman P.E.A.C.E. Foundation since 2012, advocating for women's reproductive rights. We spoke with Kamara about his experience in the DOL program as well as his global humanitarian efforts.
Could you briefly describe your career and educational background?
I started my career in 1996. I also began my own practice in management consulting. More than 20 years later, I am still here, providing general management consulting services to organizations, corporate executives, the public and private sectors and Fortune 500 companies. 
Over time, I realized that these executives needed additional consulting services, as they were asking about operating, which was outside of my usual services. Sustainable Leadership Solutions came out of this need, and it became the platform from which I provide all services.
In 1994, I had my bachelor's in economics in Guinea. More than 20 years later, in 2015, I went to the George Washington University School of Business, where I obtained the World Executive MBA with Cybersecurity (WEMBA). I began working toward my Doctorate in Organizational Leadership at Hood College in 2018 and graduated in 2022. At the same time, I went to Harvard Business School, where I obtained a Certification in Entrepreneurship in Emerging Economies. 
Which non-governmental organizations (NGOs) have you worked with throughout your career?
I work with a lot of NGOs, to be honest. I'm driven by humanitarian activities; they are a passion of mine. A lot of these NGOs are international, often based in Africa and specifically in Guinea, where I am from. I help them advertise, spread the word and work as a board member for them. It became part of my journey. 
The Global Woman P.E.A.C.E. Foundation and Inter-African Committee-USA (IAC-USA) are the two major NGOs I am involved with.
What led you to become an activist against female genital mutilation?
Simply for justice. Justice has to be served. Why do we do this? Why does somebody have to change somebody else's life for financial means? That's essentially what it is: people are doing female genital mutilation (FGM) for money. Why should you harm someone else's life over financial hardship or freedom? 
I'm driven by humanitarian work and need—we are who we are. It's important to protect the future of these young women and girls. This is a very private issue—are you trying to stop reproduction? I'm not a doctor trying to go through the consequences of this, but the damage it can do to its victims is clear. Women who go through FGM cannot give birth anymore or feel pleasure anymore. It was painful to see growing up, and I want to make sure that I am involved with something greater than myself. I didn't pick and choose this.
How did you get involved with the Global Woman P.E.A.C.E. Foundation?
It was a partner of the Inner African Committee (IAC USA), a nonprofit organization created in 1985 that is present in 28 African countries. It works with women of these countries to fight FGM. The U.S. branch is the one that I have been very close to in spreading the word and campaigning against FGM policies. That has been my journey since early 2012.
The Global Woman P.E.A.C.E. Foundation partnered with IAC-USA to spread the word. They met with the Department of Justice, did a lot of campaigning and made a large effort to warn people about the dangers of FGM.
My role was to get more men involved in the process and to ensure that women are respected for who they are. This is not a religious practice—it is more cultural, and people need to understand its dangers and find solutions to it. If people are doing it for money, we find ways to keep them busy so they can earn a living without hurting girls and women.
We did a lot of activities, like excision-free holiday camps. We bring a lot of girls and boys together for two-to-three-day events to educate them on FGM. We want them to understand that this is not a practice they should support.
What is the 2023 Global Woman Award, and how did you earn it?
The Global Woman Award was launched in 2015 to celebrate those who promoted the well-being of women across the world. 
On May 24, I received an email from Angela Peabody, the executive director of Global Woman P.E.A.C.E. Foundation, stating that their Award Nomination Committee of the Board of Directors had finally completed their decision on the 2023 awardees, and they had voted to present me with a Global Woman Award in the "Donald A. Strong Man of the Year" category on September 30, 2023. This was due to my outstanding work over the years, as an advocate, activist in speaking out against the practice of FGM, working with the IAC-USA and assisting with the annual Camp Vacances Sans Excision (Excision-Free Holiday Camps).
How does your leadership experience help with your work as an activist?
Being involved with IAC-USA or the Global Woman P.E.A.C.E. Foundation allowed me to help them achieve the goals they had already prepared. My experience helps with cooperating with and supporting these groups. Without them, I would not have secured the things with which I am involved. That's why I am giving them credit for what they have done and for the courage they have to spread the word. My leadership skill is an instinct that helped me go along with what they wanted me to do.
Are there any goals you have in mind for your future activism?
A lot needs to be done to educate people. A lot of people think that this is a foreign issue, an African issue. Surprisingly, this issue is also happening in the U.S. Some doctors have been arrested in the U.S. for performing FGM operations. We all need to get involved to send a strong message to community members and local politicians. Policies are in place to prevent FGM—they just need to be adapted to fit this current environment we are in.
I like what I am doing right now. My goal is to reach out to more men to get involved and to more politicians. You would be surprised to learn that not all politicians are aware of FGM, as it is still considered to be a foreign issue. It's very important that we engage people at the college level so that everyone is aware of it and more women get protected.
Do you have any advice for students considering working in nonprofit organizations, NGOs or activism in general?
I really encourage students to know what is happening in the world. Fall back on humanitarian issues—we have a lot of refugee and immigration issues around the world. We have seen these sorts of crises in Israel and Palestine today. It is horrifying to watch, almost beyond words. We should pay attention to our neighbors instead of focusing on ourselves, like whether they have food, water, electricity or if they need anything else. We have to look at what things are important to us, and they are humanitarian. We need to be compassionate now and in the future. In the end, we are all heading toward the same goals. I would encourage students to get involved in activism and do something for other people.
Whatever path you choose as an activist, you will need to fall back on some outside support. Cooperation empowers you and helps whoever you're working with. You can learn how to do better and how to help others do better.
Pick something in life that could be related to humanity. It's a greater cause, and we're all here for a reason. Let's make sure that reason is fulfilled. We can do better together.
Are there any fun facts or trivia about yourself that you would like to share?
I am an activist focusing on sustainable goals. Everything we do in life is part of sustainable goals. The number one goal is no poverty, the second is no hunger, the third is well-being, the fourth is education and so on, continuing to 17 goals. Everything about life is set in these goals, and this is what I am passionate about. Everything is related in life today, so you cannot tackle poverty without addressing economic issues, health issues and so on.
I am passionate about sustainable development, and I couldn't have gone on this journey of writing a dissertation without the great people of Hood College like Anita Jose,my Doctoral Committee Chair. She was able to direct me to the right lines of research, encourage me and motivate me with her knowledge and enthusiasm. This work would not have been possible without my other direct Doctoral Committee members, Paige Eager and Janak Joshi of Hood College, and many others who also believed in me.
I have three kids of my own, and they value what we have accomplished here. I encourage everyone to support each other. The world would have been in a very different place today if women were leading it. I believe in the power of women and that their approach to organizational matters is different from men. I want to encourage women in leadership roles.
Inspired by Kamara's activism and professional work as a leader? Ready to #GOFURTHER in your career? Learn more about Hood College's graduate programs, such as organizational leadership, by clicking here.
Are you ready to say Hello?
Choose a Pathway
Information will vary based on program level. Select a path to find the information you're looking for!