Graduate Student Focus | Ellison Hanna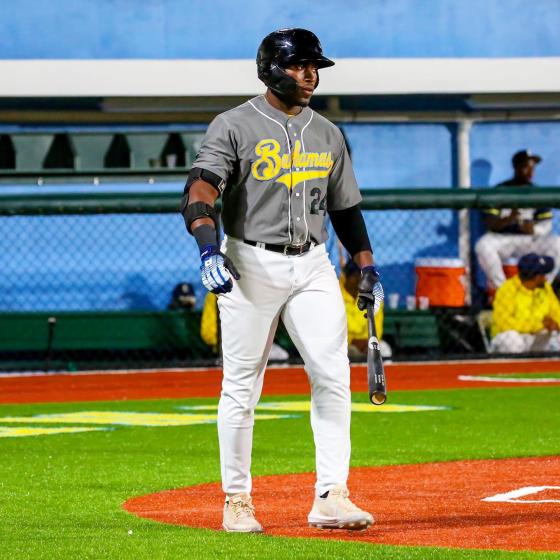 "Currently, I am pursuing an MBA in human resources. The chance to stay around baseball and cultivate people while getting a degree is what brought me to Hood College."
Ellison Hanna, MBA
Program
Business Administration (MBA)
Business Certificates
Department
The George B. Delaplaine Jr. School of Business
Ellison Hanna is a current student in the MBA program and is a graduate assistant coach for the men's baseball team at Hood College. Before coming to Hood, Ellison attended Indiana State University and graduated in 2021 with a bachelor's in public relations. Ellison grew up in the Bahamas and graduated from St. Augustine's College in 2016 before coming to the United States to pursue baseball. Outside of his education, Ellison plays professionally for the Bahamas national baseball team.
What brought you to Hood College, and what are you currently studying?
The chance to stay around baseball and cultivate people while getting a degree is what brought me to Hood College. Currently, I am pursuing an MBA in human resources.
What made you interested in baseball?
My father was a softball player, and I wanted to be just like him. That's where my interest came from: watching him play on the weekends.
How did you get your start as an assistant coach?
I reached out to Coach Michael Impellittiere and told him that I was the right candidate for the job and that I could add value to the program.
How did you become part of the Bahamas national baseball team?
In October, I received a call from our general manager, Avard Hart, stating the need for players to return to the Bahamas to make our country proud. I am currently a professional baseball player, and my background in baseball fits the mold they were looking for.
What has it been like to play for your home team?
It's been an absolute pleasure and a dream come true. This was one of the things that I wrote down on my goal sheets to accomplish. We opened up tournament play last night against the U.S. Virgin Islands in front of the home crowd. It was awesome!
What advice would you have for people who want to get into coaching?
In coaching, you need to care about your players; it's not something that you can fake. The players will be able to see right through that. You must be knowledgeable about the game, but most importantly, you should care about your players as if they were your stepchildren.
Are there any fun facts or trivia about yourself that you would like to share?
One fun fact about me is that I played baseball for two weeks in Sao Paulo, Brazil at an MLB Elite Camp back in 2015 and that I was the best player there.
Inspired by Ellison's story and ready to #GOFURTHER in your career? Learn about Hood's graduate programs, including the MBA program, by clicking here.
Are you ready to say Hello?
Choose a Pathway
Information will vary based on program level. Select a path to find the information you're looking for!