Graduate Student Focus | Naha Prasaath Ganesan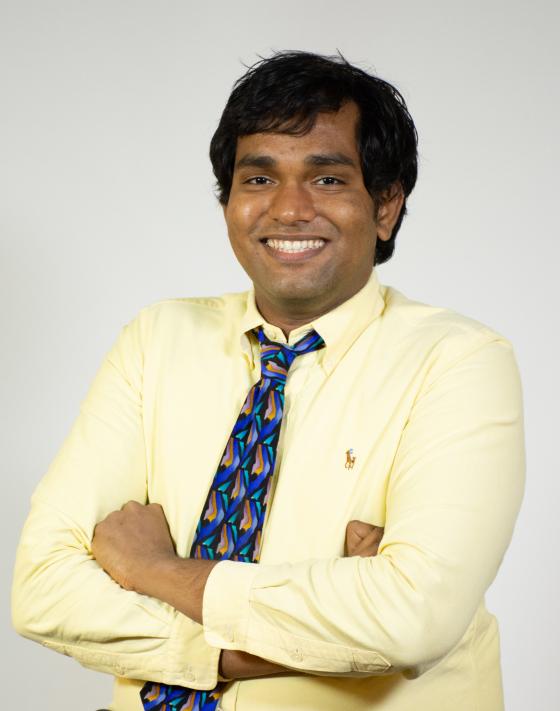 "I like how Hood is a smaller college with fewer students. The Graduate School helped me adjust after I arrived post-orientation. Hood's professors have been very helpful and friendly."
Naha Prasaath Ganesan, M.S. Information Technology
Program
Information Technology (M.S.)
Department
Computer Science & Information Technology
Naha Prasaath Ganesan is an international graduate student in Hood College's Master of Science in Information Technology program and is expected to graduate in 2023. Before Hood College, Naha Prasaath earned his bachelor's degree in mechanical engineering from Kalasalingam University in his home country of India. Naha Prasaath has also held multiple positions in mechanical engineering before beginning his education at Hood.
What got you interested in going to Hood College?
My uncle told me about Hood College, saying it was a nice and small environment. He graduated from here with an MBA in 1993. He told me it was affordable and had a positive environment. It caught my interest, and I decided to come here.
I like how Hood is a smaller college with fewer students. The Graduate School helped me adjust after I arrived post-orientation. Hood's professors have been very helpful and friendly—in Indian culture, we do not talk to our professors as much, so it was unexpected.
What was it like to work in the field of IT?
I got three job offers: one from Sodexo, another from Lonza and the third from Phoenix Mecano. I selected Sodexo and worked in their legal department from May to August 2022. I got a job offer from Sodexo this year, but I did not pursue it in order to become a teaching assistant at Hood College. I wanted to work at Hood College, but Sodexo said it was willing to wait for me in the spring.
Do you have any advice for students in Hood

'

s IT program looking for work?
Widen your scope when it comes to job hunting. The more companies you apply for, the greater your odds are of getting an offer or another opportunity. Make sure to apply for jobs during the semester as well. The amount of active job applications will build up over time and give you a better chance at being chosen. Apply for entry-level jobs and take on internships too—you have to start somewhere with your professional career.
Are there any fun facts about yourself that you would like to share?
I like to cook. I am learning how to bake, make pizza and do other recipes. I also like to watch movies.
Inspired by Naha Prasaath's story and ready to #GOFURTHER in your career? Learn about Hood's graduate programs, including the information technology program, by clicking here.
Are you ready to say Hello?
Choose a Pathway
Information will vary based on program level. Select a path to find the information you're looking for!