Graduate Student Spotlight | Gio Saglimbeni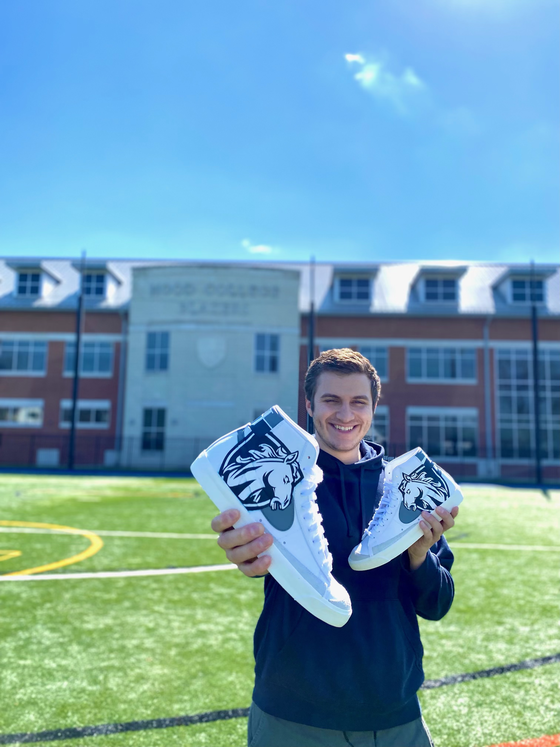 "The MBA will help my career thrive because of the overall education I have received in the business world and the attempt to truly understand every aspect of starting and running a business."
Gio Saglimbeni, MBA
Program
Business Administration (MBA)
Department
The George B. Delaplaine Jr. School of Business
Gio Saglimbeni is a current student in the MBA program at Hood College and is the owner of Sneaker Kings of Maryland. After graduating from Hood College's undergraduate business program in 2022, Saglimbeni joined the graduate school and began laying the foundation for his business. Sneaker Kings of Maryland is located in Howard County, MD, and is a place to buy, sell and trade trending streetwear and vintage clothing. We spoke with Saglimbeni about his experience as a small business owner and full-time graduate student.
Can you tell us about your educational and career background?
I went to Hood College to obtain my undergraduate degree in business with a marketing concentration and decided to continue to achieve a graduate degree in business administration while maintaining the focus in marketing.
I was a manager at Dick's Sporting Goods in Frederick while attempting to follow my entrepreneurial journey of starting my own business.
About a month ago, I officially opened my own sneaker store front called Sneaker Kings of Maryland in Howard County, where I buy, sell and trade trending streetwear and vintage. I also customize popular sneakers.
Why did you choose Hood College and the MBA program?
I chose the MBA program because of the love I had for the school in my undergrad years. I wanted to continue my journey with Hood College because of the great environment it provides and because I was familiar with some of the professors. It was also pretty seamless to continue on thanks to the great staff here.
What do you enjoy most about being at Hood College?
I love the small campus atmosphere that Hood College provides and the close professional relationships that come with that. I love being able to talk to my professors and peers with ease and feeling like I have a primary focus during class periods. I also have created many lifelong friendships here.
What are the challenges you faced when starting your own business?
The biggest challenge in starting a business is truly the financial responsibilities that are tied to it. There is a lot of money going out just to start up, and it was a hard but necessary adjustment to begin a business properly. It is also a lot harder to have a work-life balance because the work has become my life, so the stress can be high at certain times. Plus, on top of all that, I am a full-time grad student.
How do you think it does or will help you in your career and life? 
The MBA will help my career thrive because of the overall education I have received in the business world and the attempt to truly understand every aspect of starting and running a business. I have used many of the skills to better myself and my business. 
Any other information/fun facts that you would like to add?
While in college, I hand painted custom sneakers for friends and family. I turned that into a small business to make some extra money. I also really got into buying and selling shoes and clothes at this time. After about a year of planning, my dream to open a store came true. You can check out Sneaker Kings of Maryland here: Instagram and Facebook
Inspired by Gio's story and ready to #GOFURTHER in your career? Learn about Hood's graduate programs, including the MBA program, by clicking here.
Are you ready to say Hello?
Choose a Pathway
Information will vary based on program level. Select a path to find the information you're looking for!