Graduate Student Spotlight | Jared Tomlin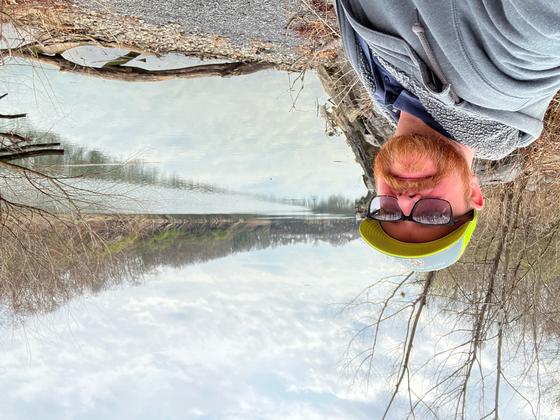 "The courses at Hood were relevant and directly applicable to the positions I was applying for. The professors at Hood held me to a high standard that translated to the real world, where I can create deliverables and develop programs that are exemplary and award-winning."
Jared Tomlin, M.S. Environmental Biology
Program
Environmental Biology (M.S.)
Department
Jared Tomlin is currently enrolled in Hood College's environmental biology M.S. program and is expected to graduate in spring 2023. Outside of Hood, Tomlin currently interns as a stormwater program manager in Martinsburg, West Virginia. He also participated in two NASA DEVELOP terms at Goddard Space Flight Center.
We spoke with Tomlin to learn more about his time in the environmental biology department and the Urban-Tree Research project he is currently working on. 
Could you briefly describe your career and education background?
In 2010, I transitioned careers from web development to environmental science and received my bachelor's in environmental sustainability at Shepherd University in Shepherdstown, WV. I received my graduate certificate in geographic information systems (GIS) from Hood College in 2016, and I am completing my master's in environmental biology this spring.
While initially working under a NASA grant at Shepherd University, I continued to pursue NASA opportunities at Hood, participating in NASA DEVELOP twice. I then started work as an intern at the City of Martinsburg, WV, in GIS data collection before getting hired full time as the GIS analyst. I have since moved up to stormwater coordinator and now stormwater manager, where I run the Stormwater Utility.
What got you interested in environmental science? 
While I worked in IT and went to school for IT, my life was very much an urban and digital experience. Some friends invited me to go fishing, and I was almost instantly reconnected with nature. It was very important to me, since I grew up hiking, sailing and scuba diving. I wanted to change course to something that I felt better connected to, and I found that environmental science had a nice interdisciplinary approach to problem solving. Because of this, I shifted my focus.
What is urban-tree research?
Urban trees are the trees that adorn communities in urban settings. Many people don't realize how important these trees are, nor how much effort there is in keeping them maintained and planting new trees. Finding the right species to plant in the right location can be a daunting task, which first requires an inventory of current trees and conditions.
The Martinsburg urban tree inventory has been underway via the Stormwater Utility's summer GIS internship program since 2019. Last summer, I was able to find suitable locations throughout the city to plant 50 trees in commemoration of the county's 250-year anniversary.
What is the goal of your project? How far along is it? 
Initially, the goal was to find a location and species recommendation for the 50-tree planting. However, the value-added goal was to develop a process where the Shade Tree Commission and the Stormwater Utility can work together to create a long-term tree solution and planning tool.
Since my internship, the city has been working with a student at Shepherd University to move the tree data to a new mapping software solution. This summer, there will be two more interns to continue the work of tracking and documenting the tree inventory, along with developing partnerships for the program's sustainability. I hope the program will run for a long time and have these summer opportunities to continually develop it further.
What has it been like working in the field of environmental science? 
It can be a difficult job sometimes. There are never enough funds to get everything done. It is also a very fast-paced environment, and you must sometimes take on a lot of roles. I think that's the interdisciplinary nature of the field. It is non-stop problem solving.
I have found that the people I work with are passionate and hardworking. I greatly enjoy the opportunities to travel and interact with the many different businesses, agencies, non-governmental organizations and nonprofits that make up the industry.  
How has the Graduate School at Hood College helped you with your studies and work? 
The courses at Hood were relevant and directly applicable to the positions I was applying for. The professors at Hood held me to a high standard that translated to the real world, where I can create deliverables and develop programs that are exemplary and award-winning. The internships I was able to get through Hood's job fair set me on a professional path as a leader. Hood understood that I am a husband and father of three who is working full time and attending school on nights and weekends. The administration at Hood has always been able to help me navigate registration and financial aid.
Do you have any advice for other students interested in environmental science?
You need to make those professional connections and develop your network all the time. Schoolwork, projects and internships are all very important, but you must also go beyond your own circle, learn about the industry and see how you might fit in.
I can be a shy person, and sometimes I'm uncomfortable meeting new people, so I keep working to improve those skills. I have found myself in conversations with World Bank executives, senators, NASA principal scientists, United States Geological Survey field researchers and regional utility directors. You never know who you will be interacting with!
The good news is that, during my time in the field, everyone has been nice and eager to share their experiences and expertise.  
Are there any fun facts or trivia about yourself that you would like to share? 
My first passion is music. I've been playing in bands since I was 15 and living with my dad in Okinawa, Japan. When I made my career change, I was living in my native California and playing in a punk rock band. I have continued playing in bands after my move to West Virginia and all throughout my school experience.
Inspired by Jared's research and accomplishments in environmental science? Ready to #GOFURTHER in your career? Learn more about Hood College's graduate programs, such as environmental biology, by clicking here.
Are you ready to say Hello?
Choose a Pathway
Information will vary based on program level. Select a path to find the information you're looking for!