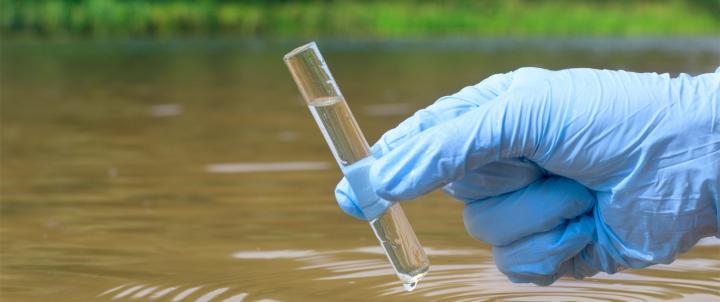 About this Program
Students in environmental biology program want to analyze and research pressing environmental issues. They envision altering the course of climate change, invasive species and unsustainable uses of natural resources. They have a compelling desire to transform the future through leadership, education and example. For them, keeping the air, water, land and its resources clean and sustainable is more than a career path. It's a passion.
Program Overview
The Master of Science in Environmental Biology is the only part-time graduate program in the region that emphasizes a field and laboratory approach to learning and promotes hands-on research opportunities. The program's courses are offered in the evenings with some supplementary field and laboratory activities on Saturdays to meet the needs of working professionals. We also offer some courses in alternative hybrid formats whereby a portion of class meetings occur online and do not require campus attendance.
Studies within this master's degree provide a strong foundation in ecology, pollution biology, resource management and biostatistics. The program, with its wide array of electives and specialized research opportunities, provides excellent preparation for environmental professionals and educators who seek to update their knowledge and skill sets, as well as those individuals who are interested in obtaining the essential background knowledge necessary to transition into an environmental career. Students enrolled in the master's degree in Environmental Biology also have the option of earning a GIS certificate with the completion of 9 core credits and 9 elective credits.
Our Mission
The master's program in environmental biology at Hood College strives to educate its students in processes that keep our air, water, land, and their respective resources clean and sustainable. Our students become well versed in the latest research on environmental biology's most pressing issues, which include climate change and invasive ecology. Our students learn current, effective techniques for analyzing these pressing environmental issues, such as hands-on training in Geographic Information Systems (or GIS). Our program continues to value close partnerships between its students and faculty by maintaining moderate enrollment and a low student-to-faculty ratio.   
Our program's ultimate goal is to have our graduates emerge with an expertise in environmental biology that will enable them to assume key positions in the public and private sectors charged with protecting our environmental future.
Our Program Learning Goals
Upon graduation from the Environmental Biology master's program, our students will be able to:
Problem solve and apply the scientific method to the field of environmental biology
Analyze and interpret scientific data 
Effectively communicate scientific data
Real-world
The master's degree program in Environmental Biology bridges the sciences to real-world socioeconomics and politics. Comprehensive core requirements — ecology, pollution, biology, resource management, biostatistics — lead to a choice of research and nonresearch tracks. Cutting-edge techniques, such as remote sensing and GIS, open new windows to protecting and developing natural resources. Students enrolled in the 33-credit master's degree program can also earn a certificate in GIS with the completion of 9 core credits and 9 electives credits.
From lab to field
As the only part-time environmental biology program in the region that emphasizes a field and laboratory approach, Hood's unique program is ideal for working professionals who want to take their commitment and their careers to the next level. Hands-on experiences and small evening classes keep instruction focused and learning interactive. Supplementary Saturday and summer sessions fit busy lives.
Program Contact
Are you ready to go further?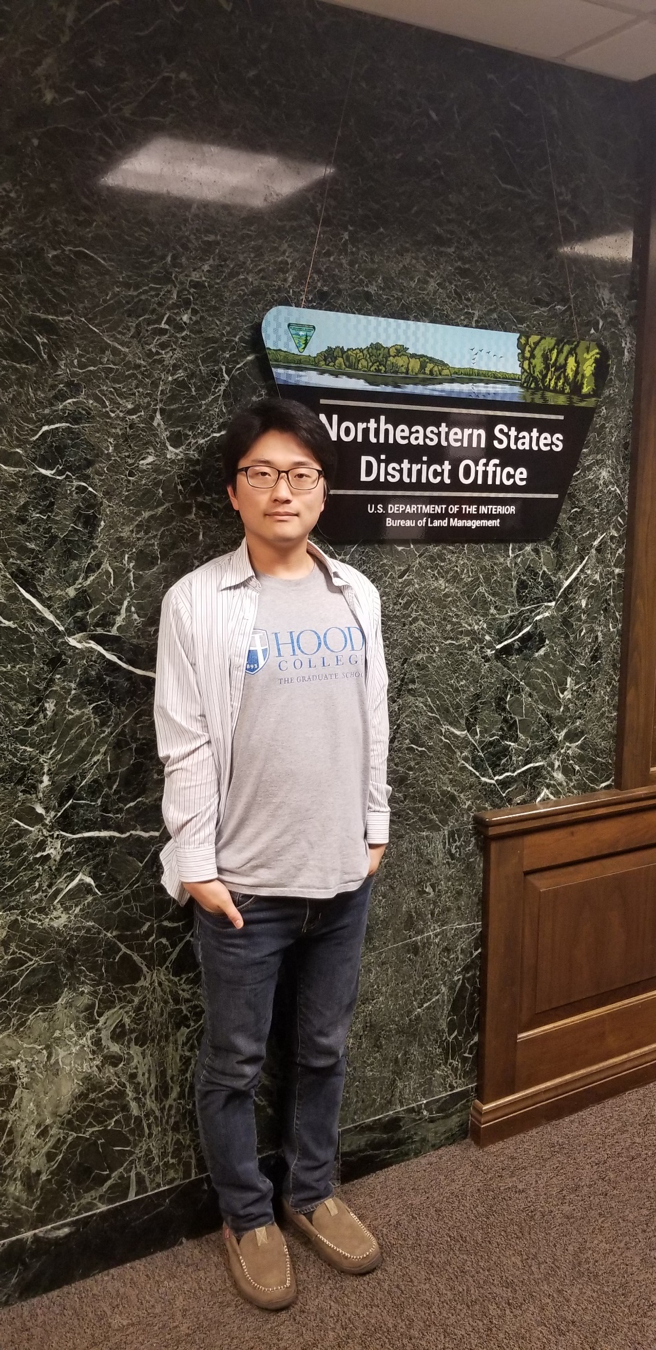 Charlie Kwak
Alumni Graduate Student
Charlie Kwak graduated from Hood College with an M.S. in Environmental Biology in 2018
Academics
Natural Sciences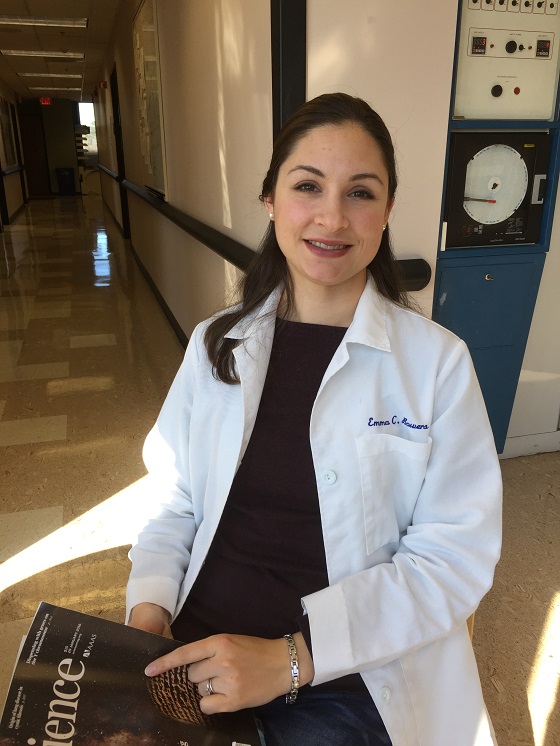 Emma Bowers
Alumni Graduate Student
"Hood was a stepping stone between my undergraduate and graduate education"
Academics
Natural Sciences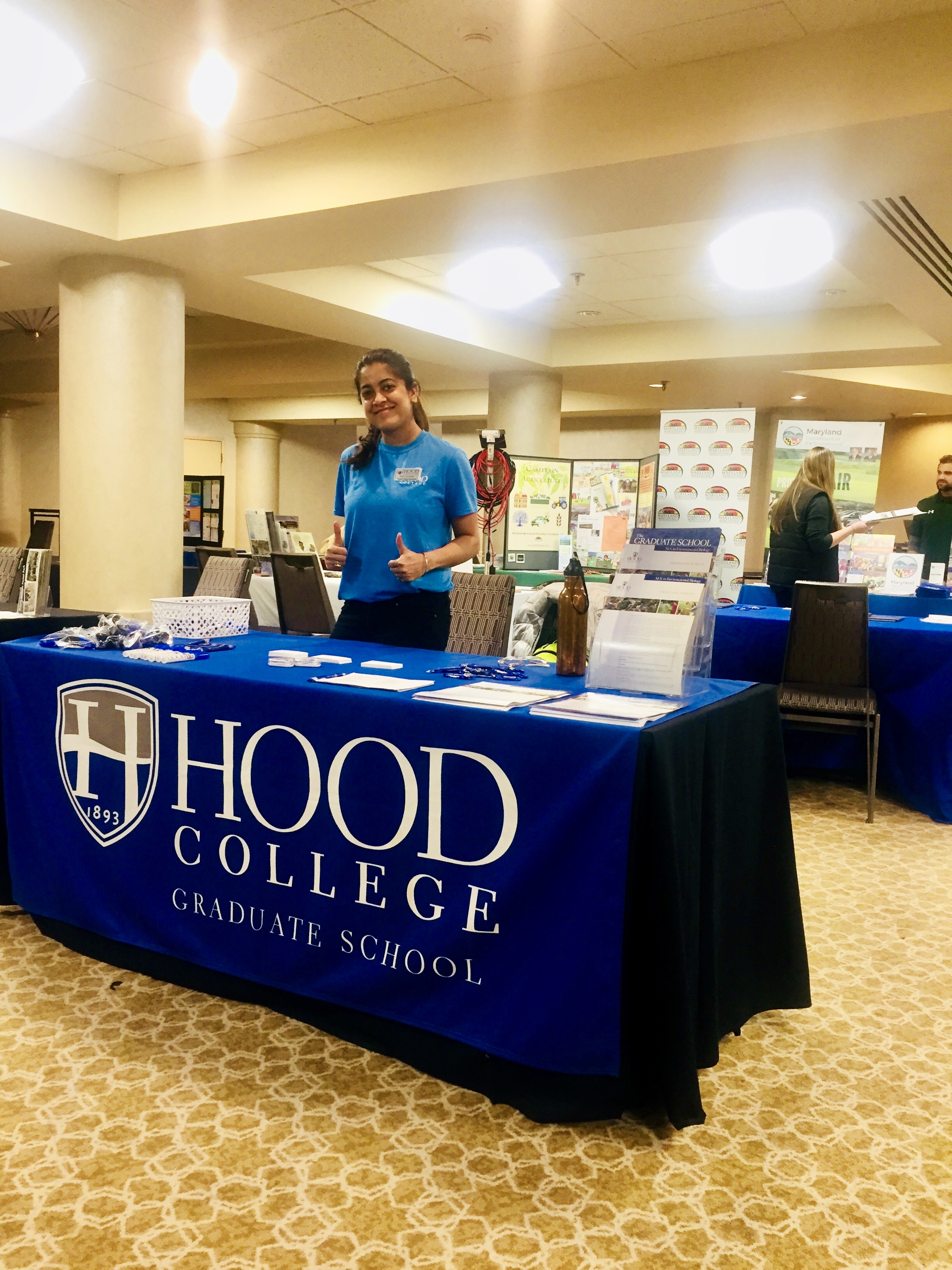 Hood College Attends 2019 MAEOE Conference
Alumni Faculty Graduate Student
In early February, Hood College's environmental biology department attended the 2019 Maryland Association for Environmental and Outdoor Education (MAEOE) conference as an exhibitor. MAEOE brings together a large community of educators from schools, parks, nature centers, and more to its annual meeting to share and discuss ideas and strategies related to environmental education.
Academics
Natural Sciences
Program Requirements and Course Listings
For students applying to the M.S. in environmental biology program, please: 
Complete and submit the online application, including an essay of 550 words or less describing background experience and future goals 
Request an official transcript be submitted by each institution attended
Two letters of recommendation are suggested, but not required.
Applicants with an undergraduate GPA of 3.0 or higher are preferred. Two letters of recommendation are suggested and can be emailed to gofurther@hood.edu.
All applicants must have completed and earned a B or better in the following five courses: two college-level biology courses (with lab), two college-level chemistry courses (with lab), and one college-level math course (e.g., statistics, algebra, pre-calculus, calculus).
The program has two tracks, a research and non-research track—both requiring the completion of 33 credits. The research track includes either a 6-credit thesis (invitation only) or a 3-credit independent research project. The non-research track includes either a 3-credit internship at an approved agency or an intensive capstone course as the final programmatic experience. Both tracks are designed for students from a variety of academic backgrounds.
A required core of courses provides students with a comprehensive background in all aspects of environmental biology. Students will be able to place environmental issues into a broad social, political and economic context; but the primary core course emphasis will be on using environmental biology principles to identify and solve environmental problems.
The elective courses provide each student with the opportunity to tailor her or his program to meet particular professional needs. Some electives are clearly rooted in natural science and mathematics and are the ones most students will choose in order to further their careers in environmental research, regulation, consulting and teaching. Other electives come from the social and political sciences and are well-suited for students planning to enter the realm of public policy. There are also 1-credit elective offerings that stress laboratory and field techniques. Three of these one-credit courses may be taken in lieu of one 3-credit elective for thesis students. All other students (project option or non-research track) must complete three of the 1-credit courses as part of their 33 credit minimum.
All students must complete the following:
All students must complete one of the following (3 credits each):
Research Track - 33 credits:
After the successful completion of 12 ENV credits, students are required to meet with their adviser to discuss the student's remaining academic path. Once the research track is chosen, a student may not switch from this track to the non-research track. 
Thesis Option:
Upon the successful completion of 12 ENV credits, ENV faculty will invite a limited number of exceptional students to complete a comprehensive thesis project. If the student accepts, he/she is responsible for securing a thesis advisor and committee. Thesis students must complete 6 elective credits, as well as ENV 515 and ENV 580 Thesis (6 credits), for a program total of 33 credits.
Independent Project Option:
Students choosing to complete an independent project must complete ENV 515 and ENV 579 Project (3 credits), and 9 elective credits for a program total of 33 credits. Of the 9 elective credits, 3 must be designated as lab or field credits (ENV 522-528 and ENV 565).
Alternative Track - 33 credits:
After the successful completion of 12 ENV credits, students are required to meet with their adviser to discuss the student's remaining academic path. If the alternative track is chosen, he/she has the flexibility to switch between the two options under this track, but it is not possible to change from the alternative track to the research track.
Internship Option:
As part of their 33 credits, internship students will complete a 3-credit internship (ENV 591) at an approved facility through the ENV program director. Students are required to complete ENV 515 and 9 elective credits for a program total of 33 credits; three of 9 elective credits must be designated as lab or field credits, such as ENV 522, ENV 526, ENV 528 and ENV 565.
| | | |
| --- | --- | --- |
| ENV 591 | Internship in Environmental Biology | 3.0 |
Capstone Option:
Students, who choose the capstone option, are required to complete a program total of 33 credits, which includes 12 elective credits; three of the 12 elective credits must be designated as lab or field credits, such as ENV 522, ENV 526, ENV 528 and ENV 565.
As part of their 33 credits, capstone students must successfully complete:
Once a student enrolls in ENV 578, he/she is not permitted to change options within the alternate track.
Elective Courses
Electives include, but are not limited to, the following:
If not taken as part of core requirements:
Examples of research topics
Native insect pollinators in sustainable agriculture
Amino acid metabolism in corals and anemones
Restoration ecology of the regal fritillary butterfly
The effect of atrazine on earthworm reproduction
The effects of crayfish on headwater stream communities
Nitrogen mineralization and phosphorus availability in composted poultry litter
Antibiotic resistance patterns in fecal streptococcus from environmental samples
Environmental stresses causing DNA damage and it subsequent repair in sea anemones
An evaluation of membrane bioreactors to treatment saline wastewaters in marine aquaculture
Morphological systematics of the Crystal Darter
Nonnative plant invasion following hurricane damage
Chemical interactions between competing mosquito species
Our advisory board...
provides support and assistance in the development of new programs, serves as ambassadors for our program and identifies best practice standards.
All Faculty