Graduate Student Spotlight | Rachel Turner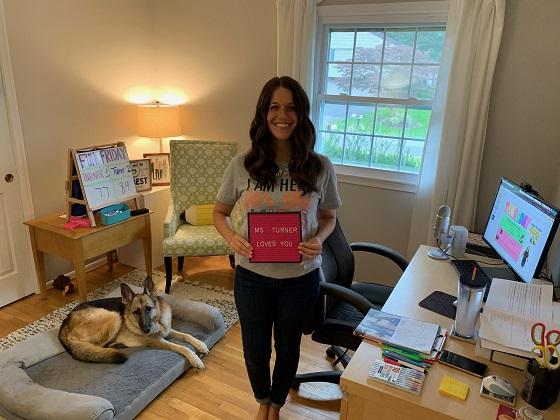 "All of my professors in the Educational Leadership program have been current and past MCPS leaders and administrators. Time spent talking with the instructors, hearing their real-life stories, and getting a fresh and truthful look at the role of a school administrator has been invaluable."
Rachel Turner, Educational Leadership Certificate
Program
Educational Leadership (M.S., C)
Department
Hood College graduate student, Rachel Turner, is enrolled in the Educational Leadership certificate program.  She has taught a variety of grades in the MCPS system over the past 12 years, and is currently studying to become a MCPS school-based administrator.
Please tell us about your background. Include any general background that you would like to share, as well as your educational and career background. 
I was born and raised in Montgomery County, Maryland and am a proud graduate of Paint Branch High School. I spent my entire life growing up in the MCPS school system and am proud to now be serving the very community in which I was raised.
During elementary school, I faced many learning challenges because I was hard of hearing. Despite some teachers who left me to figure things out for myself, I was fortunate to have some amazing teachers who supported me every step of the way. It was from these elementary school experiences that I immediately knew I was destined to become a teacher.
I graduated from Towson in 2009 with a Bachelor's Degree in Elementary Education. After graduating, I started my teaching career as a Third-Grade teacher in MCPS. Right away, I worked to ensure a welcoming and accepting learning environment for all students.
As someone who is always up for a challenge and sees change as opportunities for growth and continued learning, I changed grade-levels and schools several times over the years. In my 12 years of teaching, I have served as a teacher, team leader, and mentor in third, fourth, and fifth grades. 
In 2016, I earned a Master's Degree in Instructional Technology from University of Maryland, University College and in 2018, I had the honor of being asked to help open up a brand-new elementary school in MCPS!
Through this experience, I continued to further my love for teaching and leading, as we worked to build a school community from the ground up. This experience showed me the importance and power of building relationships, building a strong clear vision, and creating a dedicated and supportive school team. 
Each step of my educational and career journey has built my repertoire, drive, and passion as a teacher and educational leader. From the young girl having a hard time hearing her teacher to the 5th grade team leader who is ready to become a school administrator, a love for teaching and learning has led the way.
Why did you choose Hood College Graduate School and the Educational Leadership program in particular? 
After 12 years of teaching and deepening my passion for education and learning, I knew that administration and leadership would be the next step in my teaching journey.
Just as I never doubted that I would become a teacher, there has been no doubt that I would one day work towards becoming a school leader.
After hearing colleagues and other leaders around MCPS share their own experiences and successes with the Hood Educational Leadership program, I felt like it would be the perfect place for me to continue to learn and grow.
What do you enjoy most about Hood College?  
I have thoroughly enjoyed my time in Hood's Educational Leadership program. From the different classes and areas of study, to the friends made along the way, every step has allowed me to become a better educator and leader.
Above all, however, the thing that I have enjoyed the most about Hood College has been the professors.
All of my professors in the Educational Leadership program have been current and past MCPS leaders and administrators. Time spent talking with the instructors, hearing their real-life stories, and getting a fresh and truthful look at the role of a school administrator has been invaluable.
Each and every professor that I have had throughout the program has been engaging, honest, and open about "a day in the life of a school principal." The realness, honesty, and connections made by each professor has supported my learning and growth throughout this program.
How do you think obtaining your Educational Leadership certificate will benefit you in your career/life? 
I am excited and eager to complete the program this upcoming May 2021 and obtain my Educational Leadership certificate so I can start a new chapter in my professional journey.
I am thrilled because I know that obtaining this certificate will open up many new career doors and goals. I am confident that once I have this certificate, I will be ready and prepared to become an MCPS school-based administrator.
I look forward to the opportunities and challenges of leading students, staff, and families as we work collaboratively towards the success and growth of each and every child.
Tell us more about your experience teaching virtually during COVID-19.
Being a teacher during the time of Covid-19 school closures has been an opportunity for growth, creativity, and innovation.
As educators, we work every day to provide students with the best learning opportunities to meet their varying needs. In the time of Covid-19, teachers are reimagining and redesigning these best learning opportunities to fit into the virtual world.   
Since schools closed in March, I have worked to create an engaging online learning environment with the same comforts of our 5th grade classroom. Through social and emotional lessons and class meetings, we have created an online class family built upon mutual respect and trust.
During the school closures, I had the opportunity to have Bethesda Magazine visit my class in order to see how virtual learning was evolving. I was honored to represent my school and demonstrate the amazing work that teachers and staff in MCPS are doing each day on behalf of our students and families.
Inspired by Rachel's story to #GOFURTHER in your education and career? Check our Hood graduate programs, including the Educational Leadership program, by clicking here.
Are you ready to say Hello?
Choose a Pathway
Information will vary based on program level. Select a path to find the information you're looking for!