Graduate Student Spotlight | Shanzida Siddique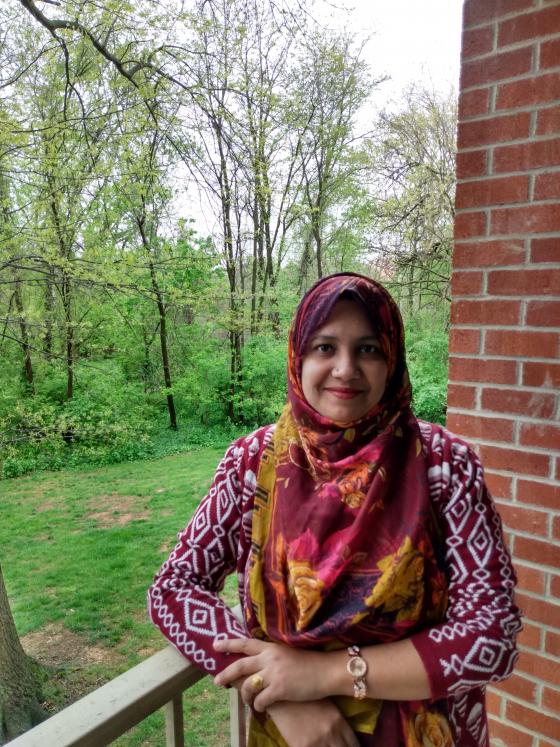 "Hood College has a distinguished department of Bioinformatics and the courses offered are very organized and job-oriented"
Shanzida Siddique, M.S. Bioinformatics
Program
Bioinformatics (M.S.)
Bioinformatics (C)
Department
Biology
Computer Science & Information Technology
Hood College international graduate student, Shanzida Siddique, is completing her Bioinformatics capstone project this semester, and has been admitted into a George Mason's Ph.D. program  as the next step in her academic career.
Please share your educational and career background.
I completed my bachelor's and master's degrees in Microbiology from Stamford University Bangladesh. I defended my thesis at the International Centre for Diarrheal Disease Research, Bangladesh (ICDDR, B), and published my work in the International Food Research Journal.
After coming to the United States, I applied to Hood College's Bioinformatics graduate program as Bioinformatics is a booming field.
Please tell us more about your decision to pursue a Ph.D. program.
I recently received job offers from the University of Illinois at Chicago and a biotechnology company in Maryland. In addition, I was admitted to a Ph.D. program in Bioinformatics and Computational Biology Department at George Mason University which I decided to accept.
This Ph.D program is a collaborative program with NIH. I have already selected my mentor who has agreed to provide partial funding and opportunity to do my Ph.D. research in a lab.
As an international student, how hard was your job search? Do you have any advice for F-1 students who are currently looking for employment?
As an international student, it was not easy to find a job and get admitted into a Ph.D. program. The biggest challenge was my visa status. I got calls from many companies who found my resume was impressive, but they could not offer me a job because I do not have a green card or a permanent resident status.
Here is my advice for F-1 students who are looking for employment:
The job search takes time so start early during your last semester.
Take advance of the Hood Career Center which provides assistance with resumes and job search tips.
Take advantage of LinkedIn where you can upload your resume and directly apply for jobs.
Be sure to network widely as it is very important aspect in the job search.
What is your advice for F-1 students when it comes to the OPT process?
After completing the first or second semester of their degree program, international students should make an appointment with Hood's PDSO (Primary Designated School Official) to get the necessary information about the rules and regulation during OPT (optional practical training).
Hood College regularly offers seminars on OPT/CPT so check with the PDSO. These seminars are a good source of information for F-1 students who are about to complete their degree programs.
Why did you choose Hood College for your graduate degree? 
I chose Hood College because it is the best-ranked college in this area and it has a beautiful campus.
Also, since Bioinformatics is a relatively new field, many universities still do not offer this particular graduate degree program. Hood College has a distinguished department of Bioinformatics, and the courses Hood offers are very organized and job-oriented.
I like Hood for many reasons. The faculty are very helpful and supportive, and they try their best to assist me with any issues I may have.
The administrative offices are equally welcoming and helpful, and always try to resolve problems within the shortest period of time.
Inspired by Shanzida' s story and ready to #GOFURTHER in your studies and career? Learn more about our graduate programs, including the M.S. in Bioinformatics, by clicking here.
Are you ready to say Hello?
Choose a Pathway
Information will vary based on program level. Select a path to find the information you're looking for!