Hood Alum Receives Department of Defense's Highest Civilian Award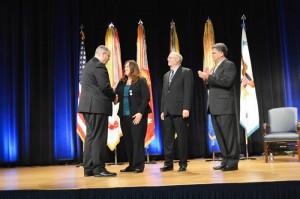 Kathleen Berst was awarded the Department of Defense Distinguished Civilian Service Award.
Kathleen Berst
Graduation Year
Program
Business Administration (MBA)
Hometown
Department
The George B. Delaplaine Jr. School of Business
Degree
Kathleen Berst, a 2017 graduate of Hood College's MBA program, has been awarded the "Department of Defense Distinguished Civilian Service Award," the highest award given to career civilian employees of the U.S. Department of Defense. It is given to "those employees whose careers reflect exceptional devotion to duty and whose contributions are of a significant value when it comes to the efficiency, economy or other improvements in Department of Defense (DoD)." Kathleen received the award for leading the Medical Countermeasures Test and Evaluation Facility, and ultimately for her recommendation that it be terminated. This challenging recommendation and her efforts resulted in over one billion dollars of savings and cost avoidance for the DoD. Kathleen was recognized at the Pentagon Annual Award Ceremony, and her importance can especially be seen in the words of Deputy Defense Secretary Bob Work, "You bring honor to the tradition of the civilian workforce and public service. Your dedication strengthens our country's security and prosperity."
Her professional journey took Kathleen from a biologist in army labs to being an Assistant Vaccine Manager in the Joint Vaccine Acquisition Program (JVAP), and ultimately to Project Manager for the Medical Countermeasure Test and Evaluation Facility and her current role as Deputy Commander of Acquisition for the US Army Medical Material Development Activity (USAMMDA). While a biologist, Kathleen realized she did not want to work in a lab for the rest of her life, and that earning her MBA would allow her to continue using her scientific knowledge in another setting. She started her MBA in 2000, and the experience was impactful on her and her career. "Just starting my MBA courses changed everything. The more I learned in my courses, the more questions I asked at work." This helped make additional connections, which eventually resulted in Kathleen's first management role in 2001. "Most of what I was learning in my MBA courses was directly applicable to my new job.  It was perfect! I was flying through my program and advancing at work.
Kathleen's story does have a twist. Two classes before wrapping up her program, she found out she was pregnant with her first child. Due to complications and a new work position, she delayed degree completion. Soon enough, Kathleen changed positions and saw how her MBA knowledge was contributing to her career. "My career was blossoming because of what I had learned in my MBA program but my successful career had become a giant barrier that was preventing me from completing my MBA!" After speaking at Hood's "Project Management" class in 2015, Kathleen's desire to finish her MBA was revived. With the assistance of Dr. David Gurzick, she reenrolled and completed in 2017.
Her message to all is to "GET STARTED, ASK FOR HELP, AND KEEP LEARNING!" While many people are afraid to start or are terrified of failure, the solution is to "just move". She emphasizes that asking for help is one of the best ways of figuring your career choices. "Most people will be willing to share what worked and what didn't work. I have a handful of mentors and coaches with different strengths, so I look to them for guidance in different aspects of life and work."
Are you ready to say Hello?