Hood Alums Donate Regalia for Class of 2022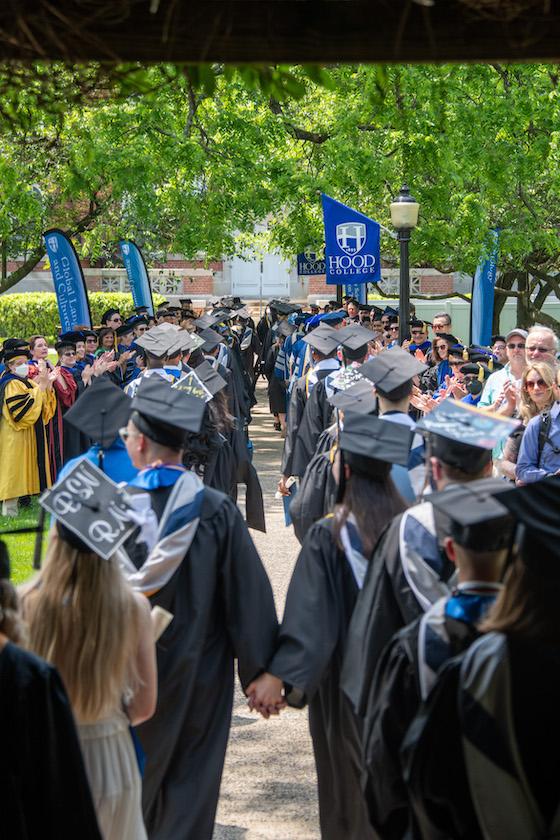 Stacy R. Cline-Boyer '95, M.S.'99, P'22, led the charge to collect caps, gowns and robes for graduating seniors in need.
Giving Thanks
Graduation Year
Supply chain woes have been plaguing the country as of late. Shortages are taking a toll on cars, electronics, food and…college regalia? That's right—demand for caps, robes, hoods and tassels exceeded supply this year, affecting high schools and universities across the nation. Hood College was no exception.
A week before celebrating the 125th Commencement, staff started sounding the alarm. Shipping delays had left dozens of graduating seniors without proper attire, despite orders having been placed months in advance. In some instances, graduates received robes but no caps, or vice versa. Needless to say, the Hood community was nervous that some students would be forced to forgo their regalia altogether.
Enter Stacy R. Cline-Boyer '95, M.S.'99, P'22. Besides being an alum, Stacy is the parent of Eikaiva Boyer '22, whose classmates and friends were scrambling to find garments for graduation. Stacy reached out to the Office of Alumni and Constituent Engagement at Hood to see if there was anything she could do to help.
"The thought of any students walking without regalia just broke my heart," says Stacy. "I asked for a list of local alums that I could reach out to individually. I spent the next two days communicating with alums who were interested and arranged to have them either drop off their regalia at the Career Center or have me pick it up at their houses."
Stacy was able to collect 25 sets of regalia, which were then distributed amongst graduating seniors who still needed certain items. That, combined with a last-minute delivery from the manufacturer, averted the potential crisis for Commencement 2022.
"I just knew that if local Hood alums knew about this, they would want to help," remarks Stacy. "I took a chance; luckily, they came through."
Are you ready to say Hello?
Choose a Pathway
Information will vary based on program level. Select a path to find the information you're looking for!