Hood Ceramic Arts Graduate Students Attend American Craft Council Show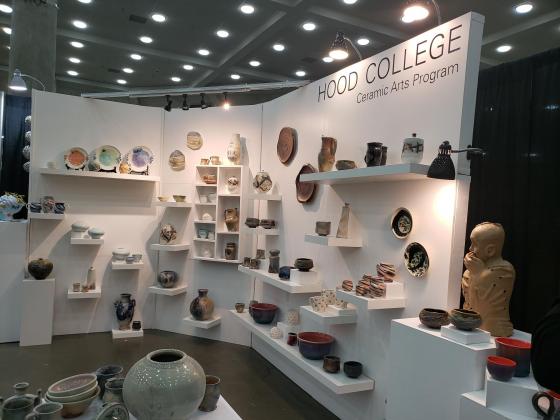 This year, eleven graduate students and faculty members represented Hood College at the 2019 American Craft Council Show in Baltimore, MD.
Hood College Ceramic Arts
Program
Ceramic Arts (MFA)
Ceramic Arts (Certificate)
Ceramic Arts (M.A.)
Department
Degree
Certificate, M.A. and MFA
Title
The 3-day show, which took place February 22 - 24, 2019, involved more than 550 crafters and artists from all around the United States. Hood students in attendance included Corey Shultz, Jason Laney, Shari Jacobs, Janet Greer, Kris Boucher, Jesse Jones, Lillian Ding, Shanna Casey, and Jacklyn Scott. Hood faculty included Taylor Pasquale and Jenna Gianni. Over the course of a 3-month period, Hood students and faculty designed the exhibition booth, raised money through personal donations to build the booth, and planned the setup for the show until its fruition. They raised a total of $1,700 for the artists, spread Hood's name, and networked with people from around the country.
The American Craft Council (ACC) is the leading arts nonprofit cultivating a culture of making.  For more than 75 years, the ACC has championed craft. The organization's founder, Aileen Osborn Webb, recognized the significant impact craft has on individuals and communities and established a nonprofit to preserve, cultivate, and celebrate this communal heritage. Today, the ACC supports professional makers through its unique nonprofit shows and offers educational resources, including a one-of-a-kind library, conferences, public lectures, and student programs.
ACC partners with undergraduate and graduate schools across the country to provide experiential education at their shows through their School-to-Market which helps students gain the practical insight and exposure to launch a successful practice after graduation.
This year ACC welcomed students from Hood College, Savannah College of Art and Design and Peters Valley School of Craft. Hood College was honored to be a part of this national craft show to showcase student and faculty ceramic artwork.
Feeling inspired to #GOFURTHER in your studies and career? Learn more about Hood's graduate programs including the Ceramic Arts program by clicking here.
Are you ready to say Hello?
Choose a Pathway
Information will vary based on program level. Select a path to find the information you're looking for!