Hood Choir Members Perform in France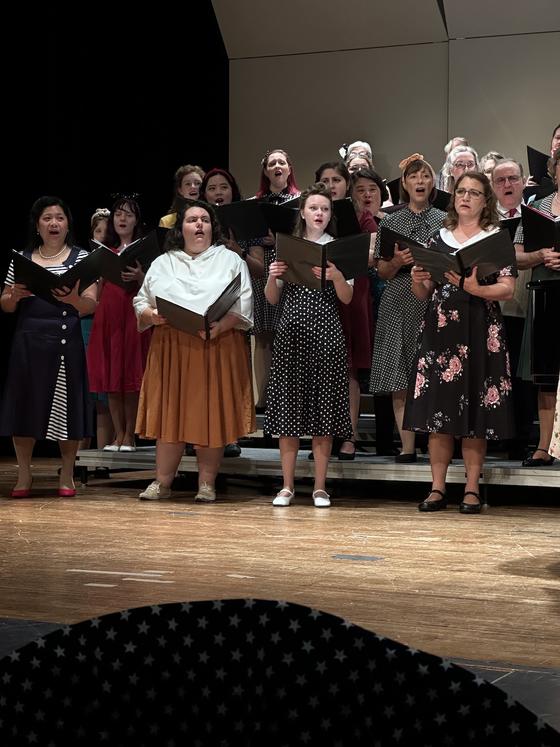 Fifteen Hood College students are set to perform in the lead choir for the 79th anniversary of D-Day commemoration, which is hosted in Brittany, Normandy and Paris, France.
79th Anniversary of D-Day
Program
Department
June 6, 2023, marks the 79th anniversary of D-Day, the largest seaborne invasion in history. More than 160,000 American, British and Canadian troops launched their assault on a heavily fortified, 50-mile stretch of beach along the French coastline, confronting the entrenched German forces. Although the Allies suffered serious losses—with at least 10,000 total casualties and more than 4,000 confirmed dead—the battle marked a significant turning point in the war and ultimately led to the Allied victory and fall of the Nazi regime.
Every year, the brave soldiers who stormed the beaches, many of whom lost their lives, are honored with a commemoration ceremony in Normandy. The annual D-Day Festival includes guided tours, a parade and live performances. This year, 15 Hood College students will be participating in the events. These students, who are members of the Hood College Choir, will be performing with the Choral Arts Society of Frederick.
The Choral Arts Society of Frederick, which is serendipitously also celebrating its 79th anniversary, was anonymously nominated to be the lead choir and will provide choral music for all the American ceremonies during the commemoration. Lynn Staininger, director of choral activities at Hood College, invited the 15 students to join the Choral Arts Society of Frederick—which Staininger also directs—for the opportunity to sing at the once-in-a-lifetime occasion.
"It's an honor to perform at a ceremony honoring the men and women who lost their lives so I can be free today," says Staininger, whose parents were WWII veterans (her father was a pilot; her mother was a nurse). "This is the most auspicious opportunity I've ever had for a choir. We're doing this to honor those men and women—it's a heavy weight. You want it to be perfect, but at the same time, it will absolutely be a life-changing experience for all of us."
After send-off concerts at Frederick Community College's JBK Theater on May 12 and 13, the choral group, totaling 62 members, will travel to France from June 3 to 8. Their packed itinerary includes a memorial parade and town square concert in Sainte-Mère-Église (the first area to be liberated during the battle), wreath laying ceremonies at the American Cemeteries in Brittany and Omaha Beach, and an afternoon concert at La Madeleine Church in Paris. The group will sing a variety of numbers—from the modern hymn "Alleluia" by Elaine Hagenberg to an armed forces medley to radio hits from the 1940s.
Staininger says the Hood students have been preparing for nearly a year, rehearsing four to eight hours weekly. The students also received a grant from the Delaplaine Foundation, a close partner of Hood College, to help with travel expenses. "They stepped up to support these students, and we're grateful," says Staininger.
Isabella DiPietrantonio, a sophomore sustainability studies major and member of the Hood choir, has been singing her whole life and even spent time living in Europe with her family, but she has never had a chance to perform at such a momentous event. "Words cannot describe how incredibly grateful I am for this opportunity—and getting to do so alongside Hood College Peers, the Choral Arts Society of Frederick and choirs from around the world," says DiPietrantonio. "It's been instilled in me that this part of history is important to learn about, teach, honor, and most importantly, never forget."
The following Hood College students will be performing at the 79th D-Day Anniversary Commemoration:
Eva Attota

Dominic Bechtel

Sophia Degennaro

Isabella DiPietrantonio

Madeline Godlove

Faith Kiser

Mark Lea-Wilson

Maura O'Malley-Young

Mackenzie Peterson

Dakota Pitts

Christine Reiss

Ashlynn Stearns

Julian Urban

Kinsey Walker

Hailey Williams
Are you ready to say Hello?
Choose a Pathway
Information will vary based on program level. Select a path to find the information you're looking for!