Hood College Graduate School Student Presents Talk and Poster at HIV Research Conference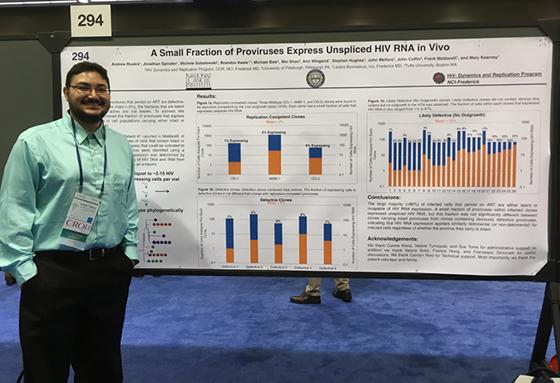 Graduate student Andrew Musick presented on HIV at a conference in Seattle, Washington.
Andrew Musick
Graduation Year
Program
Biomedical Science (M.S.)
Department
Andrew Musick, a student in Hood College's Master's program in Biomedical Science, recently presented a themed discussion talk and poster at the 2017 Conference on Retroviruses and Opportunistic Infections (CROI), held February 13-16 in Seattle, WA. The annual conference brings together top basic, translational, and clinical researchers to share the latest studies, important developments, and best research methods in the ongoing battle against HIV/AIDS and related infectious diseases. Approximately 4,000 scientists from around the world attended this year's conference.
Andrew earned his degree in Biological Chemistry from Hood in 2015. Thereafter, he joined the HIV Dynamics and Replication Program working as a post baccalaureate in the Translational Research Unit headed by Dr. Mary Kearney at the National Cancer Institute, Fort Detrick. He is enrolled in the Biomedical Science Master's Program at Hood with a concentration in Virology, and is working on his thesis project in Dr. Kearney's lab. He plans to continue in HIV research after he graduates. Dr. Kearney also presented at the CROI conference.
Andrew was awarded the CROI Young Investigator Scholarship to attend the conference and said of his entire experience, "The conference allowed me the opportunity to present my work, answer questions, and expand my knowledge about the HIV research field, and network with many well-known scientists. The knowledge I gained from attending will help me in continuing my education in the Biomedical Science program. It was an amazing opportunity to hear the lab's work being shared. Presenting at meetings such as CROI assists the community in furthering research towards an HIV cure."
Links
Slides and audio from panel discussion: http://www.croiwebcasts.org/console/player/33501?mediaType=audio&
Electronic poster: http://www.croiconference.org/sessions/small-fraction-proviruses-expanded-clones-express-unspliced-hiv-rna-vivo-0
Are you ready to say Hello?
Choose a Pathway
Information will vary based on program level. Select a path to find the information you're looking for!