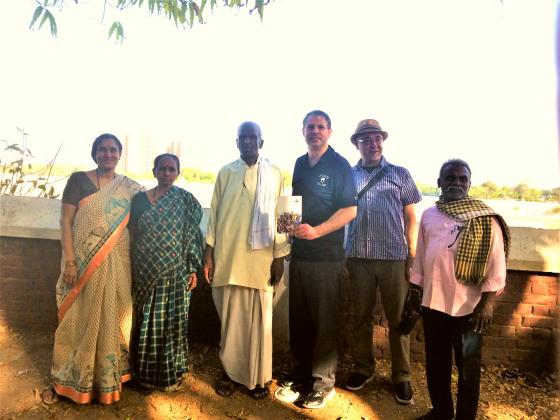 In April 2019, Christian DiGregorio, Director of Graduate Admissions at Hood College, travelled to India as part of the College's international student recruitment initiative.
Approximately 12.5% of Hood's graduate student body is international
Can you provide some information about your career background?
I have always been drawn towards life outside of the United States. The ability to learn about different cultures appealed to me after some exposure to fellow international students during my undergraduate education.
I initiated the international recruitment program at my previous institution. After a few years, we experienced growth in our international population and really made a name for ourselves in the international community by establishing best practices. My hope is to do the same for Hood College.
Why did you travel to India, and are there many international students at Hood College?
When exploring where to begin our efforts geographically, I considered Hood College's previous inquiry and enrollment history, previous collaborations between faculty, staff and administration, IIE Open Doors data, economic conditions in our target areas, and locations where students were accessing our website and which academic content they desired most.
Approximately 12.5% of Hood's graduate student body is international and come not only from India, but also from China, Saudi Arabia, Nepal, Nigeria, and many other countries.
What was your main India visit agenda?
I visited some schools, organizations such as EducationUSA, and some educational consultants. I was also trying to learn more about what was important to prospective international students, not just academically but what were the students really interested in, and what concerned them the most.
Did you receive a positive response to Hood College in India?
I was really surprised by such a positive reaction on our social media campaigns.  It continued with people in India browsing our website on a regular basis, and ultimately submitting their contact information. To date, we received 59 inquiries from Hood Facebook and Instagram ads, which is more than expected.
How was your experience in India? Do you have a favorite memory?
I had a very positive experience. It was good to reconnect with people in India with whom I used to work with at my previous institution. Some of the meetings I had during my trip were really positive. People wanted to know more about Hood College and what we have to offer.
At the end of one of my days in Ahmedabad, I was able to visit Sabarmati Ashram (also known as Gandhi Ashram), which was a former residence of Mahatma Gandhi. Today, it is a museum and a community service organization that specializes in educating young children and providing food for the needy.  I made a very modest donation in Hood's name to the Ashram. Understanding the culture and history of the people you are recruiting is paramount if you are going to be successful.
What would you tell international students who are interested in Hood College?
Certain topics really resonated with students during my travels. Hood College is a great school in a location that is safe and provides access to major cities and internships.  We have been offering graduate-level education for almost 50 years, and offer many sought-after STEM programs.  Compared to many institutions, our tuition costs are affordable.
Inspired to #GOFURTHER in your education and attend a culturally diverse college? Explore Hood College's graduate programs by clicking here.
Are you ready to say Hello?
Choose a Pathway
Information will vary based on program level. Select a path to find the information you're looking for!