Hood College Master of Fine Arts in Ceramics Candidate Featured in Campus Exhibition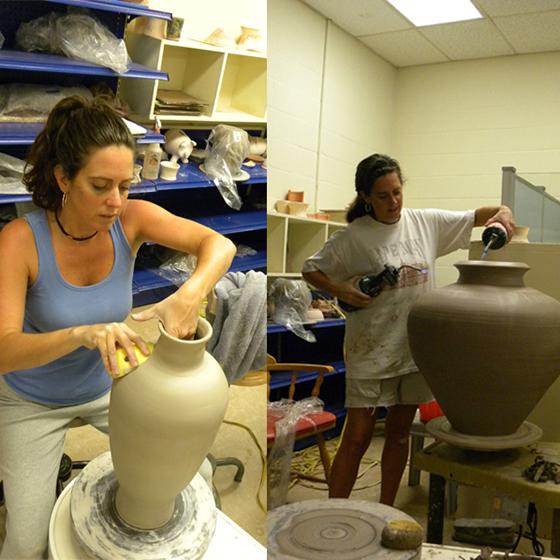 MFA candidate Meg Lau's exhibit will be on display in the Whitaker Campus Center Gallery.
Meg Lau is a Hood College Master of Fine Arts in Ceramics candidate who will be exhibiting on campus this April as part of her thesis. "The Past is Present" will run from April 12 to 30 at the Whitaker Campus Center Gallery. Meg will also present a gallery talk and host an opening reception scheduled April 14 from 4:30 to 7 p.m. The on display at the exhibition include large smoke fired urns ranging from sixteen to thirty-two inches tall and smaller urn forms ranging from six to twelve inches, all created for the containment of personal and communal memories of loved ones. They all have the physical potential to contain relics, memorabilia, or cremation ashes for one or more family members. The urns celebrate the past and, will be cherished in the future. The exhibition speaks to the history of ceramics and the relationships that have existed between women, family, spirituality and the vessel. The urns in this exhibit represent life, both past and present.
Meg shares her Hood experience with us below.
Meg is from Strasburg, Pennsylvania and teaches high school ceramics in the Lampeter-Strasburg School District. She earned her Bachelor of Science in Art Education from Millersville University and her Master's in Art Education from Kutztown University. She will complete her Masters of Fine Arts in Ceramic Arts this spring at Hood.
My experience at Hood has been amazing. The MFA Ceramic Arts program is very holistic, as it offers students a very strong foundation for technique, aesthetics, history, critical analysis, as well as marketing strategies for the artist. Additionally, this program has allowed me to meet other artists/students from all over the country. We have been able to work with one another collaboratively using Hood's fabulous facilities.
Impact of the MFA program on your career?
As a teacher I have had the opportunity to bring to my students everything that this program has given to me. Professor Joyce Michaud and all of the teachers at Hood have modeled such dedication to their students, which has allowed me to bring an abundant amount of technical, historical and critical knowledge directly back to my classroom.
I am inspired by the history of ceramics as well as by my family.
Are you ready to say Hello?
Choose a Pathway
Information will vary based on program level. Select a path to find the information you're looking for!