Hood Community Members Named to Top 50 CEOs List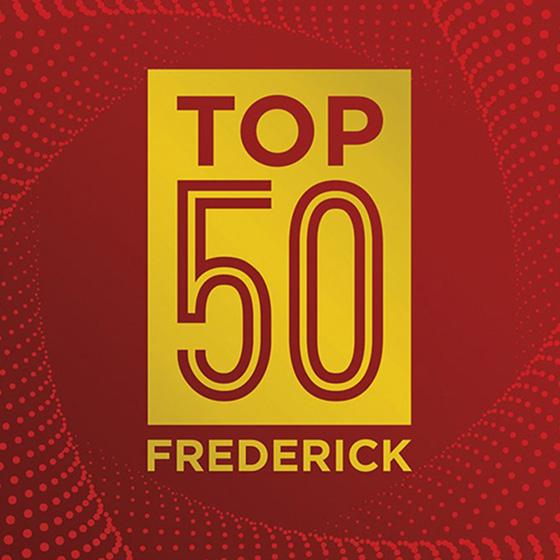 Five Hood community members, including President Andrea E. Chapdelaine, were named to the Top 50 CEOs of Frederick list.
Hood College Represented Well in Frederick's Top 50 CEOs
Jan. 14, 2019
By Tommy Riggs, Assistant Director of Marketing and Communications
President Andrea E. Chapdelaine, Ph.D., Board of Trustees members Theresa Harrison and Tom Kleinhanzl, and alumni RaeAnn Butler '89 and James Racheff, M.S.'93, MBA'02, were all named to Frederick's Top 50 CEOs list by the Frederick County Office of Economic Development.
Under President Chapdelaine's leadership, undergraduate enrollment has grown, the Graduate School launched Frederick's first doctoral program and new master's degrees in bioinformatics and cybersecurity, and the Chair of the Board Scholarship was established to recruit and retain top level students.
"I have worked to provide the structure, financial stewardship and leadership necessary to realize Hood's collective ambitions to better serve our students and achieve our mission," said Chapdelaine. "The characteristics that guide me include openness, integrity, commitment and humor."
Harrison is president and founder of George Street Services, Inc., one of the area's fastest growing IT and cybersecurity technology companies. She is an entrepreneur, speaker, mentor to women, soon-to-be author and committed community servant.
Kleinhanzl is president and CEO of Frederick Regional Health System. He has steadily navigated FRHS through uncertain times and changing dynamics. He is an engaged community leader and has held voluntary board leadership positions with the American Heart Association, the United Way, the Frederick County YMCA, Hospice of Frederick County, and Saint John's Catholic High School.
Butler is president of Edenton Retirement Community, which has tripled in size to 155 residents during her tenure. Under her leadership, staff turnover is consistently at least 10 percent lower than the national average for retirement homes. She is also a member of the Hood College Board of Associates.
Racheff is chair and CEO of DMS, Inc., a progressive information and management sciences company dedicated to serving clients in the biomedical research, public health, and small business sectors. He focuses on supporting employees so they can be successful. He is also a member of the Hood College Board of Associates.
To see the full Top 50 book, visit https://issuu.com/diversionspub/docs/_top50_2019_booklet.
Are you ready to say Hello?
Choose a Pathway
Information will vary based on program level. Select a path to find the information you're looking for!