Hood Students Attend Foreign Policy Symposium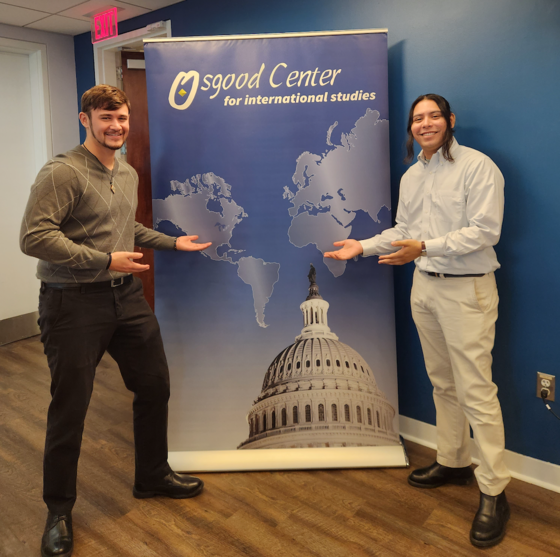 Five Hood students attended the Summer Symposium on Foreign Policy in Washington, D.C.
High-Impact Practices
Department
Global Languages & Cultures
History
Law & Criminal Justice
Political Science
The 43rd annual Summer Symposium on Foreign Policy was held at the Osgood Center in Washington, D.C., from July 30 to August 10. The event includes lectures, panels and workshops with foreign policy experts, including analysts from think tanks and government agencies, such as the U.S. Department of State. The focus of this year's symposium was the war in Ukraine, the potential for conflicts in Asia, global threats to democracy and new tensions in the Middle East. 
A group of Hood College students were in attendance at the event, including Shay Hille '26, Axel Barahona Perez '24, Caylee Scheaffer '25, Noah Turner '24 and Ace Williams '24. Facilitating Hood's involvement with the symposium was Paige Eager, Ph.D., dean of the faculty and global studies program director. 
"The opportunity for students to interact with though leaders and practitioners of U.S. foreign policy through the Osgood Center's symposium is a great example of how Hood provides unique high-impact practices for our students," says Eager. "In addition, the networking they can take advantage of for internships and career opportunities is a value-added dimension to this experience." 
The five Hood students interacted with other students and professors from around the country and the world. Featured speakers included Richard Haass, president of the Council on Foreign Relations, Charlotte Hulme, assistant professor of political science at the U.S. Military Academy and Shane Harris, national security correspondent for the Washington Post, among others. The Hood students met with special guests from the Stimson Center, Sovereign Risk Group, the U.S. Institute for Peace and many other organizations. 
"This experience was valuable because of the exposure to different opinions and fields, and I loved that the experts typically don't agree because it requires us to think critically," says Ace Williams '24. "It was fun to speak with Shelton Williams, president of the Osgood Center, and hear about his seemingly infinite experience and insights." 
Learn more about Hood College's global studies program. 
Are you ready to say Hello?
Choose a Pathway
Information will vary based on program level. Select a path to find the information you're looking for!