Hood's Graduate School at the CyberMaryland conference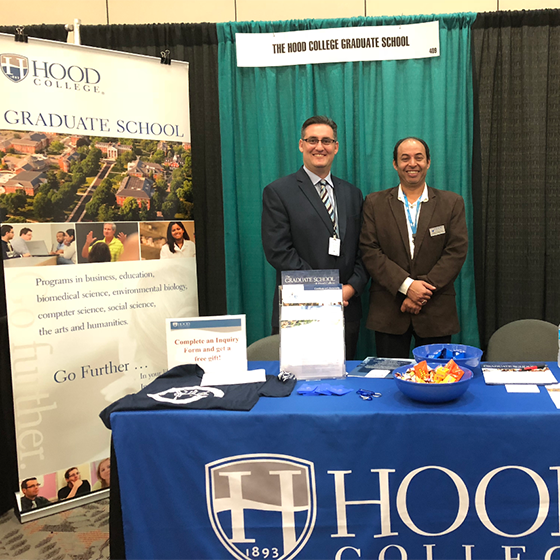 Professor George Dimitoglou and Ahmed Salem represented Hood College at the 2017 CyberMaryland conference in Baltimore.
George Dimitoglou and Ahmed Salem
Program
Computer Science (M.S.)
Cybersecurity (M.S., Certificate)
Department
Computer Science & Information Technology
Hood College Professors George Dimitoglou and Ahmed Salem attended the 2017 CyberMaryland conference Oct. 11-12 in Baltimore.
Titled "Leading the Cyber Generation," the conference included opening remarks by Governor Larry Hogan, Senator Chris Van Hollen, and talks by several nationally recognized speakers and thought leaders from Maryland's cybersecurity sector, and panelists on cyber and technology innovations. The Hood Graduate School also participated in the Cyber Maryland Industry Showcase with an exhibitor space, joining today's top cybersecurity companies and organizations while showcasing Hood's educational offerings, including the new MS in Cybersecurity, set to officially begin with the spring, 2018 semester. The conference promoted Maryland as a nationally and internationally recognized cybersecurity leader, with the development of cybersecurity experts, education and training programs, technology, products, systems and infrastructure. Such development is crucial, as the United States is at risk with over 10 million cyber hacks a day resulting in an annual worldwide cost of over $100 billion.
CyberMaryland was a place to talk about the tens of millions of Americans who have had their identities and bank accounts threatened or compromised. The conference's website states: "Ensuring that our nation has the workforce, technology and resources to protect our citizens, businesses, infrastructure, intellectual property and more is of paramount importance. Maryland continues to be a leader on this front".
​Dr. Dimitoglou says that there is a significant regional need for qualified cybersecurity professionals. "Hood College is in one of the most exciting states in the US for cybersecurity, as there are over 60,000 unfilled positions in the two major metropolitan Mid-Atlantic areas of Baltimore and DC alone. We are really in the heart of where everything happens."
Are you ready to say Hello?
Choose a Pathway
Information will vary based on program level. Select a path to find the information you're looking for!