From Illinois…to Pennsylvania…To Hood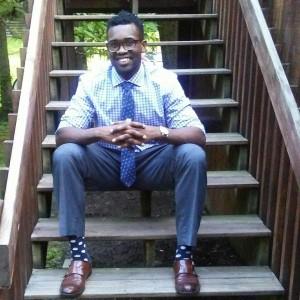 Derrion May enrolled in Hood's Graduate School so he could continue his education while working professionally as a scientist.
Derrion May
Graduation Year
Program
Environmental Biology (M.S.)
Department
Derrion May is a first-semester student in Hood College's Environmental Biology Master's program. A native of Illinois, he graduated from Waynesburg University in Waynesburg, PA with a degree in general biology. The ocean has been a passion of his since the age of 12 when he became fascinated with the different species found underneath waves.
With experience in a marine biology lab as well as a summer internship at Mote Marine Laboratory in Sarasota, where his senior research project focused on investigating stingray mucus for novel antibiotics, Derrion recently started a full-time position as a Study Support Associate with Charles Rivers Laboratories, where he'll be working with notable researchers on zebrafish and other aquatic species at their research campus in Ashburn, Virginia.
Derrion always wanted to pursue a graduate degree, but wasn't sure about the most suitable time. During his final semester, he started looking into graduate programs and what they offered, and realized that Hood was a perfect fit. "I liked the possibility of being able to work as a science professional while still being able to pursue a graduate degree."
Hood's new Graduate Housing was a fit as well. "I thought that living on campus would be a good opportunity to be a part of a new community, while only being a short walk away from my classes." His decision has brought him into contact with new acquaintances and students with different backgrounds as well as providing the opportunity to become more familiar with the area.
Derrion emphasizes how important the help from the entire graduate school was as he transitioned from a student struggling to finish his last undergraduate class this past summer to becoming a science professional. He looks forward to more exciting moments and unique opportunities as he pursues his graduate degree at Hood.
Are you ready to say Hello?