Independent Higher Education Day 2023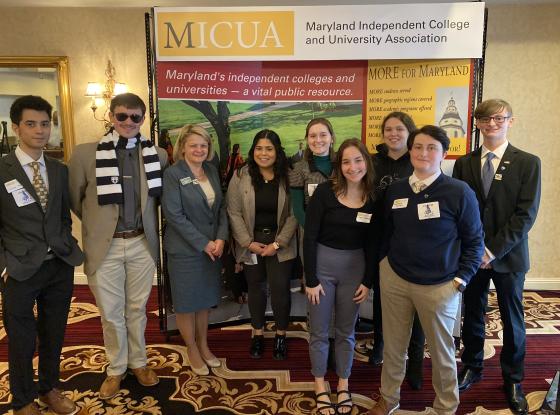 Hood students joined President Andrea E. Chapdelaine, Ph.D., for Independent Higher Education Day in Annapolis, Maryland.
Hood Students Visit Legislators in Annapolis
Program
Political Science (B.A.)
Global Studies (B.A.)
Law & Criminal Justice (B.A.)
Department
Law & Criminal Justice
Political Science
On February 22, a group of eight Hood College students traveled to Annapolis for Independent Higher Education Day. The annual event, sponsored by the Maryland Independent Colleges and Universities Association (MICUA), celebrates Maryland-based, independent colleges like Hood.
Delegations from several institutions, including Mount St. Mary's University, Johns Hopkins University and Stevenson University, among others, gathered at the Governor Calvert House for a welcome reception. After a presentation from Matt Power, MICUA president, and Mileah Kromer, associate professor of political science at Goucher College, students went to meet with Maryland legislators.
Hood students in attendance included Riley Fitz '24, Shay Hille '26, Sadie Kowalski '25, Caroline Narvaez '23, Max Rajaobelina-Phipps '26, Caylee Sheaffer '25, Taileen Zechman '25 and Ace Williams '24. These students were joined by Hood President Andrea E. Chapdelaine, Ph.D.
After viewing the assembly in session at the Maryland State House, the students broke off for one-on-one meetings with Maryland senators, delegates and chiefs of staff. The students discussed their backgrounds and areas of study, while also thanking legislators for their support of the Sellinger Program, which provides financial aid for Maryland-based students in higher education.
"Upon learning about the Sellinger Program, I found it interesting how important state legislation, student advocacy and support from our state legislators are to the quality of education we receive," said Caroline Narvaez '23, a law and criminal justice major.
Traveling between the Senate and House office buildings in the heart of Annapolis' historic district, the students gained a behind-the-scenes look at the inner workings of state politics. Many of the students expressed their interest in pursuing careers in politics or similar fields.
"It was eye-opening to humanize the legislative process by meeting those who work so hard to pass and amend our laws," said Ace Williams '24.
The students and President Chapdelaine reconvened for a final meeting with Delegates Kris Fair '13 and Ken Kerr '81 (both proud Hood alumni) as well as Senator Karen Lewis Young, who all represent Hood College's district in Frederick, Maryland. Senator Lewis Young described how bills are signed into laws, outlining a current bill she was working on to provide student debt relief to mental health practitioners. Delegate Kerr explained how committees work to review legislation before it goes to a vote in the assembly.
"From my experience in Annapolis, I learned that in order to become a successful legislator, you must take every and any opportunity that may get you closer to your goal," said Shay Hille '26. "A fair number of legislators started locally and without clear direction. I realized that most of it is luck and taking opportunities."
The day concluded back at the Calvert House, with the presentation of an award to Craig Zucker, chair of the Capital Budget Subcommittee and member of Budget and Taxation Committee. The students returned to Hood's campus with newfound perspective, excited to share their experiences with classmates and faculty. Their passion for politics reflects MICUA's ongoing commitment to supporting colleges and universities like Hood.
Are you ready to say Hello?
Choose a Pathway
Information will vary based on program level. Select a path to find the information you're looking for!