Learning to Lead, Leading to Learn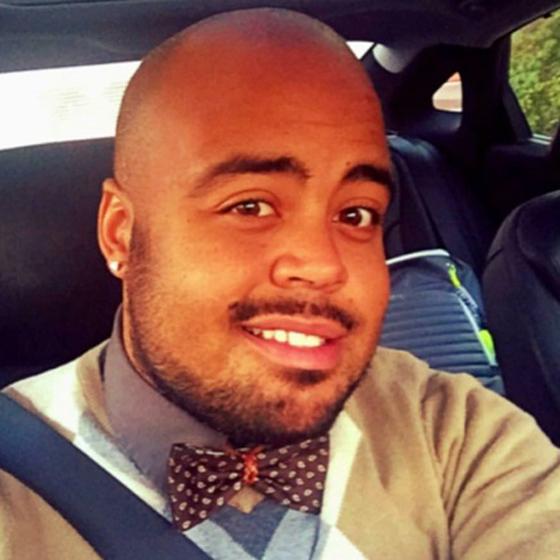 With the help of his professors and cohort members, RJ Henderson completed his educational leadership degree while fighting kidney failure.
Raythorne "RJ" Henderson
For Raythorne "RJ" Henderson, continuing his education was an obvious choice. An enthusiastic and innovative teacher who motivates his students through ideas like naming their groups after colleges, he decided on the educational leadership program at the Graduate School at Hood College, where he became part of a community that helped him professionally and personally. He credits Hood with helping him "gain a global perspective of the type of work in which administrators engage."
In March 2017, near the end of his program, Henderson was diagnosed with end stage renal disease, causing kidney failure. Although hospitalized for several weeks and in need of rest and dialysis, he was able to graduate that May. He credits his professors and cohort members with helping him and making accommodations so that he was able to finish on schedule. He currently has a living donor and will receive a transplant on Oct. 31, 2017.
Henderson graduated from Frederick High School in 2004 and received his B.A. in Elementary Education from Salisbury University. After four years of teaching in Wicomico County, he returned to Frederick to teach at Hillcrest Elementary. After several years, he made the move to Montgomery County, where he currently teaches, for family and career growth.
While teaching in Frederick, he started coursework on campus at Hood, but shifted to the Hood/MCPS Cohort Program when he moved to Montgomery County. This program allows teachers to take Hood Ed Leadership classes hosted locally in MCPS facilities. He explains that "the cohort was an excellent experience as I was able to move from one course to another with the same group of colleagues. We were constantly in contact with one another and built meaningful relationships. It was great to gain the insight and hear the perspective of other professionals, some in positions other than classroom teachers. Travel time was also cut significantly. [However] there's just something special about taking a class on campus. The best way I can describe it is that it's like reading the e-version of a book versus the hard copy. They each have their advantages and it's simply a personal preference."
Henderson is hoping for a position as an assistant principal next year, and believes that his classes at Hood allowed "networking with other future administrators, and learning from some of the best educators in the country. It was extremely beneficial to learn from those who are involved in the work on a daily basis". We are #HoodProud of him and hope to hear about Principal Henderson soon!
Hood also offers the Educational Leadership Cohort Program for teachers in Washington County, Maryland, and Berkeley County, West Virginia. For more information click the above link or email gofurther@hood.edu.
Are you ready to say Hello?