The Legendary Legacy of Dean Olivia White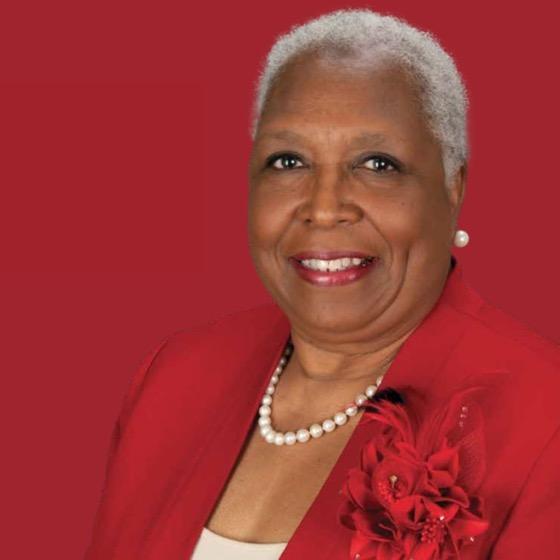 It's safe to say that Olivia G. White, Ph.D. is one of the most beloved and celebrated staff members that the Hood community has ever had. Her dedication to the College and more importantly, its students, has created an unmatched legacy of not only strong leadership, but of selflessness, resilience, acceptance, fairness and joy. Her retirement as vice president for student life and dean of students at the end of 2020 marked a bittersweet milestone in Hood College's history as we say goodbye, wish her well in this new chapter of her life and honor the contributions she made during her 28 and a half years of service to Hood.
The Legendary Legacy of Dean Olivia White | Hood Magazine, Spring 2021
If you attended Hood College at some point in the last few decades, you know about Olivia White, and she knows about you. She knows your family, your interests, your strengths, your weaknesses and your potential. Ask anyone who has had the opportunity to work with her, both students and coworkers, and they will tell you that she influenced their life for the better.
"As a student, Dean White made you feel seen and special, like you mattered. Then you realize, it's not just you, she has the unique ability to make everyone feel that way," said Nikki Bamonti '00.
Bamonti, like many other Hood graduates, found her way back to her alma mater where she now serves as director of admission. She continued: "Being able to work alongside her was such a joy. Nothing compares to watching a new cohort of students and families feel the warmth of the light that is Olivia. Her spirit of welcoming and acceptance has become the standard on campus because she taught us how to treat each other, and to so many of us Olivia is Hood."
White embodies each of Hood's core values—Hope, Opportunity, Obligation and Democracy—in all that she does. So much so, that the Hood family often refers to Olivia as the unofficial "O" in Hood.
"Every college or university should be so blessed and incredibly fortunate as to have a Dean White as part of its senior leadership team," said Hood College Trustee Marlene Grossnickle Young '76, H'14, P'09. "The wisdom, wit, brilliance, grace, values and genuine warmth of Dean Olivia White uniquely equips her to reach out to others, engage and empower them, and to make a powerful, lasting difference in the lives of those with whom she comes in contact, both professionally and personally."
To say Dean White left a lasting legacy and will be missed is an understatement.
"She has been someone we all turned to when we needed a shoulder to lean on, a laugh, wise counsel or just someone to listen," President Andrea Chapdelaine, Ph.D. said. "I depended on her tenacity and commitment to our students, tirelessly, each and every day. She loves Hood and Hood has loved her back."
For many of us it's difficult to imagine a Hood after Dean White or even one before she arrived. It was in 1992 when she and Hood first crossed paths.
White's husband worked in Equal Employment Opportunity management in the Washington, D.C. metro area. Knowing government work could make for a career ripe with opportunities, the two relocated their family from South Carolina to Maryland.
It was White's turn to find where she belonged and that she did. At the time, she had a friend who was the dean of students at Montgomery College in Rockville and was familiar with her impressive work ethic. Through a network in education, her friend was able to recommend two jobs: one was at George Washington University and the other was at Hood College.
"One cold day in March, I came to interview at Hood, and the rest is history," said White.
Service is a way of life
White is a self-proclaimed Charlestonian, raised by a family with a deep affection for education and knowledge. Her father had a passion for reading anything he could get his hands on, including the encyclopedia, and for serving others in their small-town community. He started an organization called The Jenkins Terrace Club to help his neighbors and did everything he could for others, including making hospital visits, home visits to the sick, attending funerals and filling the gaps wherever it was needed. Her father's example was the foundation for who Olivia White would grow to become.
"He wanted to make sure I had an opportunity to learn and to be exposed to things. And, not just on the academic side, but also in service, through his engagement with the church and community," said White. "I was really blessed to have him as my dad."
Olivia took her faith, love of education, community and service, given to her by her family, into her own career, where she discovered her love of working with students.
"I can recall in college a time when the president invited student leaders and members of the community to a breakfast where he would give a state of the college address. I was the secretary for the SGA and was seated next to Dr. John Sharry, dean of the dental school. He asked me about my plans and when I told him I was a biology major, he introduced me to the dentistry program," said White.
Following White's time at the College of Charleston as a student, she accepted a job as a recruiter for the program. There was an initiative to increase the number of women and minorities in dentistry and part of her role was to visit all of the colleges and universities in South Carolina to talk with students.
"This is when I discovered a love for working with students—talking not just about going to dental school but learning their personal stories, challenges and goals," she said.
This was White's aha moment.
A leader of student life
Student life encompasses more than classrooms, lectures and textbooks, and nobody knows that better than Dean White.
"Student life, in many ways, is about the experience that a student has. It's about the time spent both in the classroom and out of the classroom. It's about their personal, physical, intellectual, social, spiritual and emotional wellness," White said. "All those pieces come together to contribute to a student's growth and wellbeing. Student life encompasses the whole person."
During her time at Hood, Dean White stayed true to that definition, integrating her department with just about every other department on campus, and teaching staff and faculty the importance of a holistic student life.
"Through Dean White, I have learned the importance of a student-centered approach, leading with kindness and grace, being hospitable to everyone who enters my office, nourishing potential in all of my students and advisees, and spreading the true spirit of Hood College to a new generation of students," said Atiya Smith, Ph.D., of the Hood Class of 2003 and now assistant professor of psychology and counseling.
"It's all about the students," said President Emeritus Ronald Volpe, Ph.D. "From academics, to admissions, to athletics, it's about the students—and Olivia understood that. She educated the campus community and broke down silos. She single-handedly extended her reach into each department so that everyone understood that all life on campus is student life."
And, whenever things got difficult for students, White came through.
During a tumultuous time in the early 2000s, when the fate of the College was uncertain, White helped transition Hood from a women's college to a coeducational one. It was a monumental change for the community, leaving many students feeling anxious.
"I brought the financial sheets to show the students, and Olivia brought her big heart," said Volpe. "She reassured students that this was going to work, and Hood would continue to be the same institution they know and love. And if they needed to, they were always welcome to come cry it out in her office."
Admission events and new student orientation were another area White shined. Her contagious enthusiasm and incredible ability to remember the names of each student and parent she conversed with so perfectly showcased what a Hood education is all about.
"One of my favorite things about Dean White was her accessibility. At every new student orientation, she'd give out her personal cell phone number, her office number and her home phone number. When I was a Blazer Ambassador, we'd all laugh and shake our heads. Parents loved it and felt safe knowing that they had the dean of students' phone number," said Lily Bean '21, current SGA president.
Of course, part of caring for students is holding them accountable, for the good as well as the bad.
"There were many times when Olivia and I would have to meet with a student who was being called to accountability for some poor decisions. It was in those difficult situations that Olivia was truly masterful," President Chapdelaine said. "I would just sit back and watch her work her magic. She has the rare ability to make students feel heard and supported, while at the same time getting the students to take responsibility for their actions. Many parents have told me Olivia was so helpful in these moments and the students would come to appreciate and respect her role in getting them back on track."
During the times of our lives that were especially difficult, like the aftermath of 9/11, political turmoil and eventually, a global pandemic, White found a way to overcome her own hardships and put students first.
After the most horrific terrorist attacks of our time, White jumped into action and put together a program to reassure students at Hood, especially those from Middle Eastern countries, that they would be safe, continue to be educated and be cared for, no matter what. Healing was her top priority, not for herself, but for her students.
Students knew they could lean on Dean White no matter what obstacles or challenges they were facing, from academic challenges and uncomfortable growth, to personal hardship and unforeseen setbacks. They knew they'd always be met with a fair, supportive and accepting heart.
"Dean White played a central role in developing Hood into the community that it is today. She embodies the type of warm, selfless and strong leadership the College seeks to expose its students to," said Caitlin Battey '15.
Bean adds, "She has always been a shoulder to cry on, a sounding board, a knowing smile, a wave across campus. She is one of those people who treats everyone like they're famous, when she's the real celebrity."
White said of her students, "I hope they always knew that I cared about them. I hope they knew that I treated each one of them as an individual. I hope that they knew that I was there in any situation that was presented. I hope that they knew that I was one of their biggest cheerleaders. I want for them to be able to soar beyond their potential, not just in the here and now, but in life after Hood."
A Frederick favorite
Dean White's legacy of service reaches far beyond the campus of Hood College into the Frederick community. From joining the Rotary Club of Carroll Creek to sitting on several non-profit boards including Heartly House, Advocates for Homeless Families and The Weinberg Center for the Arts, to serving with Frederick County Alumnae Chapter, Delta Sigma Theta Sorority, Inc., Dean White gives everything she has to others.
"Service is what I know," White said. "It's a part of my being."
White was recognized for her service in 2017 with the George Delaplaine Distinguished Citizen Award.
"She embodies all of the principles that are inherent to Scouting—trustworthy, loyal, helpful, kind, brave and so much more," said George B. Delaplaine Jr., H'08, chairman of Delaplaine Foundation, Inc. "Her service and devotion to her career in education, the students she guided and counseled, and her service to the community at large made her a perfect candidate for the award. Just as Scouting shapes the entire young person in character and integrity, Dean White spent her entire career doing the same with students."
What's next for Olivia White?
So, Dean White, you've retired from a long, impactful, successful career. What are you going to do now?
"As the NFL players would often say, I'm going to Disney World!" she joked. "My Disney World is a mixture of everything you would see in Disney: enjoyment, fun, living life to its fullest, being creative, taking all the things you've learned in life to date and building on them as you continue learning. That's my Disney!"
As a recent retiree himself, President Volpe has a few words of wisdom for White as she begins her retirement: "Don't make any quick decisions about anything. Relax, enjoy the moment, and smell the flowers. Get caught up on that stack of books, novels and journals you've been meaning to read. And then, dream your dreams. Ask yourself what is still left unfulfilled and do it. But, stay close to your family. And lastly, don't forget to come visit me."
Trustee Emeritus Philip Berkheimer, who retired just over a year and a half ago, like all of us wishes for a few more years of Dean White. "My wife, who's a Hood alum and therefore acutely intelligent, has really been considering evicting me and that has only been made worse by COVID-19," he said laughing. "Since I know that you're still operating on all eight cylinders, my heartfelt advice to you, Olivia, is to do yourself and Hood College a big, big favor and work for 10 more years."
White's plan is to not have much of a plan at all. Outside of reading, writing, service and one day, travel again, she doesn't have a timeline for her retirement. She also hopes to compile a collection of letters, poems and cards her father wrote to pass along to her own children.
"I want them to know how awesome, wise, brilliant and compassionate their grandfather was," she said.
No doubt she is all of those things too.
"The ripple effect that she cast on decades of students, their families, faculty, staff, fellow members in leadership, associates and the community will continue to reap a great harvest in the lives of all she touched," Young said. "She has guided, counseled and inspired students to set lofty yet realistic goals in achieving an education to put them on the path of leading lives of great and meaningful purpose."
The Hood College community will sorely miss having Dean White on campus, but the differences she has made in the lives of students and staff will continue to be felt each and every day. And she will always have a home in Hood.
"Hood has given so much to me and to my family, and will always be a part of my family," White said. Her daughter is even a Hood graduate. "I look forward to all of the exciting things that will happen as we realize the work that's ahead of us in this community. I truly am excited for Hood."
On behalf of the entire Hood community, thank you Dean White. Thank you for every long day. Thank you for every late night. Thank you for every time you put others ahead of yourself. Thank you for every time you helped a student overcome an obstacle or helped someone make a tough decision. Thank you for all the times you helped smooth things over when the going got tough. Thank you bringing joy to every situation and making work fun. Thank you for helping make Hood the incredible place it is.
Thank you for everything. Happy retirement.
Wallis Shamieh is a 2015 graduate of Hood College and communications specialist at Postern in Frederick, Maryland.
Pick up a copy of Hood Magazine on campus or view the latest issue online. Let us know what you think! Submit a letter to the editor by emailing marketingoffice@hood.edu.
Are you ready to say Hello?
Choose a Pathway
Information will vary based on program level. Select a path to find the information you're looking for!