Meet Peter Castro '23 | First Finance Graduate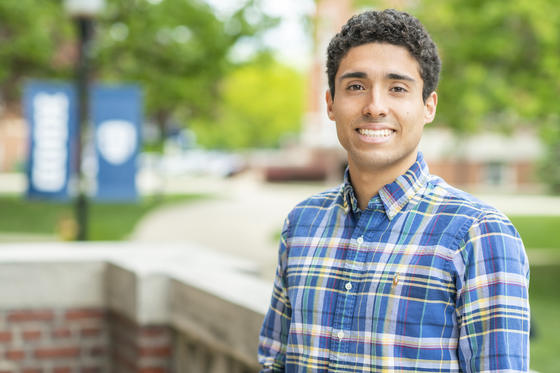 Peter Castro '23 is the first student to graduate from Hood's recently established finance B.A. program. As he prepares for graduation, Castro discusses his experience in the program and plans for the future.
Q&A
Program
Department
The George B. Delaplaine Jr. School of Business
Why did you decide to study at Hood College? What are some of your favorite aspects of Hood?
I decided to study at Hood College because of its strong business school and closeness to my hometown. My favorite aspect of Hood is the size. Through my time at Hood, I have made great connections with my professors and the broader business community because of how closeknit Hood is.
What led you to pursue a degree in finance?
I began a fascination with stock and financial markets in middle school, when I had a project of tracking a few companies over the semester. In college, this interest grew, and the promising job market in finance solidified my decision to pursue a degree in it.
What was a challenge you faced during your time as a student and how did you overcome it?
My biggest challenge was staying motivated to remain serious about school, especially during the start of the COVID-19 pandemic. I overcame this by maintaining a long-term mindset and kept focusing on the end goal of graduating and the career potential available as a finance major.
What was your proudest achievement from the finance program?
My proudest achievement (albeit not a super difficult one) has been switching my major from business to the new finance major. Paving the way as Hood's first finance major is definitely a cool feeling.
Do you have any advice to offer future finance students at Hood?
My advice for a future finance student: stay motivated by researching career opportunities in finance and finding something that excites you. That way, when you are discouraged or having a difficult time with a class, you'll be motivated to keep pursuing it.
What are your plans for after graduation?
My plan after graduation is to begin working full time as a financial analyst/asset manager for a commercial real estate investment firm based in Rockville, MD.
Are you ready to say Hello?
Choose a Pathway
Information will vary based on program level. Select a path to find the information you're looking for!