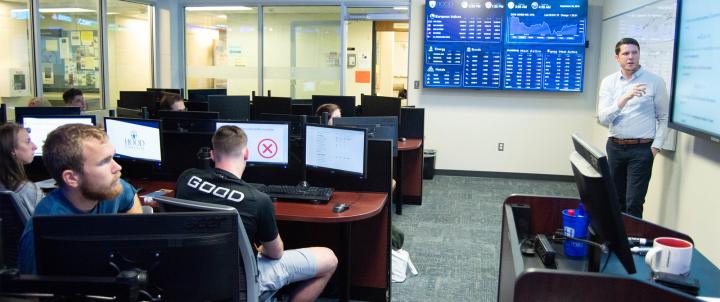 About this Program
The finance major will prepare future leaders in business and finance fields to be able to excel in a variety of organizational settings in private, public and nonprofit organizations.
Program Overview
A degree in finance has many applications and can provide a fundamental academic basis for many fruitful career opportunities.You will acquire the analytical and critical-thinking skills needed to be successful in multiple business specialties, advance in your career, and contribute to your community.
You will merge classroom knowledge with a thorough understanding of theories (general business and specific to their specialties). As part of the finance major, you will learn to select and apply appropriate technology for analysis, research and presentation; learn to work effectively as members of a team; and demonstrate critical thinking in decision making and problem solving.
The finance major will provide you will provide specialized courses on such topics as financial derivatives, fixed income, financial economics and financial statement analysis.
Are you ready to say Hello?
Choose a Pathway
Information will vary based on program level. Select a path to find the information you're looking for!