Meet SGA President Brielle Rozmus '19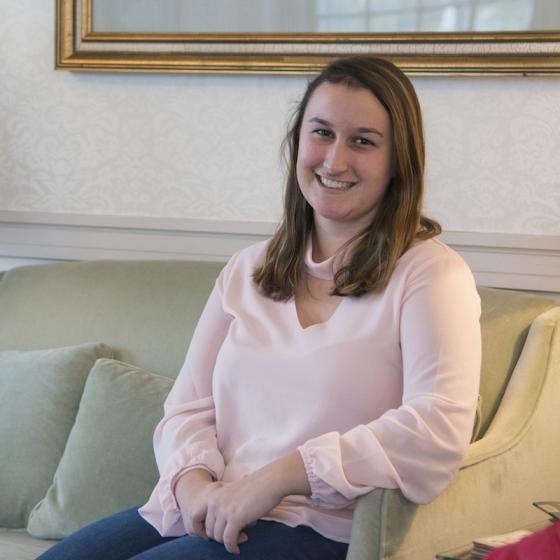 Brielle Rozmus is president of the SGA, captain of women's golf, and serves as Hood's delegate chairperson of Maryland Student Legislature.
Brielle Rozmus
Graduation Year
Program
Law & Criminal Justice (B.A.)
Nonprofit & Civic Engagement Studies (Minor)
Involvement
Hometown
Department
Law & Criminal Justice
Political Science
11/1/2018
By Elena Rowe '21, Marketing and Communications Assistant
Senior Brielle Rozmus is involved in a lot of activities on campus. She is president of the Student Government Association (SGA), captain of women's golf, and serves as Hood's delegate chairperson (DCP) of Maryland Student Legislature. Although she enjoys these leadership positions, college has been her first time stepping into these shoes.
"In high school, I was not involved in any government organizations, and I thought in college I should step out a little more," said Rozmus. "I enjoy debating and making a difference."
Rozmus has been in SGA all four years at Hood, from senator of student life her first year, to vice president of her class sophomore and junior year, and president this year. She is happy that a lot of first-year students are involved because the involvement   can be lacking some years. Some incentives of being an officer for SGA are working with different offices around campus such as the Office of Diversity and Inclusion, re-evaluating and adjusting Latin Honors (summa cum laude, magna cum laude and cum laude), and working with President Chapdelaine. One focus this year is working with the Office of Athletics to expand gym hours for students.
"Seeing the success of students play out on campus leads to a better college community," she said.
As DCP for Maryland Student Legislature, Rozmus works hand in hand with other students in mock general assemblies.
"What is pretty amazing is we make bills, write and debate them, and they get passed by MSL and go onto the real Maryland Assembly to get passed as a law," she said. "For example, in Montgomery County, there is a five-cent bag tax (five cents for each plastic bag used at grocery stores). That comes from a Hood student who worked with her senator to make that happen."
Rozmus believes that young people should get out there and make a difference no matter their age, especially in regards to the upcoming midterm election.
"Vote Early, Vote Often!" Rozmus happily explains.
Are you ready to say Hello?