Military Graduate Student Focus | Ernesto Gonzalez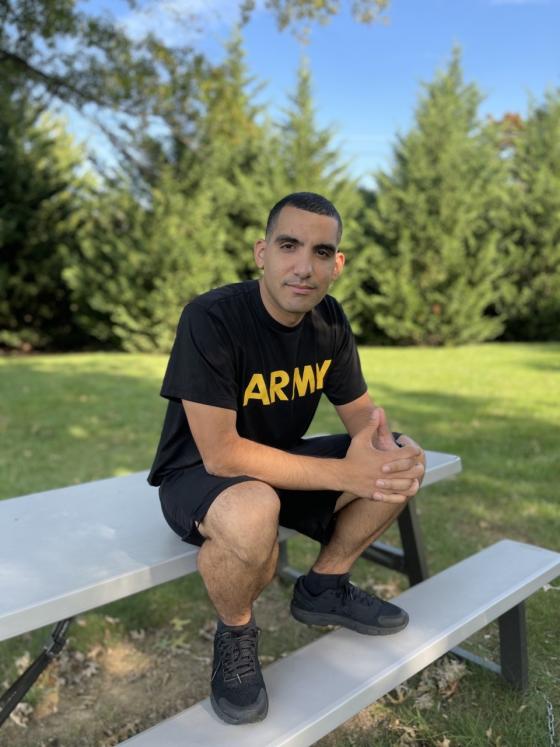 "I think the education that I receive here at Hood College will set me up for success in my life and career because of the practical knowledge the program provides and my ability to apply that knowledge to real world scenarios."
Ernesto Gonzalez, MBA
Program
Business Administration (MBA)
Department
The George B. Delaplaine Jr. School of Business
Ernesto Gonzalez is currently enrolled in the MBA program here at Hood College. He is a Staff Sergeant in the US Army stationed at Fort Detrick. Ernesto also serves a graduate military & social media ambassador and liaison between the Graduate School and Fort Detrick.
SSG Gonzalez has served in the Military for over ten years, and is a year three cadet in the Hood College ROTC program.
Tell us about yourself and experiences before coming to the Graduate School at Hood College.
I was born in Cuba. My family moved to Florida when I was 5 and I was raised Miami. I went to high school in Florida as well and that is where I met my wife, we are high school sweethearts. After high school I went to Edison State College for two semesters to study pre-med.
The Army was never my first choice, I went to the Coast Guard and Navy Offices first. I wasn't great at swimming and the recruiters were never in their office, so I went to the Army recruiter and after speaking with them I realized the Army was an organization I wanted to be a part of.
I joined the Army in June 2009 as a Combat Medic. Since being in the Army I have been stationed at Ft Bliss, TX, Ft Lewis, WA, and Ft Detrick, MD. I was also in Afghanistan from 2011-2012. My favorite thing about the Army is the people I have met and the friendships I have formed.
I had the opportunity to further my education through the Army Green to Gold program while stationed at Fort Detrick. After weighing my options between a few different schools I chose the MBA program at Hood College because one of my mentors graduated from there and she spoke highly of the community and inclusivity at the campus. I knew right away that I made the right decision the first day that I stepped foot on campus.
Any other relevant or interesting information that you would like to share?
This is my third semester at Hood College and everyone has been amazing. I am excited that everyone is back on campus and I have the opportunity to meet more people. I think the education that I receive here at Hood College will set me up for success in my life and career because of the practical knowledge the program provides and my ability to apply that knowledge to real world scenarios.
Inspired by SSG Gonzalez's story and ready to #GOFURTHER in your career? Learn about Hood's graduate programs, including the MBA program, by clicking here.
Are you ready to say Hello?
Choose a Pathway
Information will vary based on program level. Select a path to find the information you're looking for!