My Hood Experience - from Undergraduate to Faculty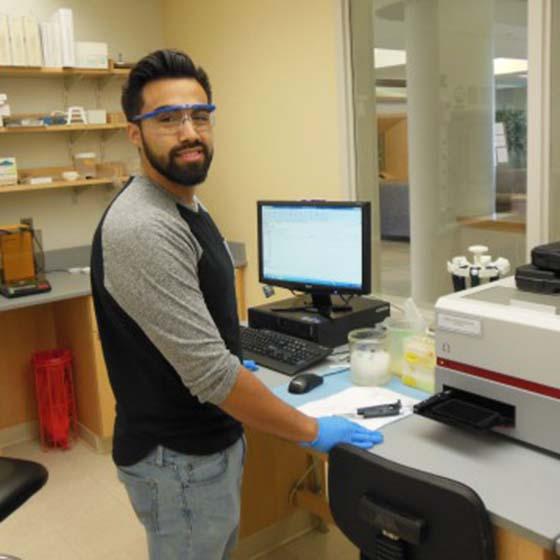 Jose Sanchez Hernandez worked his way from an undergraduate student to faculty member.
Jose Sanchez Hernandez
Graduation Year
Program
Chemistry (B.A.)
Biomedical Science (M.S.)
Involvement
Jose Sanchez Hernandez, a 2012 Hood graduate (B.S., Chemistry) is currently enrolled in Hood's Biomedical Science thesis-track program. While embarking on his graduate journey, Jose looks back on fond memories of his undergraduate time. Moments that stick out the most include participating in the alternative spring breaks, running his first half marathon in Annapolis, Maryland, attending his first BioBeers event, and most importantly, meeting his wife Stephanie E. Perkins (class of 2013) in Dr. Bennett's Instrumental Methods of Analysis course.
"If you guessed that our wedding was chemistry themed, you are right!", says Jose. After graduation from Hood, Jose worked for three years in Texas as a science teacher in the Dallas Independent School District, where he taught high school chemistry, physics, and AP Physics. More recently, he spent a year working as a graduate research assistant for the biology department at Hood College and taught BIOL 110, Food and Nutrition.
Jose was also awarded a Cancer Research Training Award (CRTA) by the National Institutes of Health to complete a fellowship during the fall 2017 with the human papillomavirus (HPV) serology lab (HSL) at the Frederick National Laboratory for Cancer Research. During the fellowship, Jose was optimizing in-vitro assays to help in the development of standardized HPV serology assays to be used in vaccine trials world-wide.
Currently, he is employed by Leidos Biomedical Inc. as a protein expression associate. His job involves molecular cloning, microbial fermentation, and protein purification to help support the many goals of the RAS initiative at the Frederick National Laboratory for Cancer Research.
If Jose could go back to the beginning of his graduate journey, he would have started utilizing Hood's Health and Wellness Center sooner, as every Hood College student has a free access to counseling. Jose says that the Graduate School required giving up a lot of time to classes, teaching, and especially research, which in the end resulted in developing his coping mechanisms. They allowed him to remain mindful and focused on the present despite being under enormous stress.
"Additionally, I would have started making more use of the meditation room in the Chapel basement to help manage stress on a weekly basis instead of only during finals. I am eternally grateful for these resources and I am sure that using them sooner would have greatly helped me navigate my first year of graduate school more purposefully."  
Are you ready to say Hello?
Choose a Pathway
Information will vary based on program level. Select a path to find the information you're looking for!