In the NeighborHOOD: Meet Michelle Gricus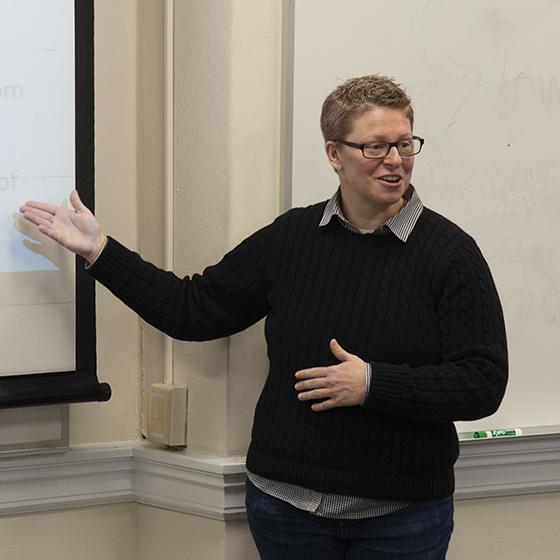 Meet Michelle Gricus, a social work professor who teaches courses in social work practice and human behavior.
Michelle Gricus
Hometown
Department
Degree
Title
Associate Professor of Social Work
What brought you to Hood College?
In my final year of my doctoral program, I started applying for undergraduate social work teaching jobs available in the East Coast/Mid-Atlantic region. I was living in Minnesota at the time (where I'd been for 15 years), and wanted to move to a different part of the country. When I came for my interview at Hood, I really appreciated how friendly everyone was. Everyone I encountered was welcoming, and I thoroughly enjoyed the interactions I had with faculty and students during my teaching demonstration and interviews.
What do you value most about your relationship with students?
I love the size of our social work program because it allows me opportunities to really get to know students as learners and also as people. I see my students as future colleagues, and do what I can to set that tone in and out of the classroom. I like when we've established trust to a point where students feel comfortable speaking up in class about difficult topics, or coming to my office to tell me about a success or a challenge they've had in or out of the classroom.
Describe your approach to teaching.
In a professional program like social work, we are focused on helping students with "real world" applications. Material needs to be framed in such a way that a clear connection is made between the academic and the practical sides of learning, so I make sure to incorporate a fair amount of practice, discussion and application in the classroom. I am known as a "hard grader" with some students because I have high expectations for grammar and spelling, and attention to detail with assignments. I am also a stickler for attendance. These things are important to me because they are important to social work practice. Even though I'm tough, my students know that I am more than willing to help when someone is struggling by thoroughly answering questions in a timely manner, checking for understanding, and coaching whenever possible. I like to think that I take a "Mr. Miyagi" (Karate Kid, 1984 original) approach to teaching where I help students learn and then practice stuff that they may be a bit suspicious of at first (e.g. a metaphorical "wax on, wax off"), but then they put it into practice and all the lessons come together.
What is your most memorable moment at Hood?
One of our students came to the department one day dressed in a full T-Rex costume. It was amazing!
Describe your academic interests, research, professional interests or expertise.
Before getting involved in teaching full time, my professional career was been in community mental health where I took on a variety of roles from case management and crisis intervention to supervision/program management and training. My research interests related to social work are focused on aspects of mental health service provision, professional ethics and racial equity. My doctoral program was focused on "teaching as social work practice," which supported my interest in learning and researching best practices for teaching, learning and preparing social work professionals for practice.
When you aren't teaching, what are you passionate about?
I love movies! Watching them, rating them, reading reviews of them, pretending I am in them... :)
What three books would you recommend be on everyone's reading list?
"The Book Thief" by Marcus Zusak
"She's Come Undone" by Wally Lamb
"The Gifts of Imperfection" by Brené Brown
What is your favorite children's book?
"Mr. Pine's Purple House"—It's got a great message about individuality.
What is your favorite spot on campus?
I love driving down Hood College Drive toward Alumnae Hall. That view illustrates the historical and the contemporary aspects of the campus very well.
What is your favorite place in Frederick?
Carroll Creek! I love attending the events they have throughout the year, and always find it good for people-watching.
People In the NeighborHOOD
Meet Claire Hudson, coordinator of the coastal studies program.
Are you ready to say Hello?
Choose a Pathway
Information will vary based on program level. Select a path to find the information you're looking for!